Get PolitiFact in your inbox.
"When you were casting your vote for Republicans, Brian Kemp was voting for Democrats."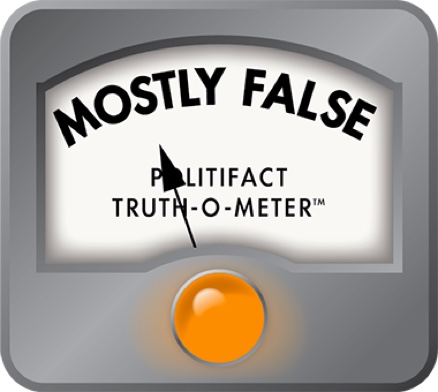 Ga. Secretary of state hopeful Doug MacGinnitie said Republican incumbent voted for Democrats
The barnyard brawl otherwise known as the Republican primary for Georgia secretary of state reached a new political milestone: its first attack ad.

And guess what? Secretary of State Brian Kemp, your rival Doug MacGinnitie says you should be ashamed.

MacGinnitie's commercial, which he posted on YouTube, emerged in an online skirmish over which of the two Republicans is a better Republican. 

On June 9, Kemp posted on YouTube a speech he made during a Cobb County GOP breakfast in which he accused MacGinnitie of failing to vote in a Republican primary for two decades. We ruled that claim False in an earlier item.

MacGinnitie, a former Sandy Springs city councilman, fired back June 23 with an attack ad on his campaign's YouTube page. It said that Kemp, a Gov. Sonny Perdue appointee who said he helped build the GOP in Georgia, voted in Democratic primaries. 

"When you were casting your vote for Republicans, Brian Kemp was voting for Democrats," a voice said on the YouTube video.  

Kemp defected three times: 1996, 1998 and 2000, according to the announcer. 

"Saying one thing and doing another -- that's hypocrisy. You should be ashamed," it concludes.

A Republican candidate voted for a Democrat? Say it ain't so.

We requested Kemp's voting history from the Georgia Secretary of State's Office, which keeps election records. They show Kemp did cast votes in three state Democratic primaries: 1996, 1998 and 2000. This means that Kemp voted three times for Democrats, as the commercial said.

But those same records also show those votes were exceptions to the rule.

Kemp has voted 33 times since 1992. Of his votes in primary elections, eight were in Republican contests: the 1996, 2000, 2004 and 2008 presidential primaries; and the 2002, 2004, 2006 and 2008 state primaries.

Kemp also voted in three other Republican races: two state primary runoffs (2002 and 2006) and a special election in 2007.
Kemp voted in Democratic primaries to have a say in local politics, campaign consultant Joel McElhannon said. He lives in Clarke County, where Athens is located.

Historically, the area has been so heavily Democratic that many conservatives run as Democrats, McElhannon said. Some races are decided in the Democratic primary. 

"To have input in local offices like County Commission -- where decisions are made that directly impact his businesses and his family's quality of life -- Brian voted in a few Democrat primaries in the '90s to support conservative, pro-business local candidates running in those Democrat primaries," McElhannon wrote in an e-mail.

Elections records support the Kemp campaign's assessment. In the 2000 general primary, in which Kemp chose a Democratic ballot, there were no Republican challengers in several races, according to Athens-Clarke County Board of Elections records. They included contests for sheriff, two county commissioner seats and two state House slots.

Although Democrats have become less dominant in Clarke during the past decade, they remain a driving force in local politics. In the 2008 Clarke general primary, Kemp was among only 39 percent of voters who chose a Republican ballot, according to Georgia secretary of state records. Sixty-one percent of voters selected a Democratic ballot.

While MacGinnitie is correct that Kemp voted in three Democratic primaries, his conclusion that his opponent is guilty of "hypocrisy" is misleading. It ignores the political dynamics of Kemp's home county as well the bulk of his voting history.

We rate MacGinnitie's claim Barely True.
Editor's note: This statement was rated Barely True when it was published. On July 27, 2011, we changed the name for the rating to Mostly False.
You Tube, "Kemp Sets Record Straight About Doug's Hypocrisy," posted June 9, 2010

You Tube, "Brian Kemp's Record," posted June 23, 2010

WSB-TV, "Secretary of State's Race Heating Up," June 28, 2010

E-mail and interview, Joel McElhannon, campaign consultant, Brian P. Kemp for Georgia Secretary of State, June 30, 2010

Interview, Brandon Phillips, spokesman, Doug MacGinnitie for Georgia Secretary of State, June 29, 2010

Interview, Doc Eldridge, former mayor of Athens, July 1, 2010

Georgia Secretary of State's Office, voter registration voter history, received June 30, 2010

Georgia Secretary of State's Office, voter ballot choice history for Clarke County, received July 1, 2010

Athens-Clarke County Board of Elections, results of the July 18, 2000 general primary, accessed June 1, 2010
Browse the Truth-O-Meter
More by Willoughby Mariano
Support independent fact-checking.
Become a member!
In a world of wild talk and fake news, help us stand up for the facts.