Get PolitiFact in your inbox.
"Have the suburbs been inundated with former residents of Atlanta housing projects? Absolutely not."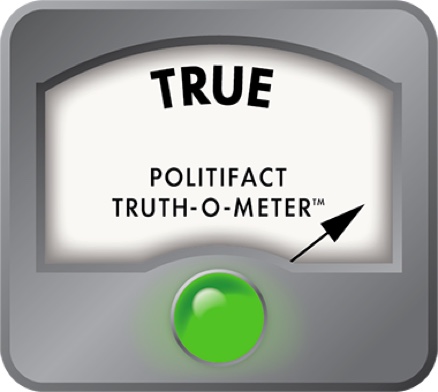 Are former Atlanta tenants flooding the suburbs?
It's been a constant refrain in Atlanta's suburbs when there is a rise in crime.

Those crime spikes are often blamed on people who used to live in the Atlanta projects.

A frustrated Atlanta Housing Authority official addressed the claims in an open letter last month.

"Have the suburbs been inundated with former residents of Atlanta housing projects? Absolutely not," said Barney Simms, the authority's chief external affairs officer.

We decided to look into the matter.

Have former housing project residents relocated to the suburbs? Or have they stayed within the city of Atlanta?

The AHA built what's widely believed to be the first public housing complex in the nation, Techwood Homes in 1936. By the 1970s, many AHA developments developed reputations as high-crime areas. One apartment complex, East Lake Meadows, was so dangerous that residents called it "Little Vietnam" because of the constant shootings there. City leaders and police tried many efforts to improve public safety inside and around some of the projects. In one five-month stretch in 2007, five men were shot and killed in one AHA development, Bowen Homes.

In 1994, Renee Glover became the AHA's executive director and embarked on a new strategy to transform its older developments into mixed-income communities, thinking, in part, that it would reduce crime. Some tenants moved elsewhere, using rent subsidy vouchers called Section 8. Others returned to AHA properties once they've been redeveloped. The latest round of redevelopment began in 2007. The Quality of Life Initiative, as the most recent effort was called, included the demolition and redevelopment of 10 apartment complexes and two senior citizen high-rises.

In August 2007, Clayton County officials considered a plan that would require they have a copy of all residential lease agreements. The idea, Commission Chairman Eldrin Bell said at the time, was to know who was in the county and better respond to any problems unruly renters cause. Some Clayton officials worried former Atlanta Housing Authority tenants were moving into apartment complexes in north Clayton and largely responsible for a spike in violence.

Former state Sen. Steen Miles made a similar claim about former AHA tenants in DeKalb County in an April newspaper editorial and in an interview with The Atlanta Journal-Constitution.

"The people dumped from the Atlanta housing projects went to Clayton and DeKalb counties," she told the AJC.

Did they come to Clayton and DeKalb?

We reached out to the AHA. Its Housing Choice division tracks where its former tenants have moved.

Longtime journalist John Sugg, a former senior editor of Creative Loafing, is using their data and additional research to write a book on the authority. He presented PolitiFact Georgia a spreadsheet from the AHA that tracks the whereabouts of about 2,600 households since the Quality of Life Initiative began. The AHA data show 2,251 households stayed inside Atlanta city limits. It shows 344 households, 13 percent, moved to other parts of metro Atlanta. The bulk of those people moved to Decatur, College Park and East Point.

Since those figures come from the AHA, we looked to see if anyone else is tracking such data. The U.S. Housing and Urban Development Department does not track where former AHA tenants are using Section 8 vouchers, a HUD spokesman said.

We did find one group that has done its own research. Georgia State University's Urban Health Initiative has been tracking the progress of tenants who lived in six AHA developments since 2008: Bankhead Courts, Bowen Homes, Herndon Homes, Hollywood Courts, Palmer House and Roosevelt House. The latter two developments are senior citizen high-rises. Their research showed 15 percent of those 330 households now live outside the city, said Deirdre Oakley, an associate professor of sociology at the university.

Oakley said there's been no evidence from their group's research that shows a spike in crime in neighborhoods where these former tenants have moved.

"It's easy because of the publicity that AHA has gotten to say, 'Oh, look! It's public housing from Atlanta moving into our neighborhoods,' " she said.

Since an average of four people live in each AHA apartment, we multiplied that number by 344 households that AHA says has moved to other parts of metro Atlanta. That's about 1,400 people. Clayton County's population is nearly 276,000, according to the U.S. Census Bureau. DeKalb County's population is slightly more than 747,000, the Census Bureau data show.

Even if all 1,400 of those people moved to one of those counties, is it fair to say one of those places has been "inundated" with former AHA tenants? We don't think so. The data from the AHA and Georgia State both reach similar conclusions that the percentage of tenants moving out of the city has been small. Therefore, we rate Simms' statement as True.
Atlanta Housing Authority spreadsheet, "Location of Relocated QLI Phase I & II Residents," as of Feb. 28, 2010

The Atlanta Journal-Constitution, "Clayton commission may seek records on all its renters; Influx of Atlanta's poor causing trouble, says county chief," Aug. 24, 2007

Letter by Barney Simms, Atlanta Housing Authority's chief external affairs officer, June 29, 2010

E-mail from HUD spokesman Joseph Phillips, June 29, 2010

Telephone interview with Deirdre Oakley, associate professor of sociology at Georgia State University, July 15, 2010

U.S. Census Bureau population estimates
Browse the Truth-O-Meter
More by Eric Stirgus
Support independent fact-checking.
Become a member!
In a world of wild talk and fake news, help us stand up for the facts.