Stand up for the facts!
Our only agenda is to publish the truth so you can be an informed participant in democracy.
We need your help.
I would like to contribute
Republican candidate for governor Nathan Deal "explicitly voted to fund abortions ..."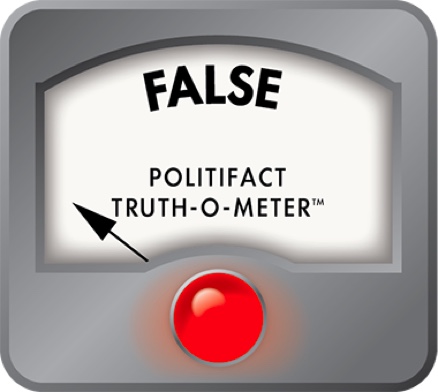 RedState.com blogger said Nathan Deal voted to fund abortion
The bickering over which Republican candidate for governor is a stronger foe of abortion just won't stop.  

Last week, Georgia Right to Life accused Karen Handel of supporting abortion if a fetus tests positive for Down syndrome. We gave that claim our lowest rating, Pants on Fire.

Now Handel's opponent, Nathan Deal, stands accused of voting to fund abortions while he was a U.S. congressman in 1993. The Deal-Handel runoff is slated for Aug. 10. The winner will face former governor and Democrat Roy Barnes in November.

Erick Erickson, an influential blogger and editor of RedState.com, one of the most popular conservative sites on the Web, was the first to make the claim. It appeared Thursday on RedState.com and Erickson's PeachPundit.com, which focuses on state issues. The Macon city councilman supports former Secretary of State Handel's bid.

"In Congress, Nathan Deal Voted for Henry Waxman sponsored legislation to give $500 million to Planned Parenthood to pay for actual abortions," he wrote in identical items on RedState.com and PeachPundit posted after 8 p.m.

Deal? The candidate who won the endorsement of Georgia Right to Life? He voted to fund abortion with our tax dollars?

We fired off an e-mail to Erickson, who replied that the issue has "nothing to do with Nathan Deal who I don't doubt is pro-life." It's more about GRTL's conduct, he said.

So we took a look at his blog posts.
The earliest item we located was "Georgia Right To Life Supports Candidate Who Voted For Major Abortion Funding," which was posted on PeachPundit.com at 8:14 p.m. An identical one appeared on RedState.com at 8:24 p.m. 

"Hypocrisy, thy name is Georgia Right to Life," the post began.

It then stated a few paragraphs later that Deal voted for the Waxman legislation.

Waxman is a Democratic congressman who represents portions of the Los Angeles area. Planned Parenthood runs family planning clinics, some of which perform abortions.

Monday, Erickson wrote a 5 a.m. post that repeated the claim. "Deal explicitly voted to fund abortions," it said.

Deal voted for the Family Planning Amendments Act of 1993. It passed the U.S. House of Representatives but not the Senate. It never became law. 

It was an authorization bill, which is a kind of legislation that establishes or re-establishes a government agency or program. It also recommends how much money should be spent on it.

This bill would have re-established the Title X program of the Public Health Service Act, which has funded family planning services such as providing birth control since 1970. The beneficiaries are mostly poor women. A portion of those funds go to Planned Parenthood clinics. Title X was authorized in another bill that passed. 

Amounts set by authorization bills are not binding. The feds don't cut any checks until another type of legislation, an appropriations bill, passes the House and Senate. So the 1993 bill didn't really fund anything at all, much less abortions.

Furthermore, the bill had nothing to do with "actual abortions." Title X explicitly states that "none of the funds appropriated under this subchapter shall be used in programs where abortion is a method of family planning." This has been the rule since the program began.

If a clinic that receives Title X funding also performs abortions, it must make sure none of that federal money goes to those services.

For instance, if women getting abortions share a waiting room with those who receive federally funded family planning services, the clinic can't bill the government for the entire cost of running the waiting room. It must subtract the proportion that goes to pay for patients waiting for abortion services.

Whether the 1993 bill was anti-abortion is debatable, said Mary Harned, staff counsel for Americans United for Life, an anti-abortion group.

That year, President Bill Clinton issued an executive order rescinding what was called the "gag rule," which prohibited clinics from discussing the option of abortion with patients. This bill would have made it more difficult for a subsequent administration to reinstate the rule.

Deal received 90 percent and 94 percent ratings from the anti-abortion group National Right to Life during the latter half of the 1990s, which means he supported its agenda almost all the time.
It's likely that Deal would not have voted for a similar bill later in his career in Congress, a campaign spokesman said. He has since come to believe that if the federal government provides any funding for Planned Parenthood, it frees up their funds for pro-abortion efforts.

During his last two terms in Congress, Deal received 100 percent ratings from National Right to Life.

Erickson's claim crumbles in the face of the facts.

The Family Planning Amendments Act of 1993 didn't fund anything. What it would have done was re-authorize a federal family planning program that is explicitly barred from funding abortions. Funding for actual abortions was never up for debate, and the bill never passed. 

Erickson earns a False.
RedState.com, "Georgia Right To Life Supports Candidate Who Voted For Abortion Funding," July 22, 2010

RedState.com, "Does Georgia Right to Life Now Support Embryonic Stem Cell Research?" July 26, 2010

PeachPundit.com, "Georgia Right To Life Supports Candidate Who Voted For Abortion Funding," July 22, 2010

Project Vote Smart, "Abortion Counseling Bill," accessed July 26, 2010

Thomas.gov, HR 670, "Family Planning Amendments Act of 1993," accessed July 26, 2010

E-mail interview, Mary Harned, staff counsel for Americans United for Life, July 27, 2010

Interview, Brian Robinson, Nathan Deal for Governor, July 26, 2010

U.S. Codes, Title 42, Chapter 6A, Subchapter VII, "Population research and voluntary family planning programs," accessed July 27, 2010

Guttmacher Institute, "Title X: Three Decades of Accomplishment," Feb. 2001

National Abortion Federation, "Abortion and Title X: What Health Care Providers Need to Know," Aug. 2007
Browse the Truth-O-Meter
More by Willoughby Mariano
Support independent fact-checking.
Become a member!
In a world of wild talk and fake news, help us stand up for the facts.