Get PolitiFact in your inbox.
"Sharron Angle wants to wipe out Social Security."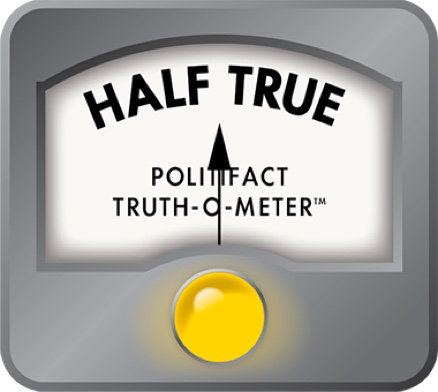 During the primary, Angle said Social Security "can't be fixed"

Senate Majority Leader Harry Reid is facing a tough re-election campaign back home in Nevada. His opponent is Republican Sharron Angle, a former state legislator who also has the support of Tea Party activists.

Soon after Angle secured the Republican nomination, the Reid campaign released an ad attacking her positions on Social Security and prison programs.

"Social Security. It means independence, a secure income," the ad's narrator says. "But shockingly, Sharron Angle wants to wipe out Social Security."

There's a brief clip of Angle saying, "We need to phase Medicare and Social Security out."

"She'd cut benefits for everyone coming into the system," the narrator says. "That's Sharron Angle. First, a Scientology plan to give massages to prisoners. Now she wants to get rid of Medicare and Social Security. What's next?"

We addressed the Scientology angle in a separate report. Here, we're looking at whether Angle "wants to wipe out Social Security."

First, we should note the ad's video of Angle is edited from a longer statement she made during a May 19 primary debate with other Republican candidates.

"We need to phase Medicare and Social Security out in favor of something privatized," Angle said. "We know that the government never gives ... "

At this point the moderator interrupted, saying, "Well, don't fix it? You're saying don't do any of these things?"

Angle replied, "I'm saying it can't be fixed. It's broken."

We also asked the Reid campaign to back up the claims, and it provided us with several news accounts describing Angle as wanting to end Social Security, the government program that sends senior citizens modest monthly checks after they retire.

The most on-point story was one from the Associated Press, dated June 1, 2010, that began, "Sharron Angle wants to wipe out Social Security, shutter the Education Department and return to the days almost a century ago when the federal income tax was unconstitutional. ...

"Angle calls Social Security 'a broken system without much to recommend it.' She hasn't offered a detailed plan but says seniors now collecting benefits would not be cut off. Workers over time would be shifted to private retirement accounts, an idea that is similar to what former President George W. Bush proposed six years ago only to see it flop."

We checked Angle's campaign website and found the following about Angle's position on Social Security: "Free market alternatives, which offer retirement choices to employees and employers, must be developed and offered to those still in their wage earning years, as the Social Security system is transitioned out. Young workers must be encouraged to investigate personal retirement account options."

Angle has been asked several times in recent weeks about her views on Social Security, especially about diverting payroll taxes that pay for the program into private investment accounts.

Jon Ralston, a prominent Nevada political reporter, asked her about it on his show, Face to Face. "Privatize social security? People will go crazy about that kind of stuff, won't they?" Ralston asked.

"You know, Jon, we all know that Social Security has been broken for years," Angle replied. "The government has been raiding the lockbox and putting in IOUs. We really need to do something that says, going forward -- not right now, because we have some senior citizens that have made a contract with us, we need to be in good faith and complete our contract with them. But going forward, people that are still in the work force right now making their living, they should have a choice between giving that money to the government to take out of that lockbox or keeping the money in a lockbox of their own."

Fox News commentator Sean Hannity also asked Angle about the ad on June 14.

"Look, Harry Reid is attacking you in this latest ad that he's got out there, saying that you want to phase out Medicare and Social Security. What is your reaction to what he said?" he asked.

"Well, it's nonsense. I want to save Medicare and Social Security. I'd like to put some of that money back in the lockbox that he has raided and put an IOU in. He's (had) 20 years to fix Social Security and Medicare. And what we have is an empty lockbox. And what we need is to make our senior citizens feel secure once more with their own Social Security and Medicare. But going forward we need to personalize that program in a way that the government can't go in and raid it any more."

Reading all of her public comments, we conclude that Angle supports privatizing Social Security, similar to the plan President George W. Bush put forward in 2005. Bush wanted to allow workers to divert part of the program's payroll taxes to personal investment accounts, typically invested in stocks and bonds. The idea was that private accounts would give younger workers the ability to manage their retirement nest eggs without government interference and it would keep the system solvent. Opponents said it was a sneaky way to start dismantling Social Security.

But we still have questions about Angle's position on Social Security. Her comments from earlier in the campaign indicate that she thinks Social Security should eventually be ended. Her comments to Hannity and that of her spokesperson imply that private accounts might be optional, as Bush suggested.

Reid's ad says Angle wants to "wipe out Social Security" and "cut benefits for everyone coming into the system." During the primary, Angle clearly indicated that she thought Social Security should be phased out, saying, "It can't be fixed. It's broken." Lately, her comments have been less clear, as if she is leaning toward an optional ongoing program. But that was not her position during the primary. Then, she said the program should gradually phase out. So we rate Reid's statement Half True.
The Associated Press, Tea party candidate is Nevada hopeful on the rise, June 1, 2010

Sharron Angle campaign website, Sharron Angle on the issues, accessed June 24, 2010

Face to Face with Jon Ralston, Sharron Angle interview, May 25, 2010

Face to Face with Jon Ralston, Ad rings true of Sharron Angle on Social Security, June 16, 2010 (YouTube)

Fox News, Sean Hannity interview Sharron Angle, June 14, 2010

PolitiFact, John McCain says he never supported the privatization of Social Security, even though video shows he did, June 13, 2008
Browse the Truth-O-Meter
More by Angie Drobnic Holan
Support independent fact-checking.
Become a member!
In a world of wild talk and fake news, help us stand up for the facts.