Stand up for the facts!
Our only agenda is to publish the truth so you can be an informed participant in democracy.
We need your help.
I would like to contribute
Marco Rubio "supported $800,000 for AstroTurf for a field where he played flag football."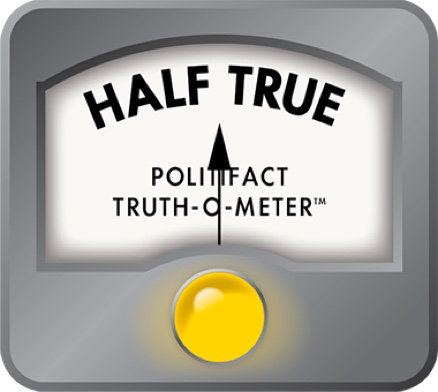 Crist accuses Rubio of supporting money for his football field
In their battle for the Republican nomination U.S. Senate, Gov. Charlie Crist and former House Speaker Marco Rubio are accusing each other of supporting wasteful spending. Rubio cites Crist's support of the economic stimulus, while Crist says Rubio supported political pork.

On Crist's campaign Web site, under the heading "Despite Promises, Speaker Rubio's Shocking Lack of Fiscal Conservatism," Crist's campaign accuses Rubio of "earmarks." One example: "Rubio Supported $800,000 for AstroTurf for a field where he played flag football."

Rubio, described in several news articles as an avid flag football fan, played with the South Florida Sports League -- the same group that requested state money in 2007 while Rubio was House speaker. Crist's claim raises questions about what role Rubio had in the legislative funding that was vetoed by Crist. Ultimately, the project was never built.

We'll focus on two questions: Did Rubio support the project? And would it have provided $800,000 for AstroTurf where Rubio played flag football?

First, some details about the project. The money was supposed to go to a joint project between a sports league and the city of South Miami for a plan to build several multi-use fields and buildings for programs to help at-risk youth. The total cost of the project was $1,050,000 and the proposal asked for $800,000 in state funds. The sponsors were State Rep. Mitch Needelman, R-Melbourne, and State Sen. Alex Diaz de la Portilla, R-Miami.

The line-item, No. 1239, made it into the house's budget bill and the conference bill. It doesn't mention the fields or turf explicity. It just lists the $800,000 for the South Florida Sports League under the heading "LEGISLATIVE INITIATIVES TO REDUCE AND PREVENT JUVENILE CRIME FROM GENERAL REVENUE FUND."
Rubio, along with the majority of legislators, voted "yes" on both on the House bill and the final version.
And we should note that Rubio was not a rank-and-file legislator: he had power over the budget as the House Speaker. We turned to Steve Geller, a retired Senate Democratic leader, to summarize that power since he has no stake in the fight between Rubio and Crist.
"Obviously I have no knowledge of what Marco individually did here,'' Geller said. "What I can tell you is that the House Speaker has absolute power to direct the appropriations staff, subcommittee chairs or appropriations chair to put in the appropriation or take it out. ... If the speaker said 'put it in', it's in, if he said 'take it out,' it's out. ... One of perks of being speaker or president is you get to put money places."
Still, as far as we could find, there had been no reference to artificial fields in news articles when the budget was approved. The first mention didn't come until two weeks after the final vote, when the Miami Herald published an article about earmarks in the budget.
"You like football?,'' the article stated. "You'll be happy to know that in the new $72 billion state budget, there's $800,000 to pay for new synthetic football fields in Miami."
A list of "Member Issues by Appropriation and Project" created by Gov. Crist's office mentions that, "these funds would provide the astro-turf for the fields." But that update, too, was dated after the votes -- May 17, 2007.
Alberto Martinez, a spokesman for Rubio's campaign, said the project wasn't billed as turf for football fields when legislators voted on it.

"Members, including Rubio who voted for this appropriation as contained in the budget, were voting not for "800,000 for astroturf," but rather for a new facility for "at-risk youths and young adults in a tri-county area...offering services and programs to participants ranging from sports and recreational activities to education about healthy, drug-free, and alcohol-free living," Martinez said.
Although the project became linked to Rubio in news accounts and editorials, we couldn't find any evidence he was a driving force behind the earmark.

Needelman, who was chairman of the juvenile justice committee at the time, told PolitiFact Florida that it was his idea to put the money in the budget.

"Marco has never talked to me one on one on this at all,'' said Needelman, who is supporting Rubio for Senate.
Guillermo Chacon, executive director of the sports league, said he never spoke with his friend Rubio about this proposal.

"Our business dealings were always with Needelman (and) Diaz de la Portilla,'' Chacon said. "We never had a contact with Mr. Rubio."
So, to recap: Rubio voted for the state budget bill, both the original and the conference version that was reconciled with the Senate. So in that regard, he supported the project, although we couldn't find evidence that it was referred to as "turf" at the time of the April 11 and May 3 votes.
As for whether it would have provided $800,000 for AstroTurf on a field where Rubio played flag football, we'll take the last part first. Rubio's campaign confirmed that he played flag football in the South Florida Sports League. But a campaign spokesman told us that the appropriation was not specific enough to confirm Crist's statement because the league used several fields at different locations.

Still, we're satisfied Crist is right on this point. We asked Chacon if Rubio had played at this specific site in South Miami where the project was slated and he said Rubio had.

Now, to the question of turf.

Crist claims the money would be used for "AstroTurf," a brand name so well-known that it's often used as a synonym for artificial turf. And that term was used by the governor's office in the 2007 "Member Issues by Appropriation and Project."

News accounts and editorials used different words to describe the field material. The Orlando Sentinel used the more generic term: "Rubio lost several Miami-Dade County projects he had tucked into the budget, including $800,000 for new artificial-turf football fields for the South Florida Sports League."
Chacon did suggest some sort of artificial material in a Miami Herald article May 20, 2007:

''Hopefully we will get a very nice park where the kids can play year-around,'' said Willie Chacon, executive director of the league, who said the group is going to install synthetic fields because "there's no natural grass facility that could sustain so much sports programming.''

Finally, let's examine Crist's claim. He said Rubio "supported $800,000 for Astroturf for a field where he played flag football."
There's no proof that Rubio was the prime sponsor, but he voted for the bill, which in our view is "support." And yes, it was $800,000. But it was one of hundreds of items in a giant $71.9 billion budget bill and the bill didn't specify it was for artificial turf. It wasn't until later news accounts that the turf came to light. It's conceivable that Rubio knew it was for turf -- indeed, using Geller's account of the Speaker's power, you might think he did. But there's no proof.
So we find the claim Half True.
Miami Herald, "Crist faces veto decision on legislative goodies", May 20, 2007

St. Petersburg Times, "No amnesty for these turkeys", May 23, 2007

Orlando Sentinel, "Governor could ax these turkeys", May 23, 2007

Orlando Sentinel, "Crist slashes $459.2M from state budget", May 25, 2007

St. Pete Times, "Rubio record, rhetoric diverge," Nov. 8, 2009

Charlie Crist's U.S. Senate campaign website, "Research: Speaker Rubio's earmarks," Feb. 18, 2010

Florida House website, Vote on HB5001, April 11, 2007

Florida House website, Vote on SB2800 conference bill, May 3, 2007
Browse the Truth-O-Meter
More by Amy Sherman
Support independent fact-checking.
Become a member!
In a world of wild talk and fake news, help us stand up for the facts.