Stand up for the facts!
Our only agenda is to publish the truth so you can be an informed participant in democracy.
We need your help.
I would like to contribute
"A majority of Wisconsinites opposed the government takeover of health care. But Russ Feingold voted for it anyway."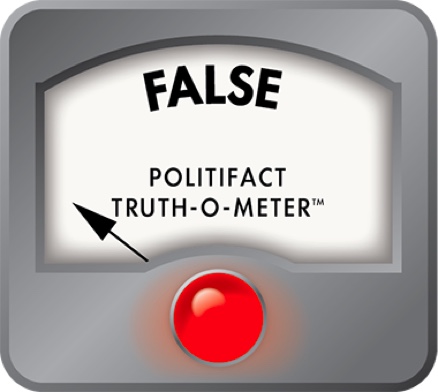 Ron Johnson says Russ Feingold went against the wishes of Wisconsinites in voting for health care bill
U.S. Sen. Russ Feingold loves to remind Wisconsin voters he visits every county every year, with those "listening sessions" giving him the pulse of residents from Superior to Sturtevant.

So it's noteworthy when Republican challenger Ron Johnson attacks the three-term Democrat for not following the will of the people.

In a new TV ad, Johnson charges that Feingold ignored public opinion by voting in March for sweeping health care changes backed by President Barack Obama and Democrats. The topic is a rallying point in many GOP campaigns across the country.

"A majority of Wisconsinites opposed the government takeover of health care," the ad says, as statistics from an opinion poll pop up. "But Russ Feingold voted for it anyway. Feingold had a choice to make. The official Congressional Record shows Feingold toed the party line, instead of listening to us."

So did Feingold's vote fly in the face of majority opinion on the matter?

The poll cited in the Johnson ad was done by the Wisconsin Policy Research Institute, a conservative think tank based in Hartland, Wis., and released 12 days before the March 25 congressional action on the landmark legislation.

The poll was directed by political scientist Ken Goldstein of the University of Wisconsin-Madison, and surveyed 600 likely state voters. On the health care question, it found opponents (55 percent) outnumbered supporters (37 percent), with 8 percent undecided. The margin of error was four percentage points.

When we asked the Johnson campaign for any  backup, they pointed us to a second poll: a June 2010 Rasmussen Reports poll -- three months after the Feingold vote -- that found 58 percent of likely state voters favored repealing the health care law.

We found two other polls that preceded the vote:

One from Rasmussen Reports looked at 500 likely voters, with 54 percent opposed and 43 percent in favor. That was released on March 18, 2010. The margin of error was 4.5 percentage points.

The other one we found was further removed from the vote, dating to November 2009, but is notable because it sampled a broader base -- adults in Wisconsin -- than the "likely voters" surveyed in the other two.

That was the UW Badger Poll conducted by the University of Wisconsin Survey Center, which found a virtual split: 46 percent opposed and 44 percent in favor, in a poll with a four percentage point margin of error.

The findings in the polls were in line with national tracking polls at the time, which consistently showed opponents outnumbering supporters, though the gap was narrowing in March 2010.

In this case, however, the polls don't end the argument.

A closer look at the language shows Johnson frames the issue around a question the polls did not ask.

The pre-vote polls used straightforward references to the "health care reform plan" or "proposed changes to the health care system." That is in contrast to the Johnson ad, which says a majority of Wisconsinites opposed -- and Feingold voted for -- a "government takeover of health care."

Goldstein, who ran the poll cited in the Johnson ad, said the campaign's language did not accurately summarize the question he posed. He noted the wide disagreement among policy experts over whether the Democrats' legislation was a "government takeover."

That two-word phrase -- government takeover -- became Republican shorthand in opposing the legislation, even though Democrats dropped the "public option" approach under which the feds would have run a plan to compete with private health insurance.

Our PolitiFact colleagues have repeatedly probed the truth of the government takeover charge, and found it ridiculously false -- a Pants on Fire. In truth, the health care law creates a market-based system that relies on private health insurance companies.

The Johnson mischaracterization of the poll language creates another wrinkle.

If you opposed the bill, it does not automatically follow that you also opposed a "government takeover of health care" (the phrase in Johnson's ad), according to two national polls. One was by the Associated Press/Stanford University, and the other by the Kaiser Family Foundation.

Those polls found that a significant chunk of the opposition is people who felt the federal government did not go far enough on making changes -- as opposed to going too far.

In the AP poll released in September, 2010, nearly one-quarter -- 23 percent -- of those who were opposed or neutral on the health care law reported that they liked most or all of it but thought it didn't "do enough to improve the health care system."

Notably, 32 percent of opponents who described themselves as independents felt that way, and 8 percent of Republicans.

The widely cited Kaiser Family Foundation health tracking poll asked a question in February 2010 that tried to measure whether opponents thought there was too little or too much reform in the package. They were asked a series of questions, including whether they were motivated by concerns the legislation "doesn't go far enough in expanding coverage or controlling costs." In response,  49 percent called that a major reason.

Still, given another option, a whopping 80 percent of opponents said government getting too big a role was also a major reason they didn't like it.

We could find no Wisconsin-specific polling on the nature of opponents' complaints.

But the UW Badger poll last fall asked a specific question about the federal government's direct role in insurance. Nearly six in 10 of all respondents -- 58 percent -- favored a government run  "public option" plan.

To be sure, Feingold did come under fire at many of his listening sessions for his support of the measure. But Johnson's ad suggests there was hard-line certainty among state residents when the reality is much fuzzier.

What does Feingold say?

He told PolitiFact Wisconsin that in his vote he was following the wishes of people in Wisconsin, based on his overall experience at listening sessions and his re-election in 2004 on a health-care reform platform. He said polls during the long health care debate were all over the map.

"I saw polls that said that a certain percentage of people didn't want any bill, a certain percentage of people wanted a stronger bill, and a certain percentage wanted this bill," Feingold said. "This bill is right in the middle of what Wisconsin people want in terms of when it comes to control over the insurance industry."

Let's sort all this out.

Johnson turns to polling data for support of his claim but uses loaded language to mischaracterize the question in the poll -- and what Feingold voted for. The pollster himself said  the description in the ad does not match the question that was asked. What's more, Johnson's ad says a "majority of Wisconsinites" were opposed. But the more timely state polls measured only likely voters, not the entire adult population. The broadest poll we found -- measuring the view of  Wisconsin adults -- was older, but it did not find a majority in opposition.

We rate the statement False.
Ron Johnson Senate campaign, TV ad, "Listening,"September 18, 2010

Associated Press, health care survey, Sept. 25, 2010

Wisconsin Policy Research Institute, likely voters poll, March 13, 2010

Rasmussen Reports, Wisconsin survey, March 18, 2010

Rasmussen Reports, Wisconsin survey,June 22, 2010

University of Wisconsin Survey Center, UW Badger Poll, Dec. 1, 2009

Kaiser Family Foundation, Health Tracking Poll, May 2010

Kaiser Family Foundation, Health Tracking Polls, February 2010

Pollster.com, Health Care trend line, March 10, 2010

Interview with Robert Moffit, Heritage Foundation, Sept. 30, 2010

Interview with Robert Blendon, Harvard University School of Public Health, Sept. 30, 2010

E-mail interview, John Kraus, senior strategist, Feingold for Senate campaign, Sept. 30, 2010

E-mail interview, Sara Sendek, spokesperson Ron Johnson Senate campaign, Oct. 1, 2010

Interviews with Ken Goldstein, UW-Madison professor of political science, about design of Wisconsin Policy Research Institute poll, Sept. 30, 2010

Interview with Trevor Tompson, Associated Press director of polling, Sept. 30, 2010
Browse the Truth-O-Meter
More by Dave Umhoefer
Support independent fact-checking.
Become a member!
In a world of wild talk and fake news, help us stand up for the facts.