Stand up for the facts!
Our only agenda is to publish the truth so you can be an informed participant in democracy.
We need your help.
I would like to contribute
"Mr. Hurt would re-open that darn (Medicare) doughnut hole."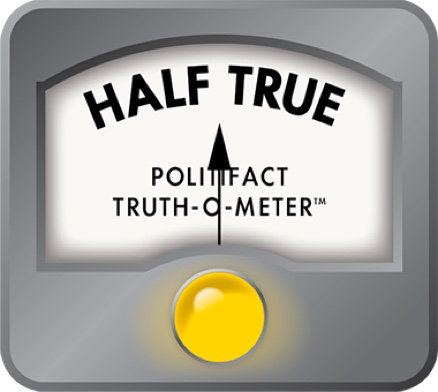 Tom Perriello says Robert Hurt wants to reopen Medicare "doughnut hole" in prescription drug plan
It is legislation that shall remain nameless. But that didn't stop freshmen Democratic Rep. Tom Perriello of Virginia from attacking his opponent for opposing a provision in it, whatever it is.

Perriello's ad, called "Seniors Can't Afford a World of Hurt," accuses his opponent, Republican state Sen. Robert Hurt, of wanting to reopen the so-called "doughnut hole" in Medicare prescription drug coverage for seniors.

The ad begins in darkness with an elderly woman saying, "Bad people are trying to scare seniors into thinking our Medicare is going to get cut." She's apparently referring to Republican ads that have suggested Democrats cut Medicare when they approved the health care law.

"Poppycock!" says the woman, turning on a light. "Tom Perriello has voted to protect my Medicare and to save me 50 percent on my prescriptions.

"Mr Hurt would reopen that darn doughnut hole," she says. "And would start bankrupting Medicare in just six years. Shed some light on the facts and you'll see...Seniors can't afford a world of Hurt."

First, let's be clear what we're talking about here: the controversial health care bill passed by Democrats earlier this year.

You might not get that from the ad, unless you caught the fine print in the ad that sourced H.R. 3590. Of course, you'd also have to know that H.R. 3590 is the Patient Protection and Affordable Care Act, aka the health care reform bill. Talk about soft-pedaling a controversial issue.

Now, about that darn doughnut hole. The "hole" is a gap in coverage in the Medicare prescription drug program, which was passed by Congress in 2003.

In 2010, seniors in the Medicare Part D program must pay the first $310 for prescriptions before coverage kicks in. For subsequent total drug costs between $310 and $2,830, the government will pay 75 percent and beneficiaries pay 25 percent.

Then comes the hole: Starting at $2,830, beneficiaries must pay the entire costs until they hit an out-of-pocket limit of $4,550. After that, "catastrophic coverage" begins, with the government paying 95 percent of costs.

The health care bill Democrats passed in March would phase out that gap over the next 10 years. This year, beneficiaries who reach the doughnut hole will receive a $250 rebate. After that, federal subsidies will enable the patient's share of the payment to be gradually reduced from 100 percent to 25 percent by 2020. At 25 percent, the doughnut hole range will have the same co-pay rate as the prior range.

Closing the "doughnut hole" in the Medicare prescription drug plan was one of Obama's campaign promises, which PolitiFact tracks on our Obameter. In March, after the bill passed and was signed by Obama, we rated it a Promise Kept.

Now, has Hurt said he wants to reopen the hole?

He has been crystal clear about his opposition to the health care bill. At a Tea Party debate in March, for example, Hurt warned the bill would "kill jobs," add more regulation and higher taxes and amount to "government-run health care."

Hurt has signed the DeFundIt.org pledge to withhold budget funding for the new health care law if he is elected. And he has vowed to fight to repeal the law altogether.

OK, so the health care bill would eventually close the Medicare doughnut hole, and Hurt has vowed to defund and ultimately repeal the health care bill. Does that mean, necessarily, that he would reopen the doughnut hole?

Republican leaders in Congress offered an alternative health care bill back in November of 2009. We read through the bill and couldn't find any plan to close the doughnut hole. Republicans said the main goal of their alternative plan was to lower the cost of health insurance in general.

We also couldn't find anywhere that Hurt has spoken publicly on what he would do, specifically, about the Medicare doughnut hole. Hurt's campaign said he favors health care reform based on market oriented solutions that maintain quality of care and reduce costs.

Back in March, the Hurt campaign told the The Daily Progress, in Charlottesville, Va., that Hurt supports "commonsense, market-based health care reforms" such as portability of plans, tort reform and allowing young people to remain on their parents' health insurance coverage for longer.

"However, Senator Hurt does not believe that Draconian cuts to Medicare affecting every senior citizen in the 5th District, half-a-trillion in higher taxes, medical decisions made by bean-counters in Washington and not doctors in Charlottesville -- not to mention the largest increase in government power in generations -- is the answer to healthcare reform," Hurt's strategist, Chris LaCivita, wrote in an e-mail to the paper.

We followed up with the Hurt campaign to get his position specifically on the doughnut hole.

"Working to close the doughnut hole is an area that we all can agree should be addressed," said Amanda Henneberg, a spokeswoman for the Hurt campaign.
 
The ad's claim is based on Hurt's position that he wants to repeal the Democrats' health care bill in general, and it included a provision to phase out the doughnut hole. Hurt has not explicitly said he wants to reopen the hole, so Perriello is connecting some dots to make his case.  In fact, Hurt's campaign says that while he wants to repeal the health care bill, Hurt believes working to close the doughnut hole is an area that should be addressed. That doesn't strike us as a full-throated pledge to close the gap the way the Democratic bill did, but it suggests Hurt is willing to consider retaining that aspect of the health care law. So we rate the ad's claim Half True.
YouTube, Tom Perriello campaign ad, "Seniors Can't Afford a World of Hurt," Oct. 6, 2010

H.R. 3590, The Patient Protection and Affordable Care Act

PolitiFact, Obama campaign promise: "Close the 'doughnut hole' in Medicare prescription drug plan," by Louis Jacobson, March 26, 2010

YouTube, Sen. Robert Hurt on repealing health care law, at Tea Party Debate, Danville, Va., March 20, 2010

Talking Points Memo, "In Hot House Race Republican Candidate Pledges To 'De-fund' Health Care Reform," by Christina Bellantoni,July 19, 2010

Common Sense Health Care Reform and Affordability Act, proposed by Rep. John Boehner

PolitiFact, "GOP health care reform: A simple explanation, updated," by Louis Jacobson, Feb. 26th, 2010

Politico, "Perriello: 'Poppycock,'" by Ben Smith, Oct. 4, 2010

The Daily Progress, Charlottesville, Va., "Perriello allies, foes volley on health care," by Brian McNeill, March 31, 2010
Browse the Truth-O-Meter
More by Robert Farley
Support independent fact-checking.
Become a member!
In a world of wild talk and fake news, help us stand up for the facts.