Stand up for the facts!
Our only agenda is to publish the truth so you can be an informed participant in democracy.
We need your help.
I would like to contribute
"Senator Robert Hurt voted for a bill that's raised your electric rates seven times."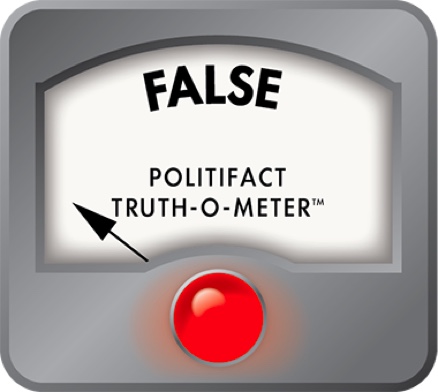 Tom Perriello says Robert Hurt voted for a bill that raised electric rates seven times.
Electricity has become a hair-raising issue in Virginia's 5th Congressional District race, with Democratic incumbent Tom Perriello blaming Republican challenger and state Senator Robert Hurt for steep increases in Appalachian Power Company rates.

In a recent TV ad replete with "zap!" sound effects, lightning bolt graphics, a frightened kitten and photos of wide-eyed people with static-spiked hair gawking at utility bills, Perriello lays out his claim.  

"How do most Virginia families react to their electric bills? Pure shock," the ad says. "That's because Senator Robert Hurt voted for a bill that's raised your electric rates seven times. Rates have gone up over 50 percent. Those increases also caused factories to close and jobs to be lost. For ignoring your pain, Senator Hurt received over $80,000 from the energy interests. After 10 years in office, Hurt is so out of touch, it's just plain shocking."

While the ad offers plenty of fact-check fodder, PolitiFact Virginia chose to focus on the charge that legislation Hurt voted for in 2007 has been responsible for seven electric rate increases.

Asked for the source of the claim, Perriello's camp pointed to seven Appalachian Power Company rate hikes approved by the State Corporation Commission since 2007. That was the year Hurt, then a member of the state's House of Delegates, voted for Senate Bill 1416 to establish a new form of electric utility regulation.

The law essentially re-regulated electricity supply rates after they were unregulated by the state's legislature in 1999 to introduce competition to the electric supply business.

But the competition failed to materialize. In 2007, the legislation was amended to re-regulate electric rates for both supply and distribution service, but it was an alternative form of re-regulation, not a full return to the way the SCC set rates prior to 1999. The provisions built into the new regulatory model are what some opponents, including Perriello, say allow rates to be higher than they might otherwise be if the SCC had been permitted to regulate rates as it had in the past.

Now, back to the claim. Yes, it's true that Appalachian rates have increased seven times since the 2007 legislation was passed. But let's take a closer look at why the rates have risen.

Appalachian Power's rates remained essentially flat from the early 1980s to 2005, when the company began to add environmental compliance facilities to coal-burning power plants. Between 2005 and the end of this year, the company will have spent $2 billion on environmental compliance, a cost that the company had to pass on to consumers, said company spokesman Todd Burns. Burns said the company also saw an increase in coal prices in late 2008 and an increase in customer electricity usage.  

"Those were the three things that stacked up to increase electric rates," he said. "The bottom line is that Virginia regulation didn't raise rates at all," Burns said. "Regardless of which regulatory structure you come under, electric utilities are permitted to cover environmental compliance, costs and fuel."

That's backed up by a ruling from the State Corporation Commission following the steepest of the rate hikes in 2008. TheSCC said "a significant portion of the increase relates to capital expenditures made to generation and distribution facilities needed to provide service to customers."

The SCC's ruling continued  "A large portion of this increase is attributable to environmental improvements made to the generation facilities to comply with federal laws and regulations."

Periello's campaign points out that the seven increases were all filed under the new "2007 legislation." But Burns said that the SCC decided on six of the seven rates increases using the old regulations, adding that the new rate-setting system did not take effect until 2009.

According to the State Corporation Commission, that's partly true. Because the 2007 legislation did more than just re-regulate, some amendments to existing law took effect in 2007 and the rate increases were actually decided by the SCC using a combination of the old regulatory model and new pieces.

But Virginia Attorney General Ken Cuccinelli, a Republican, who represents consumers in utility rate cases before the State Corporation Commission, says the increases would have been allowable well before 2007.

"Ultimately, the types of costs that APCO has sought to recover in its rate cases (fuel, environmental costs, etc.) would also have been recoverable under the law as it existed not only prior to 2007, but dating back to before the 1999 restructuring law, as well," Cuccinelli wrote in a Sept. 13 commentary piece for the Martinsville Bulletin.  

Finally, it bears mentioning that when Appalachian's rates jumped again last December, Hurt was among the legislators to vote for emergency legislation requiring the company to suspend the interim rate charge on customers.

So, let's recap.

Yes, Appalachian electric rates have risen seven times since re-regulation legislation was passed with Hurt's support. And yes, those seven rate increase requests were filed under 2007 legislation.

But Perriello is distorting the significance of Hurt's vote. The reality is that the cases were decided using a combination of the old regulatory system and a few new provisions.

The SCC confirms that APCO's rate increases were substantially the result of outside factors that would have been permissable under the previous legislation.

For these reasons, we find the claim to be False.     
Tom Perriello U.S. Congress, "Shocking"TV ad, Oct. 12, 2010.

Ken Cuccinelli statement, "Attorney General lights up Perriello, Boucher on electricity rates", Oct. 19, 2010.

The Franklin News Post, "Cuccinelli: Cap & Trade will drastically affect electricity rates", Sept. 3, 2010.

The Roanoke Times, "Armstrong to seek rate regulation", Oct. 15, 2010.

Interview with Todd Burns of Appalachian Power Company, Oct. 22, 2010.

Interview with Ken Schrad of the State Corporation Commission, Oct. 22, 2010.

Email Interview, Jessica Barba, Tom Perriello U.S. Congress.

Email interview, Amanda Henneberg, Robert Hurt for Congress.

Martinsville Bulletin, "Another Viewpoint: Ken Cuccinelli", Sept. 13, 2010.

Martinsville Bulletin, "Candidates at odds over electric rates", Oct. 13, 2010.

"State Corporation Commission report", Sept. 1, 2009.
Browse the Truth-O-Meter
More by Wes Hester
Support independent fact-checking.
Become a member!
In a world of wild talk and fake news, help us stand up for the facts.