Stand up for the facts!
Our only agenda is to publish the truth so you can be an informed participant in democracy.
We need your help.
I would like to contribute
"There hasn't really been a lot of net growth in the federal workforce when you compare it to say, 1990."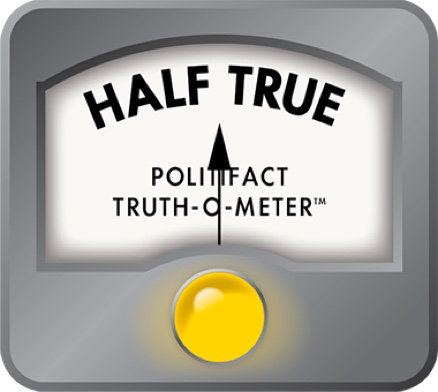 Rep. Gerry Connolly says federal workforce hasn't grown since 1990
Mention the federal government and people inevitably say it's too big. Rep. Gerry E. Connolly, D-Va., disagrees.

Connolly defends federal government employees. He represents almost 60,000 of them in Northern Virginia's 11th Congressional District.

Talking with The Washington Post just before Christmas, Connolly addressed what he views as a growing anti-public sector sentiment in America.

"I think the Congress we elected in November is a lot less hospitable to the interests of federal employees," he said. "I think you're going to see a lot more legislative action and suggestion aimed at reducing the size and compensation of that federal workforce and retirees."

Connolly said the notion that federal government is over sized is misplaced.

"Facts be damned: There's a lot of rhetoric on the other side about the growth of the federal workforce, but it's about the size it was under the first President Bush," he said. "There hasn't really been a lot of net growth in the federal workforce when you compare it to say, 1990. It's not like it's gotten out of hand, it's true."

Is it really?

There are two answers. On one hand, Connolly is understating his case. On the other, he's ignoring the true size of government.   

According to the U.S. Office of Personnel Management, in 1990 total government employment -- including all branches and uniformed military personnel --  was 5.23 million. By 2009, that number dropped to 4.43 million. If we exclude military personnel, the number fell from 3.128 million in 1990 to 2.84 million in 2009.

After years of decline, those workforce numbers did begin to rise in 2008.  

To get a more current read, we turned to the U.S. Bureau of Labor Statistics, which has preliminary figures as recent as November 2010.

According to BLS data, total federal government employment was 3.103 million in January 1990. Preliminary numbers for November 2010 are 2.837 million.

Even if you don't count postal service workers, the story holds true. In January 1990, the figure was 2.273 million excluding those employees and in November 2010 it was down to 2.195 million.

"The reality is that the federal workforce got much smaller between 1989 and 2009, almost entirely driven by deep cuts following the end of the Cold War, " said Paul Light, a professor of public service at New York University. "The Defense Department workforce fell from about 1 million civilian employees in 1990 to roughly 650,000 by 2004 and has inched up by 100,000 or so since. That was a big "peace dividend" that allowed Bill Clinton to claim that the era of big government was over."

But there's a catch, and it's huge.

While official workforce figures have gone down in recent decades, use of government contractors has exploded, especially in the defense sector following the 9/11 terrorist attacks.

In fiscal 2000, the government spent $208 billion on contractors. In fiscal 2009, that figure was up more than 150 percent, to $540 billion.

What does that mean for the workforce? Well, if you consider government contractors federal employees and view grantees -- like universities -- as employing people on behalf of the federal government ("Nuclear labs are run by universities, but are clearly federal agencies," said Light), the numbers have rocketed.

"I think the true size of government is going up -- often for good reasons such as the need to reduce backlogs in key service agencies...and increase the number of inspectors needed to execute the rules on deepwater drilling, workplace discrimination, etc.," Light said.

The problem, Light says, is that the total government workforce number including contractors is elusive and difficult to calculate. He said the the only way to get a proper sense of it is to take existing data on every government contract transaction and run it through a model used by the Bureau of Economic Analysis.

Light did that in 2006 and found that the "true size" of the federal government workforce was 14.6 million employees including civil servants, postal workers, military personnel, contractors, and grantees. More than half of that total was contractors.

In 1990, Light says the true size of the federal government was 12.6 million, meaning that by his definition, the federal workforce had increased 2 million by 2006.

"BLS and OPM are fixated, as is the Republican Congress, on the number of federal employees, and have no way to count the hidden workforce," Light said. "Unfortunately, no one really wants to know the answer. It's a big, big number that would inflame public anger and is generally avoided by both parties."

So let's look back.

Connolly says the the size of the federal government's workforce has not grown much since 1990, when George H.W. Bush was President. Based on the official numbers he sources, he's safe.  

But there are two definitions of "federal workforce": 1) Public servants working directly for the government and earning benefits, or 2) Light's version: "everyone who gets their paycheck directly from Uncle Sam or through contracts and other purchasing vehicles."

Even accepting that the interview was based on the former definition and Connolly's statement is true on its face, it ignores the $500 billion gorilla pounding on the Capitol dome: the increased use of government contractors, which has allowed the number of federal bureaucrats to decline.

Connolly's claim is accurate but incomplete, therefore we find it Half True.  
The Washington Post, "Virginia Rep. Gerry Connolly on government workers under political fire," Dec. 21, 2010

U.S. Office of Personnel Management, Historical Federal Workforce Tables, accessed Jan. 3, 2011

U.S. Bureau of Labor Statistics, Federal Government Employment Historical Table, accessed Jan. 4, 2011

Email interview with Paul C. Light, professor of public policy, New York University, Jan. 5, 2011

Email interview with John M. Palguta, vice president for policy, Partnership for Public Service, Jan. 5, 2011

New York University, "The New True Size of Government," August 2006

Email interview with Ed O'Keefe, The Washington Post, Jan. 6, 2011

Browse the Truth-O-Meter
More by Wes Hester
Support independent fact-checking.
Become a member!
In a world of wild talk and fake news, help us stand up for the facts.