Stand up for the facts!
Our only agenda is to publish the truth so you can be an informed participant in democracy.
We need your help.
I would like to contribute
"Pat Toomey thinks corporations shouldn't pay any taxes."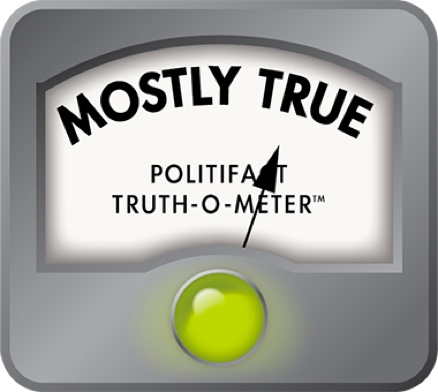 Joe Sestak hits Pat Toomey for supporting zero corporate taxes
In their hard-fought race for a Pennsylvania Senate seat, Republican Pat Toomey and Democrat Joe Sestak have attacked each other over tax policy. Last week, we rated a Toomey ad blasting Sestak on the estate tax as Barely True. Now we'll look at a Sestak ad attacking Toomey's position on corporate taxes.

The ad, funded by Sestak's campaign, features a clip of Toomey being interviewed on television. Here's the text of the ad:

Narrator: "Do you think corporations pay their fair share? Pat Toomey thinks corporations shouldn't pay any taxes."

Clip of Toomey: "Lets not tax corporations. ... I think the solution is to eliminate corporate taxes altogether."

Narrator: "The middle class is struggling, but Toomey thinks it's oil companies and Wall Street banks who should pay no taxes. Zero. No wonder Toomey has been call Wall Street's congressman."

Clip of Toomey: "I think the solution is to eliminate corporate taxes altogether."

Narrator: "Pat Toomey. He's for them, not for us."

We decided to look at whether Toomey really wants corporations to pay zero taxes.

We managed to locate the source of the video clip. It was a July 20, 2007, interview on the business network CNBC. At the time, Toomey, a former congressman from Pennsylvania, was the head of the fiscally conservative Club for Growth. He was paired on the show with Jason Furman, then a scholar at the centrist-to-liberal Brookings Institution and now a member of President Barack Obama's National Economic Council. They appeared during a segment titled, "Is the U.S. corporate tax code hurting America?"

Toomey began by arguing that taxes on corporations are passed through to ordinary people, which ends up hurting economic growth. The two guests then sparred a bit over whether corporate taxes in the U.S. are really the second-highest in the world, as Toomey suggested. Furman argued that widespread loopholes and exclusions lower the effective rates on companies well below the official rates.

Then Toomey said, "I would disagree with the idea we would want to have a corporate tax burden at all. It just doesn't make sense. ... Let's allow (corporations) to compete most aggressively on the global economy. It is better for our workers and economy and attracts more capital. I think the solution is to eliminate corporate taxes altogether."

A bit later, Toomey reiterates the point, saying about taxes, "I'd prefer none on corporations, but much lower would be better."

So is that actually Toomey's stance? In an interview, a spokeswoman for Toomey, Nachama Soloveichik, characterized his stance in the CNBC discussion as "an intellectual exercise" that is "not part of his general policy proposal." Soloveichik said that Toomey "unambiguously supports lowering taxes on business" but knows that a zero corporate tax rate is "impractical."

Toomey's campaign website backs up the idea that he's not affirmatively pushing for zero corporate taxes as a campaign plan, saying in its tax policy section that the candidate supports "cutting income taxes on American businesses." That wording suggests that business taxes should be reduced, not eliminated. Soloveichik also said that, in a questionnaire Toomey answered for the Pennsylvania Bar Association in July 2010, he wrote that "two things in particular would go a long way towards lowering the country's tax burden and increasing prosperity and jobs," one of which "is lowering the U.S. corporate tax rate."

But the clearest evidence of Toomey's views come from his 2009 book, The Road to Prosperity: How to Grow Our Economy and Revive the American Dream. In the book, Toomey wrote favorably about both the flat tax and the fair tax -- two conservative policy proposals that would scrap the current tax code. The flat tax would impose a single, lower tax rate on income above a fixed amount, without loopholes and specialized taxes. The fair tax, for its part, would eliminate taxes on all kinds of income and instead impose a national sales tax.

Under the flat tax Toomey described in his book, businesses would pay a 17 percent tax on income, rather than the current top rate of 35 percent. That's a reduction rather than an elimination. Under the fair tax, businesses wouldn't be taxed at all. This suggests that Toomey isn't settled on one approach to corporate taxation but is open to alternatives.

In fact, in the book, Toomey writes that he'd be "thrilled to wake up one morning and discover our current monstrous tax code had been replaced with either of these alternatives." But he added that his "preference lies with the flat tax" -- that is, the one that would levy a 17 percent tax on businesses, not the one that would scrap them entirely. In fact, Toomey later notes that the fair tax is "a hard reform to sell in a political campaign" because "it can easily be mischaracterized by political opponents."
We gave the Toomey camp the opportunity to say the candidate opposes zero corporate taxation, but the campaign did not do so.
So the evidence suggests that Toomey (1) affirmatively supports lower corporate taxation, (2) is open to zero corporate taxation, and (3) is politically careful enough to settle for lower corporate taxes rather than none at all.

We think that Sestak's use of the clip was fair politics, because the clip accurately reflects what Toomey said on the show. And Toomey's book does provide evidence that he'd love to see zero corporate taxation implemented, which justifies the ad's use of the word "thinks." On the other hand, we think a viewer watching the Sestak ad would be led to believe that Toomey is actively pushing zero corporate taxation as a campaign plank, when in fact his campaign website makes no mention of such a policy, and when Toomey has acknowledged in writing that he's wary of pursuing such a proposal because of the potential political fallout. So the ad is generally correct about Toomey's policy preferences but misleading about what he actually advocates as a candidate. We rate it Mostly True.
Joe Sestak for Senate, "Zero" (ad), Aug. 31, 2010

Pat Toomey, interview with CNBC, July 20, 2007

Pat Toomey for Senate, campaign web page on tax policy, accessed Aug. 31, 2010

Pat Toomey, excerpts from The Road to Prosperity: How to Grow Our Economy and Revive the American Dream, 2009

Interview with Jonathon Dworkin, spokesman for Joe Sestak for Senate, Aug. 31, 2010

Interview with Nachama Soloveichik, spokeswoman for Pat Toomey for Senate campaign, Aug. 31, 2010
Browse the Truth-O-Meter
More by Louis Jacobson
Support independent fact-checking.
Become a member!
In a world of wild talk and fake news, help us stand up for the facts.