Stand up for the facts!
Our only agenda is to publish the truth so you can be an informed participant in democracy.
We need your help.
I would like to contribute
Says state Rep. Diana Maldonado of Round Rock uses Craigslist to hire campaign block walkers.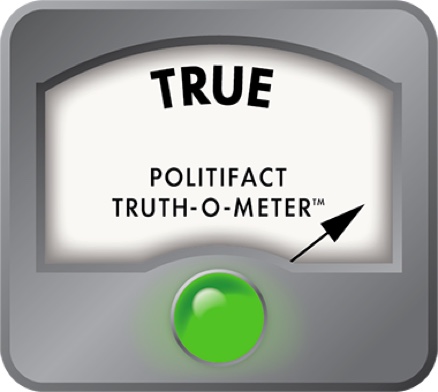 Larry Gonzales says state Rep. Diana Maldonado uses Craigslist to hire block walkers
Republican Larry Gonzales of Round Rock, challenging first-term Democratic state Rep. Diana Maldonado, says his "roadmap to victory" includes plans for volunteers to visit voters house by house.
Tweaking Maldonado, Gonzales says in an Aug. 31 e-mail to supporters: "We are not soliciting paid walkers on Craig's List like my opponent is, who is offering to pay complete strangers by the hour to carry her message."
We wondered whether Maldonado was in fact hiring campaign workers to walk blocks and ring doorbells through Craigslist, a website that enables people to post ads under categories such as jobs, housing, events and personals.
Gonzales told us that he found out about the Craigslist entry from a supporter who had responded to it. Gonzales said he had not seen the ad but that the supporter, whom Gonzales would not identify, had forwarded him an e-mail conversation proving that the Maldonado campaign had placed it.
Many Craigslist postings are free, according to its website, although there is a charge for posts including "brokered apartment rental listings in New York," ads for therapeutic services in the United States, and job openings in certain cities including Austin. The fee for posting a job in the Austin area: $25. Searching the ads, which include an e-mail address for responses, is free.
Gonzales forwarded us a copy of the e-mail exchange between the Maldonado campaign and the supporter, whose name and address had been redacted. (According to Gonzales, the day before our inquiry, he sent a copy to a conservative blogger; we saw that version posted online.)
The subject line of the e-mail response from [email protected] was "Paid Canvassers Needed for Highly Competitive State House Race (Round Rock)." Her e-mail said, "Thanks for responding to the ad, we are working really hard to win this race. If you are interested in a position send me your resume and 2-3 references and we will go from there."
We searched Craigslist for the job posting, but it was no longer available.
Mitra Salasel, communications director for Maldonado's campaign, confirmed that the campaign had posted a jobs ad on Craiglist. She e-mailed us a copy, which states: "Competitive Texas State House campaign seeks highly motivated door-to-door canvassers for part-time and full-time paid positions. The ideal candidate has experience volunteering and/or organizing for democratic or nonprofit campaigns."
The ad says applicants "must be willing to work outdoors during irregular hours, including evenings and weekends." The location is listed as Round Rock, and the hourly pay is listed as $10.11. Neither Maldanado nor Gonzales is mentioned by name.
Salasel told us that Maldonado's campaign field director, Kristin Fine, has the e-mail address [email protected] and that the ad was posted July 24 and expired after 30 days.
Salasel said: "As I'm sure you're aware, our district is a commuter district where most people have family obligations. So we supplement our volunteer program — over 100 strong — with five paid canvassers that can work a regular schedule."
Three of the five were hired through Craigslist, she said.
Gonzales told us that he has not paid people to walk blocks or call voters on his behalf. A review of his campaign finance reports found no expenditures that suggested otherwise.
Two Democratic political professionals told us that it's not uncommon to pay canvassers. Peck Young, who is director of Austin Community College's Center for Public Policy and Political Studies and who has worked as a Democratic campaign consultant, said many people can't afford to volunteer if they have to pay for child care while doing political work. "It's to compensate them so they can afford to be part of your campaign," he said.
However, GOP consultant Chad Wilbanks, who said he has no connection to the Gonzales campaign, said that it happens more often in legislative races than statewide contests and that such hiring usually starts later in the game.
"If you look at state legislative campaigns, there may be an effort to recruit people and pay them in the last 72 hours of a race, but it is rare," Wilbanks said. "When it is even more rare is 60 days out."
Using Craigslist to recruit campaign workers is "unconventional," said Wilbanks, but Young had a different take. "In these big cities, with all the high-tech stuff, people are using all kinds of high-tech techniques," Young said.
Maldonado's campaign confirmed using Craigslist to hire block walkers. We rate Gonzales' statement True.
Larry Gonzales campaign, e-mail blast, Aug. 31, 2010
Interview with Larry Gonzales, Sept. 2, 1010
E-mail from Larry Gonzales, Sept. 2, 2010
Craigslist, posting fees, accessed Sept. 5, 2010
The Right Side of Austin, "Democrat Maldonado Has No Grassroots: Seeking Paid Block Walkers," Sept. 1, 2010, accessed Sept. 2, 2010
E-mail interview with Mitra Salasel, communications director for state Rep. Diana Maldonado's campaign, Sept. 2, 2010
Email interview with Susan MacTavish Best, spokeswoman for Craigslist, Sept. 2, 2010
Interview with Peck Young, director, director of Austin Community College's Center for Public Policy and Political Studies, Sept. 2, 2010
Interview with Jason Stanford, Democratic political consultant, Sept. 2, 2010
Interview with Chad Wilbanks, Republican political consultant, Sept. 2, 2010
Browse the Truth-O-Meter
More by Meghan Ashford-Grooms
Support independent fact-checking.
Become a member!
In a world of wild talk and fake news, help us stand up for the facts.