Stand up for the facts!
Our only agenda is to publish the truth so you can be an informed participant in democracy.
We need your help.
I would like to contribute
Says Scott Walker "eliminated his own office of economic development in the middle of this recession."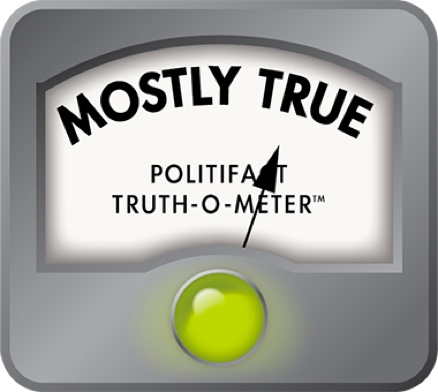 Tom Barrett says gubernatorial rival Scott Walker eliminated economic development office during recession
In the wake of a major recession, and with state unemployment stubbornly high, there's little surprise jobs have been a central focus in the Wisconsin governor's race.

Milwaukee Mayor Tom Barrett, the Democratic nominee, is faulted by Republicans for job losses in the city. And Barrett is slamming Milwaukee County Executive Scott Walker, his GOP rival, for not doing enough from his office -- and even doing more harm than good.

In a new television ad, titled "The Difference is Jobs," Barrett makes this claim:

Scott Walker "eliminated his own office of economic development in the middle of this recession."

That's a pretty strong shot. But is it true?

Let's start with the recession piece of this:

While economic times are still unquestionably tough, the official time frame for the Great Recession is December 2007 through June 2009, according to the National Bureau of Economic Research.

The Barrett campaign is basing its claim on Walker's two most recent budgets, for 2009 and 2010.

In the 2009 budget, introduced in September 2008, Walker eliminated the county's Economic Development Department, moved the seven staff members to other departments and downgraded the director position to a lower level bureaucrat.

"We didn't eliminate the office that office as much as reassign it," Walker said, when asked about the claim. He noted that the economic development activities already were limited -- such as handling real estate deals, low income housing and block grants.

"It represents more of a realistic expectation of what the county is doing," Walker said at the time the office was moved. "We still very much want to play a role."

In the fall of 2009, Walker switched gears and proposed creating a new county office of business development within his own office as part of the 2010 budget. He called for three staff members and a director. But the County Board approved only the position for the director, deleting the staffers. And it put the post in the Department of Transportation and Public Works.

So, while the Barrett TV ad focuses on Walker's action, it leaves out an important detail: the board's involvement in approving -- or blocking -- the executive's proposals.

Additionally, the ad leaves the impression the county has played a large role in economic development.

To be sure, there are economic development issues facing the county, from development of the County Grounds in Wauwatosa, to the sale of county land in the Park East Corridor in downtown Milwaukee, and increased interest in the area surrounding booming Mitchell International Airport.

But the county has never placed as high a priority on economic development as the city, which has many more tools at its disposal to induce projects, including controls over zoning and the ability to create special tax financing districts. The Department of City Development is one of the most powerful -- and largest -- departments at City Hall.

We turned to Bill Drew for a little insight.

Drew is director of the Milwaukee County Research Park on the County Grounds in Wauwatosa. In the past, he served as commissioner of city development and also was director of administration for a time at the county, under former County Executive F. Thomas Ament's administration. (He has contributed $1,000 to Walker's gubernatorial campaign).  

What role should the county play?

"The county has struggled to come up with an answer," Drew said. "We've been in and out of that business in one way or another since the early '90s."

The situation is exacerbated by fighting between the board and the executive.

"It's the culture of the institution that is causing a problem," Drew said. The board and executive have to agree "on the same vision and make a commitment that's longer than one year."

Drew said there hasn't been a professional economic development specialist at the county since Tim Casey, now economic development coordinator in Brookfield, held the post in the 1990s.

Under Walker, two of his recent selections to lead economic development efforts -- Bob Dennik and Tim Russell -- came from his campaign organization and didn't last long.

While Barrett's claim is very specific -- on whether the department was eliminated -- it aims to make a broader point: That Walker has not done what he could have done when it comes to jobs.

So we will delve a little deeper into how the position has been handled.

After the battle over reinstating the office in 2010, Walker could have filled the position starting in January. In August, he hired Damon Dorsey. There was no official announcement of the hiring. It did not become public until it appeared on a County Board committee agenda.

Most recently, Dorsey had worked for the administration of outgoing Gov. Jim Doyle on a proposed $810 million high-speed rail connection -- opposed by Walker -- between Milwaukee and Madison. He made $25 an hour, or $52,200 a year, to assist getting communities involved along the rail line.

In the county job, he will make $80,500 a year.

Dorsey is the former leader of the North Avenue Community Development Corp., which developed several apartment and retail buildings in the central city. In 2007, he developed a commercial building at N. 37th St. and W. North Ave. for a custard and burger stand called Scoopz that was publicly financed in part by the Milwaukee Economic Development Corp. and state Department of Commerce.

The business closed after less than a year, and Dorsey and his wife, Maria, filed for Chapter 7 bankruptcy in February 2009. That case has since been closed. As part of the bankruptcy, Dorsey was required to take a personal financial management class, a routine hurdle required by federal law.

Dorsey said the Scoopz experience shows that he understands the challenges facing businesses in this economic climate.

"I've been on the front lines of the war," he said. "I've seen the blood."

So, let's return to the job -- and claim -- at hand.

To draw a contrast on the critical issue of jobs, Tom Barrett says Scott Walker shut down his economic development office in the midst of a recession. The office did disappear, but in less than a year Walker was already trying to reinstate it -- though the County Board sliced back his plans. While the Barrett TV ad leaves the impression the county's department was large, economic development has never been a major priority or function of the county.

We rate Barrett's claim Mostly True.
Barrett for governor television ad, "The Difference is Jobs, " Oct. 12, 2010

E-mail interview, Phil Walzak, Barrett campaign spokesman, Oct. 12, 2010

Milwaukee Journal Sentinel, Walker plan shifts development efforts, Oct. 3, 2008

Milwaukee Journal Sentinel, Scoopz developer files for bankruptcy, Feb. 27, 2009

Milwaukee Journal Sentinel, Walker economic development plan could find backers, Sept. 27, 2009

Voicemail message, GOP gubernatorial candidate Scott Walker, Oct. 13, 2010

Interview, Tim Nixon, bankruptcy attorney, Oct. 14, 2010

Interview, Bill Drew, director of Milwaukee County Research Park, Oct. 13, 2010

Interview, Damon Dorsey, Milwaukee County economic development director, Oct. 14, 2010

Milwaukee County Board press release, "After two years of stalling, Milwaukee County finally gets an economic development director," Sept. 21, 2010

National Bureau of Economic Research website
Browse the Truth-O-Meter
More by James B. Nelson
Support independent fact-checking.
Become a member!
In a world of wild talk and fake news, help us stand up for the facts.