Stand up for the facts!
Our only agenda is to publish the truth so you can be an informed participant in democracy.
We need your help.
I would like to contribute
On federal stimulus money for expanding rail service.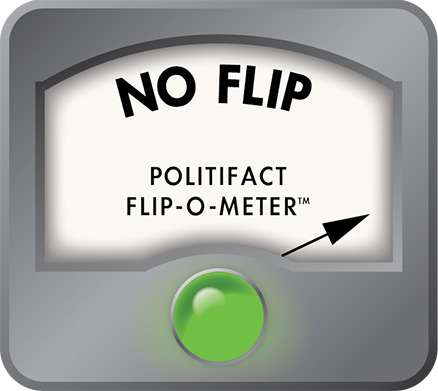 Twists and turns, but No Flip on central funding question
(Editor's note: PolitiFact has a policy of correcting errors of fact and, when appropriate, reviewing conclusions we have reached based on relevant and persuasive new information.

After this item ran April 13, 2011, aides to Gov. Scott Walker asked us to reconsider our original ruling of a Half Flip, specifically as it relates to Walker's statements on the use of stimulus money for the Chicago-to-Milwaukee link.

We asked editors who were not part of the original ruling panel to review the item. Based on their view and additional discussion we have decided a rating of No Flip is warranted. This item has been rewritten to fit that ruling.)


When Wisconsin Gov. Scott Walker announced March 29, 2011, he would seek federal funding for upgrades to Amtrak's Hiawatha train service between Chicago and Milwaukee, it stirred plenty of attention.

After all, Walker was asking the feds for a portion of the same $810 million in stimulus money for a Milwaukee-to-Madison high-speed rail link he campaigned against, and then refused. And some of the money for the Chicago-to-Milwaukee upgrades was included in the earlier grant.

The Hiawatha makes seven round trips a day between Milwaukee and Chicago and has seen steadily increasing ridership, with 741,000 passengers in 2010. Wisconsin is seeking $150 million to buy two additional train sets and eight locomotives as part of the upgrades.

Among others, Milwaukee Ald. Bob Bauman, a supporter of the original grant, criticized Walker for seeking the new money, calling the move "rank hypocrisy."

So, did Walker change his tune on trains?

Time for a visit to the PolitiFact Flip-O-Meter.

Here's our requisite reminder: The Flip-O-Meter doesn't measure whether any change in position was good policy -- or good politics. It just looks at whether a politician has been consistent along the way.

In this case, we are focusing on the statements that relate to the Chicago-to-Milwaukee link and the use of stimulus money for it. Walker intertwined the two when he announced the application.

As with the Madison-to-Milwaukee link, the stimulus money is for high-speed rail service, though the upgrades that have been discussed would not bring to that status until years from now.

To be sure, there are numerous ironies involved in the hotly debated issue, from Walker's past criticism of the federal stimulus program in general to now seeking some of the money he once rejected.

What's more, a portion of the federal money Walker is now seeking would be used to build a maintenance facility in Milwaukee at the Talgo factory in Milwaukee. Talgo is the company that had a contract to build the trains that would run between Milwaukee and Madison -- a contract Walker criticized in 2010 as a gubernatorial candidate.

After the federal government yanked funding for the Milwaukee-to-Madison project because of Walker's opposition, Talgo said it would complete work already under way and then move production work out of Milwaukee.

Now, the Talgo factory is a key part of Walker's plan.

The new state application includes $50 million to $60 million for the maintenance facility. That's up from $30 million that the state previously agreed to spend on the facility. Walker says spending more on the maintenance facility will save state taxpayers $20 million.

Here's the reasoning:

The state's existing contract with Talgo committed the state to spending at least $30 million on a maintenance base. That was to have been located in Madison, as part of the now-dead train service. The new application calls for a bigger facility at the Talgo plant in Milwaukee. Walker wants the feds to pay at least 80 percent, or $48 million, toward the base. The state would pay $10 million to $12 million.

Walker spokesman Cullen Werwie said that means taxpayers are saving between $18 million and $20 million, because if the state does nothing, it's already on the hook for $30 million under the previous deal with Talgo.

Of course, Wisconsin residents who pay federal taxes would still be doing their part to foot the bill.

Let's return to the core question: With the new application, did Walker switch tracks?

Walker certainly didn't want to extend the service to Madison.

But he and virtually everyone else -- including Milwaukee Mayor Tom Barrett and the business community -- likes the Milwaukee-to-Chicago service.

Here are a couple of examples of what Walker said about that train:
In September 2010, he told the Journal Sentinel: "I will continue state support for the Hiawatha, but believe the state simply cannot afford to take on additional maintenance costs for new rail lines."
In November 2010, Walker he reiterated that point, saying in an interview with Mike Gousha of WISN-TV he backed continued state support for the Hiawatha. He also said he'd prefer spending the rejected train money for highways but added he and his staff "looked at options relative to rail," and mentioned the Milwaukee-to-Chicago line.
Indeed, in his news release announcing the application, Walker framed the new application as a money saver -- in contrast to his view the Milwaukee-to-Madison extension was a money loser for the state, which would have had to pay an ongoing subsidy.

So, there's nothing inconsistent on this part of the question.

But what about the use of federal stimulus money?

In February 2009, Walker was critical of the stimulus program in an opinion piece in the Wall Street Journal, saying: "As popular as the federal 'stimulus' package is with Washington politicians, it is more popular among state and local politicians who view federal money as a cure for their fiscal woes."

In the piece, Walker -- then Milwaukee County executive -- said he would refuse to make a list of projects he would seek to fund with stimulus cash.

In an earlier opinion piece in the Milwaukee Journal Sentinel, Walker pushed some of the same themes, but said infrastructure projects "may be worth considering" if several criteria -- such as no local match requirement -- were met.

Those statements both came in early 2009 -- a year before the state's application for high-speed train money was awarded.

In the context of that debate, in at least one spot -- the interview with Gousha -- Walker talked about the possibility of using the rejected money for the Milwaukee-to-Chicago line.

So, while Walker took a stance broadly against the stimulus program -- and scored some political points for doing so -- he also left himself some wiggle room, specifically when it came to the $810 million high-speed rail grant that started this whole debate.

That may be shrewd politics.

But that doesn't make it inconsistent.

Indeed, he had not ruled out any use of stimulus money and was on the record as supporting using it for the Chicago-to-Milwaukee link before the new application was announced.

We rate this No Flip.
Emails, Cullen Werwie, spokesman, Gov. Scott Walker, March 29, 2011, April 5, 6, 2011

Emails, Reggie Newson, executive assistant, Wisconsin Department of Transportation, April 5, 2011

Milwaukee Journal Sentinel, "State Seeks Money for Hiawatha Upgrade," March 29, 2011

Milwaukee Journal Sentinel, "High-Speed Rail Funds to Scatter to Other States," Dec. 9, 2010

Milwaukee Journal Sentinel, "Talgo Pulling Out of Milwaukee in 2012," Dec. 10, 2010

Milwaukee Journal Sentinel, "Walker Open to Redirecting High-Speed Train Money to Other Projects," Nov. 15, 2010

Upfront with Mike Gousha, Nov. 14, 2010

Milwaukee Journal Sentinel, "On the Issues: Hiawatha Rail Line," Sept. 10, 2010

Milwaukee Journal Sentinel, "Walker, Super Steel Chairman Lubar Blast Wisconsin's Talgo Train Deal," March 17, 2010

Wall Street Journal, "Why I'm Not Lining Up for Stimulus Handouts," Feb. 28, 2009
Milwaukee Journal Sentinel, "Don't Use Stimulus to Build In Swell Budgets," Jan. 10, 2009
Browse the Truth-O-Meter
More by James B. Nelson
Support independent fact-checking.
Become a member!
In a world of wild talk and fake news, help us stand up for the facts.