Get PolitiFact in your inbox.
"The governor having a meeting ... isn't covered by the open meetings act."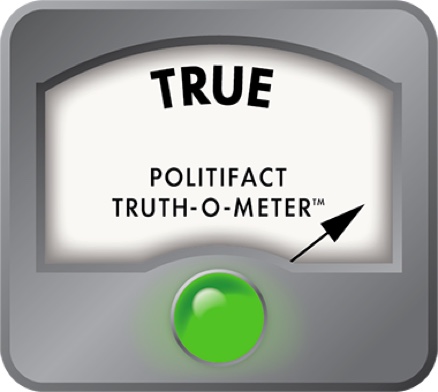 Olens: Governor isn't covered by open meetings laws
For a few brief minutes, a breakfast meeting featuring Georgia Attorney General Sam Olens became a grievance-fest.

In May, Gov. Nathan Deal used Georgia State Patrol troopers to block a Fox 5 reporter from a news conference where Deal signed a controversial immigration bill into law. The station had just aired a story questioning his daughter-in-law's role in raising money for the governor's campaign.

Three months later, members of the Atlanta Press Club, which sponsored the breakfast, were still angry, and they pelted the state's top lawyer with questions. One asked whether it was legal for Deal to use troopers to keep reporters from a news conference.

"Well, time for me to go home now," Olens quipped.

He continued:

"The question presented from a legal context is whether the state's open meetings act precluded that activity. And the answer is no. The answer is the governor having a meeting isn't, frankly, subject to the open meetings act," Olens said.

"It's the governor, it's one person, it's not a board," he said. "So if you literally look to the wording of the act it doesn't relate to that kind of activity."

The most powerful elected official in the state isn't covered by state open meetings law? We thought this claim was worth a second look.

First, a word about open meetings. These laws are the reason why any citizen can pull up a chair at a county commission meeting and watch elected officials debate whether they should let developers build a new shopping center or ban residents from owning pit bulls.

This scrutiny is supposed to keep politicians honest.

When he took office, Olens said he would push for reforms that would strengthen open meetings and records laws. A hearing on the proposed changes is scheduled for Aug. 30 at the state Capitol.

Now back to Olens' claim that "the governor having a meeting isn't, frankly, subject to the open meetings act."

The state Attorney General's Office pointed us to Title 50, Chapter 14 of Georgia's open records law. We took a good look.

The law says that gatherings of a quorum of the members of a governing body must be open to the public and announced at least 24 hours in advance. Agencies must make agendas available to the public before the meeting and release minutes within two business days afterward.

The statute says state departments, agencies, boards, commissions, public corporations and authorities, counties, municipal corporations, school districts, and a host of other bodies are covered by the law.  

But it doesn't say a thing about the governor.

The law doesn't apply to governors, said Hollie Manheimer, executive director of the
Georgia First Amendment Foundation

"Mr. Olens' interpretation is correct," Manheimer said.

This is not to say that the governor can meet up with anyone in private, Manheimer said. If he meets with any of the bodies mentioned in the state's open meetings law, those public officials would have to comply with that law.

And the governor can choose to abide by the law, even though he's not technically subject to it.

State and federal statutes often protect or exempt chief executives from open meetings law, said Mark Caramanica, an expert on freedom of information laws at the Reporters Committee for Freedom of the Press. For instance, he said, a White House Cabinet meeting is closed to the public.

David Hudson, an Augusta attorney who is counsel for the Georgia Press Association, said that Georgia law was drafted this way decades ago because the priority was to ensure boards that have the authority to vote, act on and implement public policies would conduct their business publicly. A governor, as a single person, does not have this kind of power, Hudson said.  

It's worth noting that the Georgia Legislature is exempt from open meetings law, too, thanks to the 1975 state Supreme Court decision Coggin v. Davey. Members of the media sued to complain that they were excluded from a General Assembly committee meeting, but legislators argued they weren't covered by the open meetings law. The General Assembly won.

So there you have it. Of all the elected officials covered by Georgia's open meetings laws, Nathan Deal isn't one of them.

We rule Olen's claim True.
Attorney General Sam Olens statement, Atlanta Press Club breakfast, Aug. 4, 2011

Official Code of Georgia, Annotated, Title 50, Chapter 14, Open and Public Meetings, accessed Aug. 10, 2011

Fox 5/WAGA-TV, "Governor Deal's Office Bans FOX 5 Reporter from Immigration Bill Signing," May 13, 2011

The Atlanta Journal-Constitution, "Sunshine Sunday: Georgia Open Government History," March 13, 2005

Telephone interview, Nels Peterson, counsel for legal policy, Georgia Office of the Attorney General, Aug. 5, 2011

Telephone interview, David Hudson, general counsel, Georgia Press Association, Aug. 15, 2011

Email interview, Hollie Manheimer, executive director, Georgia First Amendment Foundation, Aug. 8 and 10, 2011

Telephone interview, Cynthia Counts, attorney, Aug. 10, 2011

Telephone interview, Mark Caramanica, freedom of information director, the Reporters Committee for Freedom of the Press, Aug. 11, 2011

The Reporters Committee for Freedom of the Press, Open Government Guide, accessed Aug. 11, 2011
Browse the Truth-O-Meter
More by Willoughby Mariano
Support independent fact-checking.
Become a member!
In a world of wild talk and fake news, help us stand up for the facts.