Stand up for the facts!
Our only agenda is to publish the truth so you can be an informed participant in democracy.
We need your help.
I would like to contribute
"Most of, if not all of, the [DeKalb school construction] projects always came in on or were under budget."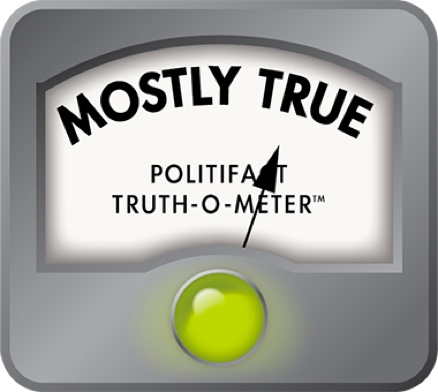 Were DeKalb construction projects completed under budget?
DeKalb County Sheriff Thomas Brown recently took to the microphone at a few radio stations to talk about education.

Surprised? We were. And so we continued to listen.

Brown was on the airwaves before the Nov. 8 elections to encourage DeKalb residents to vote for continuing a 1 percent sales tax to fund education construction projects.

The sheriff explained his interest in the topic. A large number of the inmates in the county jail don't have high school diplomas, and it costs about $50 a day to house and feed them. Brown then made a claim that had us reaching for the Truth-O-Meter.

"Most of, if not all of, the projects always came in on or were under budget," the sheriff told V-103 during the popular Frank & Wanda morning show the day before the election.

Brown repeated similar versions of that claim on other radio programs that day.

Ballot initiatives on education spending usually pass with ease, but this was no sure thing. Several former DeKalb school officials, including former Superintendent Crawford Lewis, are awaiting trial on corruption charges.

Despite that dark cloud, about 60 percent of DeKalb residents voted to continue the tax. We still wondered whether the sheriff deserved high marks for his claim or was he wrong.

Walter Woods, the communications director for the DeKalb County School System, gave us a spreadsheet with 134 projects that have been funded by the latest version of the tax, called the SPLOST III Capital Improvement Program. The program has a budget of about $513 million. Most of the projects under SPLOST III are scheduled to be completed by June 2012.

Of those projects, 103 have been completed. Many of the completed projects were for work such as security lighting or carpet replacement. We didn't consider them as construction projects. We examined projects such as roof replacements (which often cost hundreds of thousands of dollars), renovations and work to comply with the Americans With Disabilities Act.

About 85 percent of those projects were done on or under budget. Some of the projects that exceeded the initial cost doubled the earlier budget. They included the track and tennis court at Chapel Hill Middle School, which had an original budget of $125,000 and have a current contract of $255,522. Another was the natatorium work at Lakeside High School, which had an original budget of $150,000 and now has a current contract of $288,506. Others went slightly over budget, such as ceiling, lighting and air conditioning work at Fairington Elementary School, which had an original budget of $1,917,131 and has a current contract of $1,947,809.

Many of the projects that were done below the original budget came in 30 percent to 50 percent below costs.

Lynn Deutsch, a DeKalb parent who closely watches how the school district spends its money, believes the Great Recession, which took hold in the latter months of 2008, has caused construction costs to drop, which is why most of the projects completed have come in on or under budget.

"Things got cheaper," she said.

Ken Simonson, chief economist of the Associated General Contractors of America, told us that construction costs dipped after the recession and have since gradually increased. Simonson, however, said the decline in construction work across the country has prompted more companies to bid on government projects, thus driving down bids and the cost of the work. The association represents more than 33,000 firms and started in 1918.

Simonson gave us a chart that shows prices for new school construction increased nearly 12 percent in 2008 and dropped nearly 3 percent the year after. The data came from the federal government's Producer Price Index.

Woods said the district has not seen an uptick in costs for materials during the past 18 months. He did say bids by construction companies for DeKalb district work have been lower.

"Vendors are more competitive," he said. "I think there's not a lot of work out there."

Minutes from a March 2009 meeting of the SPLOST citizen's advisory committee make a reference to "favorable construction prices." The minutes were shared by Ernest Brown, a former co-chairman of the committee.

Ernest Brown, no relation to the sheriff, recalled discussions about the recession's impact on construction bids.

"It drove down labor costs because people were being more competitive, and it saved money for the taxpayers," he said.

Woods also defended the quality of the work, which has been a concern of some DeKalb parents who closely watch the district's spending. He did say some subcontractors have been late in meeting deadlines.

The DeKalb school district's spreadsheet and what we saw ourselves backs up much of Thomas Brown's argument. The recession has apparently helped lower bid prices -- even though a few projects were still seriously over budget.

We rate Brown's claim as Mostly True.
V-103 radio interview with DeKalb County Sheriff Thomas Brown

DeKalb County schools SPLOST III report, August 2011

Construction Costs Trends for 2011

Telephone interview, Ken Simonson, chief economist, Associated General Contractors of America, Nov. 21, 2011

Telephone interview, DeKalb County parent Lynn Deutsch, Nov. 21, 2011

Telephone interview, Ernest Brown, former co-chairman, SPLOST III citizens' oversight committee, Nov. 22, 2011

Telephone interview, Walter Woods, communications director, DeKalb County School System, Nov. 28, 2011

AJC Get Schooled blog, "Who are the outside groups influencing DeKalb school construction?" June 7, 2011
Browse the Truth-O-Meter
More by Eric Stirgus
Support independent fact-checking.
Become a member!
In a world of wild talk and fake news, help us stand up for the facts.