Stand up for the facts!
Our only agenda is to publish the truth so you can be an informed participant in democracy.
We need your help.
I would like to contribute
"[Former Georgia congressman] Bob Barr voted ... to raise his own pay."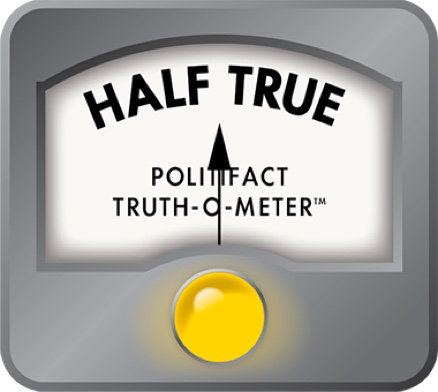 Group attacks Barr on voting record
Former Georgia congressman Bob Barr -- considered a hard-line conservative in his days on Capitol Hill -- got socked last week with a pre-emptive strike from the right.

Four conservative-leaning groups urged Barr, who is thinking about a return to Congress, to butt out of a race against U.S. Rep. Tom Graves, a North Georgia Republican in his first full term in Congress.

One of those groups, the Club for Growth, made a claim against Barr that the others didn't.

"Bob Barr's record has significant flaws," said Club for Growth President Chris Chocola. "Bob Barr voted for No Child Left Behind, to raise the debt limit and to raise his own pay."

We were curious about whether Barr, who served four terms in the House of Representatives, voted to raise his own pay.

Longtime University of Georgia political science professor Charles Bullock said it's not surprising to see such charges as campaigns conduct more intensive opposition research. Bullock found the specific criticism about congressional raises interesting, since the claims are about something that happened about a decade ago. Still, Bullock said it could resonate with some Georgia voters as the state and nation suffer through high unemployment.

Bullock speculated some voters may conclude "here's a guy who is in a position to do more for himself and he does it."

Congress gets an automatic cost-of-living increase each year unless it passes legislation stopping the raise the year before it takes effect. The increase is part of the Ethics Reform Act, which became law in 1992.

Barr served in Congress from 1995 to 2003. Congress received salary bumps five times during that time, in 1998 and from 2000 through 2003, according to the Congressional Research Service. The increases ranged from 2.3 percent to nearly 3.4 percent. Barr's salary was $154,700 in his last year in Congress. Members of Congress currently make an annual salary of $174,000.

Congress passed legislation to stop the pay increases for the years of 1995, 1996 and 1997, according to the CRS.

In September 1997, Barr voted against a bill that would have helped Congress to get a raise. Barr said an increase was "inappropriate at this time," according to a Rome News Tribune account. Later that month, Barr voted against an appropriations bill that had the increase provision intact, The Washington Post reported. The bill still passed.

In 1999, 2000, 2001 and 2002, Barr voted in favor of "consideration" motions in the House of Representatives that allowed legislation to move forward that included salary increases for Congress, congressional records show. Most members of the Georgia House delegation also voted in favor of those measures, records show. Those members included Republicans such as Johnny Isakson, now U.S. senator from Georgia, John Linder, Charlie Norwood and Nathan Deal, who is now Georgia's governor.

Club for Growth spokesman Barney Keller believes those measures are proof that Barr voted for an increase in his pay.

"It's a motion on the previous question," Keller told us. "He could have voted to prevent the pay raise."

We reached out to Barr to talk about the Club for Growth's claim and received a call back from Bill Crane, a veteran media strategist and political analyst in the area. Crane argued on Barr's behalf that his vote for a motion should not be construed as support for any increase in pay. The New York Times noted in a July 2000 article that the appropriations bill does not have language specifying congressional cost-of-living increases. The funds are drawn from general reserves.

In those final appropriation bills, which included financing for much of the federal government's operating budget, Barr was the only member of the Georgia delegation who voted against the legislation in each year, congressional records show.

Keller maintained his position.

"[Barr] knew what it was," he said, referring to the procedural measures. "He could had voted no. He voted yes."

And what about Barr's vote in 1997 against the raise?

"That's typical of a career politician to wave around a shiny object to distract voters from his record," Keller said. "He's not being honest with Georgia voters."

Politicians sometimes defend their votes for some controversial measures by saying they had no choice because it was part of a larger piece of legislation that they were compelled to support. For that reason, it's often difficult to decipher votes on precise items, especially when it comes to federal spending.

Barr did vote in favor of motions that allowed several bills to move forward that gave members of Congress a pay increase. However, these were bills that were part of much larger appropriations bills, and Barr voted against the final version of those bills.

The Club for Growth's claim is technically accurate, but it needs more context that could give readers a full impression of this issue.

We rate the claim Half True.
Club for Growth press release, Nov. 30, 2011

AJC Political Insider, "Four groups launch a pre-emptive strike against Bob Barr," Dec. 2, 2011

The Atlanta Journal-Constitution, "How Georgians voted in Congress: July 17-21," July 23, 2000

Congressional Research Service, congressional salary raise report, 2011

Congressional bill database

E-mails from political analyst Bill Crane, Dec. 1 and 2, 2011

New York Times, "Lazio Is Assailed for Vote on Bill Including Pay Raise," July 22, 2000

Telephone interviews with Club for Growth spokesman Barney Keller, Dec. 2, 2011

Telephone interview with University of Georgia political science professor Charles Bullock, Dec. 5, 2011

Washington Post special report on congressional pay, 1997


Browse the Truth-O-Meter
More by Eric Stirgus
Support independent fact-checking.
Become a member!
In a world of wild talk and fake news, help us stand up for the facts.