Stand up for the facts!
Our only agenda is to publish the truth so you can be an informed participant in democracy.
We need your help.
I would like to contribute
I differed with my party on business legislation, on consumer protection, and on free trade agreements.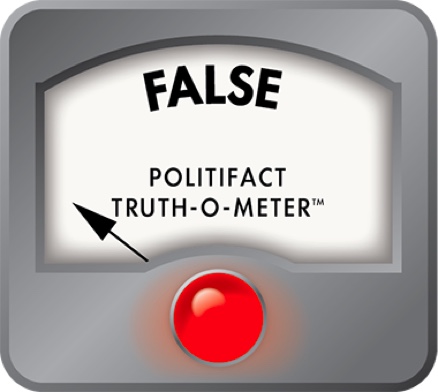 Suzanne Bonamici says she's different from other Democrats in instances of business, consumer protection and free trade
The two major party candidates vying for a congressional seat in January's 1st District special election both claim to be independent and bipartisan.

At a recent debate co-hosted by the Independent Party of Oregon, former Democratic state Sen. Suzanne Bonamici and Republican businessman Rob Cornilles were asked to provide hard evidence. John Schrag of The Forest Grove News-Times asked:
 
"...Can you provide three specific examples of where you differ from your party on matters of policy that are either now before Congress or we can expect to come before Congress in the next couple of years?"
We will consider Bonamici's three examples, on business, consumer protection and free trade, with this question in mind: Did she, in fact, differ with her party on matters of policy?

Overall, Bonamici said she looks at policy on its merits, regardless of the forces behind it.
"And that happened in the last session, when my party Democratic chair didn't want to hear a bill that I thought was good for Oregon business. I convinced that chair to hear the bill, it passed and it's helping an Oregon business right now," she said.

House Bill 2095, now law, allows Oregon to join a multi-state compact that makes it easier for insurers to offer new products. It passed out of the Oregon House on a 48-10 vote and landed in the consumer protection committee of Sen. Chip Shields, D-Portland. He was afraid the compact would erode local oversight. Bonamici favored the bill and convinced him to allow a vote in committee.

"She bucked a Democratic chairman; no one would have had an opportunity (to vote) had she not taken on her Democratic chairman," said Carol Butler, Bonamici's campaign manager.  

Still, the proposal cleared the Senate 28-2. While the no votes came from Democrats, most in her party supported the bill. We give her credit for changing Shields' mind, but we rule this portion False.
 
Bonamici: "Another place where I've differed -- in fact I've become a leader in my party -- and that's on consumer protection issues: cracking down on mortgage fraud, making sure that people who are facing foreclosure have all the opportunities that they can to prevent losing their home, protecting seniors and middle class families from scams. I've been a leader and strengthened my party in that way."
That's a sweet talking point. But consumer protection is an issue on which Democrats have long prided themselves. Oregon Senate Democrats highlighted the issue as an agenda item for the 2011 Legislature -- and proudly claimed success after the session.

Still, the director of Economic Fairness Oregon insists that many Democrats would have been happy approving watered-down legislation if not for Bonamici's advocacy. "The best example," said Angela Martin, "is in her advocacy of consumer protection with teeth."  

So let's accept that Bonamici goaded skittish Democrats into supporting more consumer friendly legislation. That still doesn't make up for the fact that siding with consumers is supposed to be a key part of the Democratic Party platform. To suggest otherwise is silly. We could rate this a Pants on Fire.
Bonamici: "And finally, during this campaign I could have taken the easy way in a primary campaign and said I wouldn't support the free trade agreements that were pending before Congress. I took my time and did research and came to a reasoned conclusion about those, rather than just take a party line approach on those."

Congress approved agreements with South Korea, Colombia, and Panama, earlier this year. Generally, businesses like trade agreements as a way to get goods into other countries. Labor groups argue they will lose jobs.

In the special primary election, Bonamici's main rivals came out against the trade agreements. Bonamici refused to take a position then, saying that she would need specifics in order to vote. Job creation in the district would be her main criterion.

But is being opposed to free trade the party-line approach?

Oregon's Democratic delegation split on the proposals. Sen. Ron Wyden and Reps. Earl Blumenauer and Kurt Schrader came down on the free-trade side (although Blumenauer and Schrader did vote against the pact with Colombia, where there are particular concerns over the killing of unionists). Sen. Jeff Merkley and Rep. Peter DeFazio voted against all three.

Bonamici now says she would vote for the South Korean agreement, but against the other two.

We don't see how her position differs with those in her party. Democrats in Congress split. But we'll give her a Mostly False, because she was under pressure from her primary opponents.

We get what Bonamici is trying to say.

In the first case, she differed with Shields, a Democrat, who controlled the committee, but not from the rest of her caucus. In the second case, she differed with some Democrats who, according to one lobbyist, had to be coaxed into tougher legislation. In the third case, she differed with her primary opponents.

But that doesn't mean she's differed with Democrats on matters of policy. We combine the three mini-rulings to come up with a False.
The New York Times, "Congress Ends 5-Year Standoff on Trade Deals in Rare Accord," Oct. 12, 2011
The Oregonian, "Oregon congressional delegation's big divide on free trade agreements," Oct. 13, 2011
Oregon Department of Consumer and Business Services, Testimony of Teresa Miller, Administrator, HB 2095, Feb. 10, 2011
Oregon Senate Democrats 2011 Session Agenda Checklist
Katu.com, "Bonamici, Cornilles debate ideas on job creation," Nov. 27, 2011
Interview with Angela Martin, Dec. 1, 2011
Interview with Chip Shields, Dec. 7, 2011
E-mail from and interview with Jillian Schoene, Bonamici campaign, Nov. 29, Dec. 9, 2011
Interview with Carol Butler, Bonamici campaign, Dec. 9, 2011
Browse the Truth-O-Meter
More by Janie Har
Support independent fact-checking.
Become a member!
In a world of wild talk and fake news, help us stand up for the facts.