Stand up for the facts!
Our only agenda is to publish the truth so you can be an informed participant in democracy.
We need your help.
I would like to contribute
"Only one president has ever cut Medicare for seniors in this country . . . Barack Obama."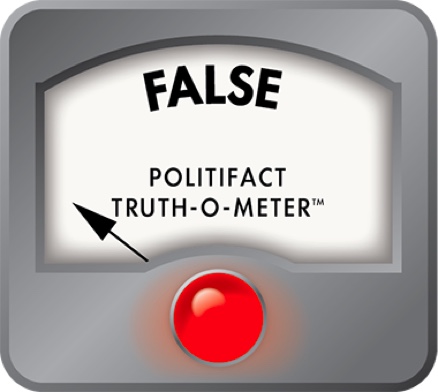 Romney says only Obama has cut Medicare
Medicare, the health insurance program for seniors and the disabled, constitutes a massive and growing share of federal spending. Yet Republican presidential candidate Mitt Romney says that in the more than four decades since its inception, only one president has ever cut the program's budget.

"Let's not forget, only one president has ever cut Medicare for seniors in this country, and it's Barack Obama," Romney, the former governor of Massachusetts, said in a Republican presidential debate on Dec. 10, 2011.

We looked into the accuracy of that statement and found Romney is way off.

First, did Obama cut Medicare?

The Romney campaign did not respond to our inquiry about this statement. We assume that when he said Obama cut Medicare, he was talking about the 2010 health care reform law that, among other things, reduces future Medicare spending by $500 billion.

But that's just it -- the cuts don't come from the current Medicare budget, they put a leash on future growth and payment increases.

PolitiFact has explored this before:

"The Affordable Care Act does reduce Medicare spending by $500 billion over the next 10 years. But here's the catch: Those dollars aren't taken out of the current budget, they are not actual cuts, and nowhere does the bill actually eliminate any current benefits," we wrote last month.

Which brings us to the next point. We note that, in the debate, Romney specified that Obama cut Medicare "for seniors." That sounds like he meant that Obama cut Medicare benefits.

That notion falls flat too. The health care law does not reduce benefits -- in fact, it enhances them.

"The Affordable Care Act improves the benefits in Medicare, in terms of prevention, in terms of filling in the donut hole in Medicare Part D for prescription drugs," said Jonathan Oberlander, a health policy professor at the University of North Carolina-Chapel Hill.

Oberlander said there's only one "leg to stand on" in interpreting that the law reduces benefits.

"The Affordable Care Act reduces payments to Medicare Advantage plans. They're overpaid by quite a lot -- excess payments above and beyond what it costs to treat people," he said. "As a result of that, there are projections that some of those (plans) are going to trim some of the extra benefits." Those could include benefits for vision or dental care.

"But," Oberlander said, "that hasn't happened so far, and it doesn't affect the core benefits, the required Medicare benefits."

Did other presidents make cuts?

In short, yes.

John Rother, president and CEO of the National Coalition on Health Care, a coalition of trade associations, labor unions and advocacy groups that supports health care reform, offered some historical perspective on the matter.

In 1981, President Ronald Reagan in his first year in office signed an omnibus budget reconciliation act that raised Medicare deductibles for beneficiaries. Rother said he considers that a cut in benefits.

Two years later, Reagan and Congress enacted legislation that changed the way Medicare reimbursed hospitals. The program's costs had been growing exponentially as hospitals treated patients and then sent the federal government the bills. It was known as "retrospective cost-based reimbursement." The new law established a "prospective payment system," which categorized inpatient admission cases into what were called diagnosis-related groups (DRGs). In this system, Medicare pays hospitals a flat rate for each inpatient case.

"The system was intended to motivate hospitals to change the way they deliver services. With DRGs, it did not matter what hospitals charged anymore -- Medicare capped their payments," according to a 2001 report by the Department of Health and Human Services Office of the Inspector General.

The resulting savings to Medicare were $21-billion in the first three years, exceeding even the Congressional Budget Office projections. It cut the program, Rother said, but did not affect benefits.

In 1987, Reagan signed a law that expanded Medicare benefits, including drug coverage and catastrophic illness coverage. But when George H.W. Bush took office, he repealed it. So Rother puts Bush in the column of presidents who cut Medicare for seniors.

The Medicare program saw another major overhaul in 1997. President Bill Clinton signed the Balanced Budget Act, which tightened payments to doctors, nursing homes, home health agencies and health insurance plans and expanded the types of private plans that could participate in Medicare (the part of the program now known as Medicare Advantage).

Its goal was to trim $393.8 billion in spending over 10 years. But it's a trickier question to answer whether that law cut benefits.

"With Clinton, it's an indirect effect," Rother said. "It did cut reimbursements to several providers who claimed they would not be able to serve the beneficiary population."

The tally, then:

* Reagan cut Medicare by reducing payments to hospitals, and he cut benefits by raising deductibles.

* George H.W. Bush cut benefits by repealing a law that would have expanded coverage for drugs and catastrophic illness.

* Clinton cut Medicare by changing payments to doctors and other providers, which could be considered to have an indirect effect on beneficiaries.

* Obama cut future Medicare spending but expanded benefits.

Our ruling

Romney said, "only one president has ever cut Medicare for seniors in this country and it's Barack Obama."

The statement gets it wrong on every front. The Medicare belt was tightened in 1981 and 1982 under Reagan, in 1989 under the first President Bush and again in 1997 under Clinton. So Obama is in no way the only president to cut the program.

Further, by specifying that Obama cut Medicare "for seniors," Romney seems to mean that the president slashed benefits, not just the program's spending. That's even more egregious. Other presidents have made changes to Medicare that reduced benefits for seniors, while the health care law Obama signed actually increases them. That's a lot of inaccuracy in a single sentence. We rate Romney's statement False.
"Medicare Hospital Prospective Payment System -- How DRG Rates Are Calculated and Updated," Department of Health and Human Services Office of Inspector General, August 2001

"Does the Congressional Budget Office Underestimate Savings from Reform? A Review of the Historical Record," The Commonwealth Fund, January 2010

Balanced Budget Act of 1997

Interview with Jonathan Oberlander, professor at UNC-Chapel Hill, Dec. 11, 2011

Interview with John Rother, National Coalition on Health Care, Dec. 12, 2011

"An Examination of Key Medicare Provisions in the Balanced Budget Act of 1997," The Commonwealth Fund, Sept. 9, 1997

"Another look at a favorite Republican talking point," PolitiFact.com, Nov. 14, 2011

"History Shows Medicare Can Be Cut While Sparing Beneficiaries," NPR, July 22, 2011

"Romney wrong on Medicare cuts," Factcheck.org, Dec. 10, 2011

"Romney Claims Obama Was The 'Only President' To Cut Medicare, Ignoring Reagan's Reductions To The Program," Think Progress, Sept. 6, 2011
Browse the Truth-O-Meter
More by Molly Moorhead
Support independent fact-checking.
Become a member!
In a world of wild talk and fake news, help us stand up for the facts.