Stand up for the facts!
Our only agenda is to publish the truth so you can be an informed participant in democracy.
We need your help.
I would like to contribute
"Rhode Island already gets more revenue per capita from gambling than any other state in the country."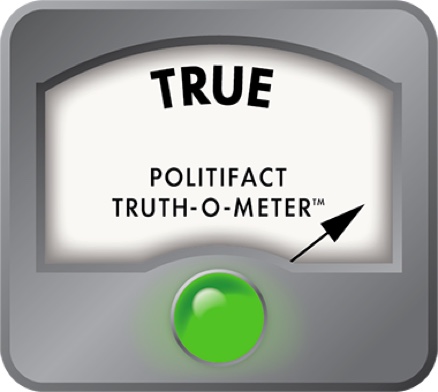 Anti-casino activist says Rhode Island gets more revenue per capita from gambling than any other state
Despite a sluggish economy, gambling revenue continues to rise in Rhode Island. In fact, gambling is the state's third-largest source of revenue, bringing in about $355 million in the 2011 fiscal year, according to a recent Journal story.

That's a lot of money, especially for a state facing a huge budget deficit, but for one local group, Rhode Island's dependence on gambling is far from a good thing.

In the Nov. 25 story, the Rev. Eugene J. McKenna, president of Citizens Concerned About Casino Gambling, said that the social costs of gambling far outweigh the financial benefits for the state. He tried to put the problem in perspective.

"Gambling is a losing proposition, no matter how you look at it," said Father McKenna, of South Kingstown. "Rhode Island already gets more revenue per capita from gambling than any other state in the country."

His claim intrigued us. Is Rhode Island really the national leader in per-capita gambling revenue? Above Nevada, home of the Las Vegas Strip? And New Jersey, which has Atlantic City?

We asked Father McKenna where he got his information. He said it's a longstanding fact that Rhode Island leads the nation in gambling revenue per capita, but he couldn't immediately give us proof.

After our inquiry, he contacted the Stop Predatory Gambling Foundation, a Washington, D.C., advocacy group, which cited two reports, one published in 2006 by the National Conference on State Legislatures and the other in 2008 by the Tax Foundation.

But there are problems with each list.

The National Conference of State Legislatures ranked Rhode Island second behind West Virginia in gambling revenue per capita. But it was a flawed comparison because Rhode Island reported only gross sales, while the other states reported net sales figures that accounted for expenses.

The Tax Foundation report, which put Rhode Island at the top of its list, analyzed only lottery sales per capita, not the revenue per capita that Father McKenna cited.

And neither report factored in revenues from other sources of gambling in other states, such as casinos, card rooms and racetracks. That's an important point. Remember, McKenna did not refer only to lottery revenue in his comments. He spoke of gambling revenue.

So we searched for more relevant information.

Our search yielded a study that does consider gambling revenues as a whole and also calculates revenues on approximately a per capita basis.

The study comes from the Nelson A. Rockefeller Institute of Government, in Albany, N.Y., which, in recent years, has produced annual reports on state-by-state gambling operations. The institute is a public policy think-tank that has been used as a source on state fiscal issues by The New York Times, Bloomberg, Reuters and other media.

The institute's 2011 report looked promising. (It also appealed to us because its title, "Back in the Black: States' Gambling Revenues Rose in 2010," calls to mind our favorite AC/DC song.)

The report examines the four major types of legalized gambling from which states earn revenues -- lotteries, casinos, racinos and traditional pari-mutuel wagering on horse races, greyhound races and jai alai.

For Rhode Island, revenues from the state lottery, its two slot parlors, Twin River and Newport Grand, and other betting totaled about $346 million in the 2010 fiscal year. The study then calculated revenue per resident aged 18 or older, the legal gambling age in Rhode Island and most other states.

This is not per capita, but it's a legitimate measure. The same calculation -- revenues per adult resident -- was done for every state, so the study compared apples to apples. The only way the number could be skewed is if Rhode Island has a markedly different ratio of adults than other states. According to the 2010 census, 76 percent of the national population is aged 18 or over. In Rhode Island, the number is 78.7 percent. That's pretty close.

So using the Rockefeller Institute's calculation, the gambling revenue figure worked out to about $418 per adult for the Ocean State. And that is indeed the highest in the nation. Nevada ranked second with $407 per adult and Delaware came in third with $397.

Our ruling

Both reports that Father McKenna referred us to in support of his statement came up short. Not only were they somewhat outdated, but they used flawed numbers and only considered revenues from lotteries and video lottery terminals.

But the Rockefeller Institute studies that we found took a comprehensive look at all the major types of gambling. And according to the most recent report, Rhode Island did receive more revenue per adult than any other state in fiscal 2010.

The reverend rolled the dice on this one and lady luck was on his side. We rule his statement True.

(Get updates from PolitiFactRI on Twitter. To comment or offer your ruling, visit us on our PolitiFact Rhode Island Facebook page.)
OAG.state.RI.US, "Rhode Island Lottery" audit report FY2011, Rhode Island Office of the Auditor General, Sept. 30, 2011, accessed Dec. 8, 2011

NCSL.org, "Lotteries and Revenue By State," December 2008, accessed Dec. 7, 2011

TaxFoundation.org, "State Lottery Sales Per Capita, Fiscal Year 2008," March 25, 2010, accessed Dec. 7, 2011

Rockinst.org, "Back in the Black: States' Gambling Revenues Rose in 2010," June 23, 2011, accessed Dec. 7, 2011

Census.gov, "Age and Sex Composition: 2010," May 2011, accessed Dec. 8, 2011

Interview and e-mails, The Rev. Eugene J. McKenna, president, Citizens Concerned About
Casino Gambling, Dec. 6, 7, 2011

Interview and e-mails, Gerald S. Aubin, director, Rhode Island State Lottery, Dec. 8, 2011

Interview, Brian Lehman, spokesman, American Gaming Association, Dec. 6,7, 2011
Browse the Truth-O-Meter
More by Alex Kuffner
Support independent fact-checking.
Become a member!
In a world of wild talk and fake news, help us stand up for the facts.