Stand up for the facts!
Our only agenda is to publish the truth so you can be an informed participant in democracy.
We need your help.
I would like to contribute
"Our tax code is . . . 80,000 pages."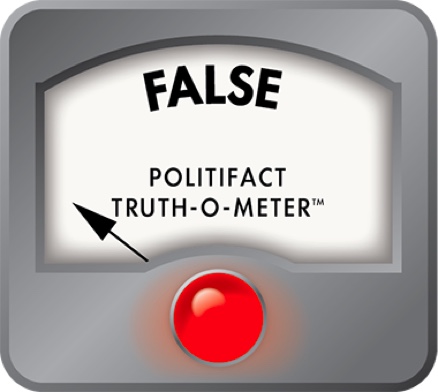 U.S. Senate candidate Barry Hinckley says the nation's tax code is 80,000 pages
Every year brings another report that the United State's tax code has become so complicated that even the people who work for the Internal Revenue Service don't know what's in it. Part of the reason may be its size.

Republican Barry Hinckley, who is running against incumbent Democrat Sheldon Whitehouse, offered a sense of the scope of the code during a Dec. 4 appearance on the WPRI program "Newsmakers."

When Rhode Island Public Radio political reporter Ian Donnis asked about the refusal of most Republicans to consider any tax increase, Hinckley said, "Our tax code is desperately broken. It's 80,000 pages. So in my opinion, any effort to continue to tweak something that's broken is a fool's errand to begin with. So trying to raise more money through a busted tax code, I think, is the wrong way to go."

Hinckley repeated the 80,000-page claim a few minutes later. It also shows up in a Warwick Beacon story on the candidate.

Is the tax code really that long?

A lot of estimates can be found on the Internet, ranging from a few thousand pages to more than a million, if you believe the claims of one blogger.

But as any student knows who has tried to lengthen a sparse book report by writing with big letters, the number of pages isn't the best gauge. It's the number of words.

We went to The Tax Foundation, a pro-business Washington-based research organization that regularly examines the tax burden. They directed us to a report from the Taxpayer Advocate's Service (TAS), an independent organization within the Internal Revenue Service.

The service took the Feb. 1, 2010, version of the tax code, written by Congress and formally known as Title 26, copied it into Microsoft Word, and used the "word count" feature to discover that it had 3.8 million words. (The actual length is a bit less because this count includes cross references, captions and descriptions of amendments that don't have the force of law.)

So we did the math -- 3.8 million words spread over 80,000 pages would be 48 words per page. That's either really big print or a huge waste of paper. (For a sense of scale, this paragraph contains exactly 48 words and would fill one of those hypothetical pages.)

The 3.8 million words produced 11,045 single-spaced pages in Word, which makes Hinckley's estimate more than seven times too high.

And if the code were published in a reference book, that would allow for smaller type and more words per page. The government doesn't publish just the code so we went to CCH, a company that specializes in tax law research. Its tax code book, published a year ago, runs 5,368 pages, according to the version we found on Amazon.com.

Even that number is too high. CCH spokeswoman Leslie Bonacum said if you strip out indexes and other material that is not part of the code itself. That "leaves us with 5,084 pages of the Internal Revenue Code, as amended, along with amendment notes (written by CCH staff) that details all legislative changes to the code and their effective dates."

We wondered if the IRS rules and regulations might increase the total to 80,000 pages.

No such luck.

CCH's printed copy of the rules and regs, covering six volumes, is listed at 13,880 pages. So the code and regulations combined is fewer than 20,000 pages. (By extrapolation, if you downloaded both and printed them with Word, as the TAS did, it would run to about 40,000 pages, still half of what Hinckley says.)

So where did Hinckley get the 80,000-page figure?

His spokeswoman sent us links to a Fox Business article and a commentary on a New Jersey website. We found plenty of other references that also used the 80,000-page figure. They simply state it as fact.

One source of confusion may be CCH itself.

The Hinckley spokeswoman directed us to a colorful chart by CCH that shows how the number of pages in one of its publications, "CCH Standard Federal Tax Reporter," has increased over the years. Its 2011 edition has 72,536 pages.

But that publication isn't just the tax code. "That includes the code, regs, annotations to court cases, revenue rulings, explanatory material, other things that come out of the IRS that are not regulations," said Mark Luscombe, principal analyst for the tax and accounting group at CCH. "But some politicians and media have picked that up and called it the code, which is not correct."

For example, the website Political Calculations miscalculates by taking the CCH chart and incorrectly presenting it as the number of pages in the tax code itself.

That's akin to including everything the Vatican has written about Scripture and using it to claim that the Bible itself (about 1,100 pages) is hundreds of millions of pages long.

Our ruling

Unlike the U.S. tax code, we'll be brief.

Republican U.S. Senate candidate Barry Hinckley said the code is 80,000 pages long, an assertion he made twice on "Newsmakers" and his spokeswoman defends by citing some Internet sources.

In reality, it's about 11,000 pages on Microsoft Word and less than half that size in book form. Adding in the IRS's rules and regulations still doesn't bring it close to the length Hinckley says. Only when you include all types of ancillary materials does it begin to approach that legendary length.

If Hinckley, whose campaign informed us in an email that the code was 3.7 million words in 2009, had done the math, they would have realized that the code couldn't cover that many pages unless you put fewer than 48 words per page. A few minutes searching Amazon.com would also have uncovered real books -- and page counts -- that were more accurate.

The U.S. tax code may be ridiculously long, maddeningly convoluted and overly complex, but Hinckley's count is way off the mark. We rule his claim False.

(Get updates from PolitiFactRI on Twitter. To comment or offer your ruling, visit us on our PolitiFact Rhode Island Facebook page.)
WPRI.com, "Newsmakers 12/2: Gross, Hinckley," aired Dec. 4, 2011

E-mail, Richard Morrison, The Tax Foundation, Dec. 19, 2011

IRS.gov, "Introduction: The Most Serious Problems Encountered by Taxpayers," National Taxpayer Advocate's 2010 Annual Report to Congress," accessed Dec. 19, 2011

Amazon.com, "Internal Revenue Code: Income, Estate, Gift, Employment and Excise Taxes (Winter 2011 Edition);" "Income Tax Regulations (Winter 2011), December 2010 [Paperback]" and "Holy Bible: King James Version [Hardcover], American Bible Society," accessed Dec. 20 and 21, 2011

Interview, Mark Luscombe, principal analyst, tax and accounting group, CCH, Dec. 16, 2011

Interview and e-mail, Leslie Bonacum, spokeswoman, CCH, Dec. 16, 2011

CCH.com, "Federal Tax Law Keeps Piling Up," 2011, accessed Dec. 16, 2011

PoliticalCalculations.blogspot.com, "The Growing Complexity of the U.S. Federal Tax Code," March 11, 2010, accessed Dec. 20, 2011
Browse the Truth-O-Meter
More by C. Eugene Emery Jr.
Support independent fact-checking.
Become a member!
In a world of wild talk and fake news, help us stand up for the facts.