Stand up for the facts!
Our only agenda is to publish the truth so you can be an informed participant in democracy.
We need your help.
I would like to contribute
Says there were only "about eight or 10" inflammatory sentences in his newsletters.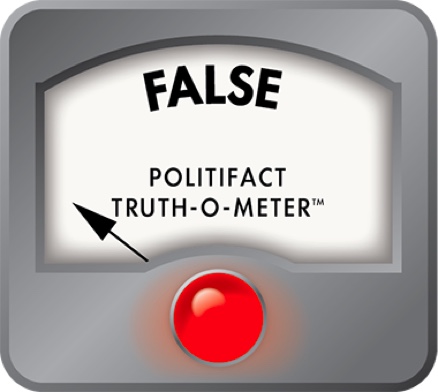 Ron Paul says newsletters contained only eight or 10 sentences of 'bad stuff'
As the buzz surrounding Republican presidential candidate Ron Paul continues to grow heading into the Jan. 3, 2011, caucuses in Iowa, media reports have renewed national scrutiny of controversial passages in newsletters that were published under his name from the mid-1970s through the mid-1990s. Material in the letters has been described as racist, anti-gay and anti-Israel.
Questioned Dec. 29, 2011, by a caller on an Iowa radio talk show, the longtime Republican congressman from Texas said that he wrote pieces on economics for the newsletters but that "there were many times" he didn't edit the entire letters and that he didn't know about the most incendiary passages until years later.
"These were sentences that were put in," Paul said during the interview on WHO-AM in Des Moines, Iowa. "I think there was a total of about eight or 10 sentences. And it was bad stuff, and it wasn't a reflection of my views at all." Later in the interview, Paul elaborated: "I actually put a type of a newsletter out — it was a Freedom Report, an Investment Letter, Survival Report, different ways — every month since 1976. This is probably 10 sentences out of, you know, 10,000 pages, for all I know. I think it's bad that it happened, but I disavowed all these views."
We wondered whether Paul was right that the sentences at issue numbered only eight or 10.
First, some background: This is not the first time that Paul has been questioned about the content of his newsletters, which also became an issue in his 1996 U.S. House race and when he ran for president in 2008. In January of that year, the New Republic magazine published a lengthy article on Paul and the newsletters. At the time, it also posted online excerpts from the newsletters, which had such names as Ron Paul's Freedom Report, Ron Paul Political Report and The Ron Paul Survival Report.
When questioned this year about the controversial passages in the newsletters, Paul has repeatedly disavowed them, saying that he didn't write them and didn't review them before they appeared in the newsletters. He has also described himself as a negligent publisher, saying that he should have paid more attention to the newsletters' content.
The New Republic reported that some of the letters were published by the Foundation for Rational Economics and Education, a nonprofit that Paul founded in 1976, while others were published by a now-defunct company called Ron Paul & Associates, which also produced a monthly publication called The Ron Paul Investment Letter, according to the article.
Although the several dozen pages that The New Republic posted online, dated between 1988 and 1996, represent only a selected sample of Paul's newsletters, we reviewed them and found at least 35 sentences in at least 14 passages over nine different newsletters that we think many people would find inflammatory, although we recognize that opinions about specific passages will differ.
Several entire items, ranging from a few paragraphs to an entire "Special Issue on Racial Terrorism," would probably fit the bill. Click here for our analysis of the documents.
The documents sling a range of conspiracy allegations about topics from government control to financial collapse. Several items are anti-homosexual and anti-black; these, as recent news accounts have reported, include a description of the national Martin Luther King Jr. holiday as "Hate Whitey Day" and a statement that during the riots after the 1992 Rodney King verdict, "order was only restored in L.A. when it was time for the blacks to pick up their welfare checks."
Other examples of inflammatory remarks: A newsletter excerpt that The New Republic listed as being from October 1992 describes "urban youth who play unsuspecting whites like pianos," and an item on AIDS reportedly from a September 1994 newsletter mentions the danger of being infected by "a malicious gay."
Our ruling
Paul says the newsletters that bore his name contained only eight to 10 sentences of "bad stuff." Although "bad stuff" is in the eye of the beholder, we found nearly three dozen sentences that we think many would find inflammatory — and that's just in the excerpts we had access to. Paul's statement is False.
New York Times, news article, "New focus on incendiary words in Paul's newsletters," Dec. 19, 2011
CBS News, news article, "Ron Paul: Only 8-10 sentences of 'bad stuff' in newsletters," Dec. 29, 2011
WHO-AM, podcasts for Jan Mickelson show, Ron Paul interview, Dec. 29, 2011
Houston Chronicle, news article, "Newsletter excerpts offer ammunition to Paul's opponent," May 23, 1996
The New Republic, article, "Angry white man; the bigoted past of Ron Paul," Jan. 8, 2008
The New Republic, excerpts from Ron Paul newsletters, posted Jan. 8, 2008
PolitiFact Texas, spreadsheet, analysis of excerpts of Ron Paul newsletters, created Dec. 30, 2011
Browse the Truth-O-Meter
More by Meghan Ashford-Grooms
Support independent fact-checking.
Become a member!
In a world of wild talk and fake news, help us stand up for the facts.