Stand up for the facts!
Our only agenda is to publish the truth so you can be an informed participant in democracy.
We need your help.
I would like to contribute
"FACT: the 'special assistant' in @johnkasich's office makes over three times more than an average #OH firefighter"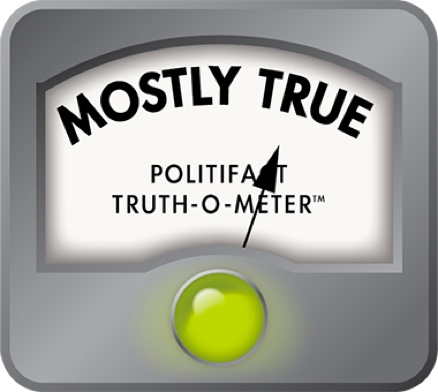 Ohio Democratic Party claims a top assistant for Gov. John Kasich makes triple what firefighters are paid
Columbus politics is dominated at the moment by a fiery debate over a proposal to overhaul collective bargaining laws for public workers. Known as Senate Bill 5, the legislation is drawing raucous crowds to the normally serene Statehouse atrium.

Republican Gov. John Kasich, backed by a Republican-controlled legislature, wants to end collective bargaining for state workers and abate the ability of city workers, including firefighters and police officers, to bargain for pay and benefits. Republican leaders say such reforms are needed to lower costs and ease the financial burden on the state and city budgets.

Democratic leaders, flanked by a few Republcian office holders and lots of labor leaders, argue that teachers and firefighters and other union workers are not overpaid and that collective bargaining keeps both workers and employers in check at a minimal cost.

The Ohio Democratic Party on Feb. 14 boiled down its argument in a Twitter message. Both the brevity and first word of the tweet caught Politifact Ohio's attention: "FACT: the 'special assistant' in @johnkasich's office makes over three times more than an average #OH firefighter"

Given the debate that rages on behind the tweet, we thought it was worth checking out.

The tweet refers to Jai Chabria, a senior advisor, or special assistant, to Kasich, says ODP communications director Seth Bringman.

Chabria, who worked with Kasich at the defunct Wall Street firm Lehman Brothers, is part of governor's inner-circle, whose members are paid six-figure salaries, a point that received a good bit of attention earlier this year. Chabria's annual salary is $145,000 and is not subject to any collective bargaining deal. He serves at the pleasure of the governor.

ODP's Bringman says the tweet also refers to the average annual salary of an Ohio firefighter of $41,160. He cities the Bureau of Labor Statistics as the tweet's source.

The bureau indeed shows that the mean, or average, salary of an Ohio firefighter is $41,160. The figure does not include benefits and is based on the data compiled in May 2009, the latest available.

It's important to note that the figure, however, is based on six surveys of 200,000 employers collected over a three-year period, not on an actual accounting of every Ohio firefighter's salary.

Looking for something more current, Politifact Ohio compared the bureau's survey data to actual salary data collected by the Ohio Police & Fire Pension Fund, which manages the retirement plans for safety officers. Spokesman David Graham says the fund doesn't track the average salary of an Ohio firefighter but actual raw data is compiled in actuary reports.

According to one such report in 2010 by Buck Consultants, there are 13,001 full-time fire personnel in Ohio whose collective annual salary totaled $860,966,828. Dividing the total salary by the number of personnel produces an average annual salary of $66,000.

The actuary reports also reveal that firefighters with one-year of experience are paid an average salary of $45,000. Fire personnel with 40 years of experience can earn $80,000. The data can also be sliced numerous other ways to produce a range of salary figures.

But the pension fund figures also include other ranking officers, like captains or chiefs, who earn more and would raise the average. The data also doesn't separate firefighters who are cross-trained as paramedics or in hazardous materials and typically earn more than others firefighters.

"It includes the fire chief from Cleveland to the firefighter from Piqua," Graham said. He couldn't say exactly what ranks and specialties are in the latest figures but said captains and others all qualify under Ohio Revised Code as firefighters and therefore are members of the pension fund.

So where does this leave the Ohio Democratic Party's tweet on the Truth-O-Meter?

Chabria's salary of $145,000 is more than three times the salary figure of $41,160 that the party cited.  And its based on widely accepted data produced by the Bureau of Labor Statistics, which is widely regarded as a reliable source for statistics. But it's important to know that some of that data, collected in surveys, is several years old.

Chabria's salary is also more than three times the average salary of a firefighter with one year of experience, according to the Ohio Police & Fire Pension Fund's actuary reports. (But only 3.7 percent of current firefighters had 1 year of experience, the report shows.)

While we would like to have more current data, the overall pension fund numbers are skewed because they also include pay figures from higher ranking, higher paid officers.

All of this  also underscores the point often made by the Politifact: Statistics often need illumination. We rate the tweet as Mostly True. 
Seth Bringman, Ohio Democratic Party, email interview, Feb. 14, 2011

David Graham, Ohio Police and Fire Pension Fund, interview, Feb. 16 and 23, 2011

Bureau of Labor Statistics, May 2009 State Occupational Employment and Wage Estimates Ohio

Ohio Police and Fire Pension Fund, Actuarial of Pension Benefits, Buck Consultants, 2010,
Browse the Truth-O-Meter
More by Mark Naymik
Support independent fact-checking.
Become a member!
In a world of wild talk and fake news, help us stand up for the facts.