Get PolitiFact in your inbox.
Says U.S. Sen. Sherrod Brown is responsible for "over $14 trillion in debt."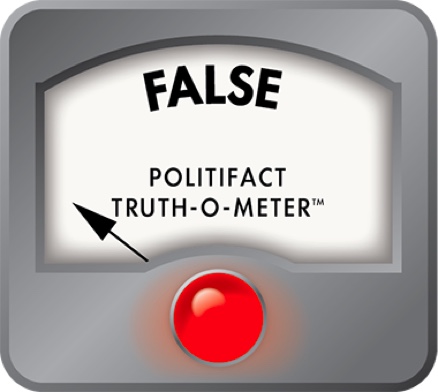 Sen. Jim DeMint says Sen Sherrod Brown is responsible for "over $14 trillion in debt"
Josh Mandel, who was elected Ohio treasurer last November, insists he's not officially running for the U.S. Senate.

But the young Republican, whose two tours in Iraq as a Marine intelligence specialist and his fund-raising prowess has made him a top GOP political recruit, is raising money and collecting endorsements like an official candidate.

He won two endorsements recently that come with fund-raising help, one from the conservative Club for Growth and one from the Senate Conservatives Fund.

The Senate Conservatives Fund, headed by U.S. Sen. Jim DeMint of South Carolina, said in a statement that the group was "launching an all out SCF surge to raise $100,000" for Mandel by June 30.

Explaining his support of Mandel, DeMint heaped praise on Mandel while blasting Democratic U.S. Sen. Sherrod Brown, whose seat Mandel wants.

"The race will pit a young conservative leader with the principles and determination to restore America's greatness against a liberal career politician who is responsible for near double-digit unemployment and over $14 trillion in debt," DeMint said in a statement.

DeMint's statement was widely distributed by the group and others, including the Cuyahoga County Republican Party, and quoted by news organizations, including The Columbus Dispatch.

Politifact Ohio tripped over DeMint's line that Brown is responsible for the country's $14 trillion debt and decided to ask DeMint to explain Brown's culpability.

DeMint's spokesman, Wesley Denton, referred our questions to the Senate Conservatives Fund.

The funds' spokesman, Matt Hoskins, said in an email that Brown has voted for bills that drove up spending and the debt, citing his support for the financial and auto bailouts, federal stimulus bill and the health care reform bill. He also said that Brown has voted for other Democratic spending bills and earmarks and has voted to raise the debt ceiling at least three times.

Before we can get into DeMint's defense, let's review a few things about the debt.

The debt is the total amount of money the government has borrowed over the years to cover its cash deficits. The government has often carried debt, which spiked after recessions and wars. In the past, however, the government has done a better job of paying down those debts.

When Republican George W. Bush left the presidency in January 2009, the nation's debt was $10.6 trillion, which includes the amount of publicly held debt plus debt held by the U.S. government. The government borrows from itself by tapping the money set aside to pay for Social Security and other entitlement programs.

Under President Obama, the debt has climbed to more than $14 trillion.

Since 2001, Congress has voted to raise the legal limit of borrowing, known as the debt ceiling, 10 times, seven under Bush and three times under Obama, according to the Congressional Research Service.

Congress faces a vote on raising the debt ceiling in August. If Congress doesn't raise it, the government will default on its loans, which is fueling the debate over cutting and spending issues.

Brown, a former representative nearing the end of his first term in the U.S. Senate, has been in Washington nearly 19 years. And he's voted to raise the debt ceiling in the past, but he's also voted against raising the debt ceiling three times.

So, does Brown bear the responsibility for the debt, as DeMint claims?

Hoskins acknowledged that Brown is not solely responsible for the debt but said Brown's still a major cause.

"DeMint says many Republicans are responsible, too," Hoskins said. "But Sherrod Brown has clearly contributed greatly to the problem. Has there ever been a spending bill that he didn't support?"

In other words, DeMint is saying any vote Brown cast that resulted in federal expenditures has contributed to the national debt.

But there's numerous problems with this argument.

For one, it paves the way for the reverse argument that any vote Brown cast against spending or reducing revenue should be tallied and subtracted from the national debt.

Brown, for instance, voted against the Bush-era tax cuts, which the non-partisan Congressional Research Service said came with a 10-year price tag of $1 trillion. (But Brown supported a 2010 bill that extended them for two years and renewed jobless benefits.) Brown also voted against the War in Iraq, which the CRS says cost $800 billion in direct costs to date.

Brown – despite claims to the contrary by the Senate Conservatives Fund -- also voted against the 2003 Medicare prescription drug program passed by the Republican-controlled Congress. At the time, President Bush said the program would cost $400 billion but the figure was later revised to more than $1 trillion.

In a recent PolitiFact item, Brian Riedl, the lead budget analyst at the conservative Heritage Foundation, argued that kind of tallying was faulty analysis.
   
Riedl referred us to his own blog, in which he wrote, "Imagine a basketball team that loses 100-98. It would make no sense to cherry pick one single basket by their opponent and blame it for 100 percent of the loss – letting all other baskets scored off the hook."
   
Riedl's broader point is that "one could cherry pick" any number of spending or tax policies and blame them for the entire problem.

Trying to assign a value to every individual vote leads to an accounting exercise that would give a CPA nightmares.

The biggest problem with DeMint's argument is that it oversimplifies how Washington works by ignoring that spending agendas are set by party leadership and succeed only when leaders win collective support. The argument also ignores the impact of recessions and wars, and all the other spending and borrowing that produces debt.

So where does this leave DeMint's original claim?
 
Right off the bat, DeMint – through a spokesman at the Senate Conservatives Fund -- admits that Brown is not singularly responsible.



DeMint's attempt to assign a value to Brown's vote sets up an accounting exercise in a vacuum, leaving out important details and context. And Hoskins in emails to Politifact Ohio incorrectly claimed Brown supported the Medicare prescription drug program that passed in 2003.



DeMint's comment also selectively ignores a Washington reality: No one politician alone can take credit for blowing the budget because the fiscal policies by both parties have shaped the government overspending since 2001.
Brown has certainly voted for spending programs and to raise the debt ceiling, but DeMint left himself little wiggle room in a statement designed to score political points.

On the Truth-O-Meter, his claim rates False.
Senate Conservatives Fund, "SCF endorses Josh Mandel in Ohio," June 27, 2011

Telephone interview with Wesley, Denton, communications director for U.S. Sen. Jim DeMint, June 29, 2011

Email exchanges with Matt Hoskins, spokesman, Senate Conservatives Funds, June 28 and June 29, 2011.

Office of Management and Budget, historical debt tables

Congressional Research Service, "The Debt Limit: History and Recent Increases," May 16, 2011

The Washington Post, "Medicare Drug Benefit May Cost $1.2 Trillion, Estimate Dwarfs Bush's Original Price Tag", Ceci Connolly and Mike Allen, February 9, 2005

Treasury Department debt calculator

Heritage Foundation, "Liberal think tank fails statistics," Brian Riedl, May 13, 2011

PolitiFact Ohio, "NRCC says Rep. Betty Sutton's 'spending spree' maxed out federal debt," May 31, 2011
Browse the Truth-O-Meter
More by Mark Naymik
Support independent fact-checking.
Become a member!
In a world of wild talk and fake news, help us stand up for the facts.