Stand up for the facts!
Our only agenda is to publish the truth so you can be an informed participant in democracy.
We need your help.
I would like to contribute
"The Greenest County in America."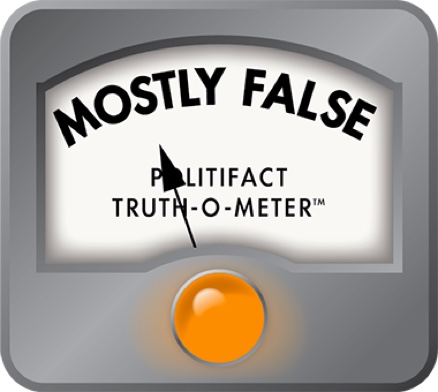 DeKalb "greenest county in nation" claim gets muddy
In metro Atlanta, the land of smog alerts and farmland-turned-to-suburbs, one local county makes a bold claim about its efforts to be environmentally conscious.

DeKalb County, its website says, is "the greenest county in America."

Let's put that on some recycled paper and send it to each of the county's estimated 750,000 residents.

DeKalb's communications director, Burke Brennan, sent PolitiFact Georgia an e-mail making the case for the county. It includes:
 
the claim DeKalb has the only public landfill in Georgia doing a methane gas-to-electricity program, producing enough power to fuel as many as 4,000 homes.
the county has acquired more than 3,000 acres of new parkland and greenspace over the past eight years; a huge feat, DeKalb says since it is more than 85 percent developed.
a claim DeKalb has 48 miles of hiking and biking trails, the most of any county in Georgia.
all newly-constructed buildings that cost more than $5 million to build are LEED projects, a third-party certification program that a structure is environmentally efficient.
the county received a $14.9 million federal grant to fund programs designed to reduce the use of fossil fuels in its transportation vehicles.
the Atlanta Regional Commission recognized DeKalb in December 2009 as one of its first Green Communities.

"In DeKalb County, we are taking the lead on sustainability ...  we are one step closer to being the greenest county in America," DeKalb County Chief Executive Officer Burrell Ellis said in 2009 when the county was honored by the ARC.

Many folks we discussed this claim with used phrases like "bold" or "ambitious" to describe DeKalb's audacity, not willing to publicly dismiss it. Some were willing to criticize the claim.

"That's all a good case for them to be one of the greenest counties in Georgia," said Mark Woodall, Georgia chapter chairman of the Sierra Club, which claims to be the largest grassroots environmental organization in the state. "DeKalb being the greenest county in America seems pretty unthinkable."

Being "green," means many things these days. Some organizations have occasionally released surveys rankings America's greenest cities, but we found few similar rankings of counties. The Robert Wood Johnson Foundation, a non-profit organization that works to improve health and health care for Americans, earlier this year looked at the environmental health of each U.S. county. One category was physical health. The foundation used data put together by researchers from the EPA and the Centers for Disease Control and Prevention to determine the physical health of each county. The criteria included how many days the air was unhealthy, the number of days the air was unhealthy due to ozone, access to healthy foods and how many liquor stores were in a county. DeKalb ranked near the bottom of Georgia counties, 153rd, in terms of physical health.

Some categories that DeKalb is bragging about are difficult to compare.

In other areas, such as the number of LEED-certified buildings, Dekalb has competition. Gwinnett had three LEED-certifiied structures, according to the U.S. Green Building Council. DeKalb is an Energy Star partner -- a federal effort to protect the environment through energy-efficient practices -- but so are Cobb, Fulton and Gwinnett counties and the city of Atlanta.

On hiking and biking trails, DeKalb may run into some argument about having the most in Georgia. Cobb County, for example, lists about 75 miles of trails within its cities and unincorporated areas.

It was suggested we look at Arlington County, Va. to find another county that could make a case it is greener than DeKalb. The county has a page on its website with more than a dozen awards and recognition for its sustainable community and environmental efforts. Arlington won two National Association of Counties Achievement Awards this year for its recycling efforts. That organization also named Arlington its Outstanding Civil Engineering Project award in 2006 for its Green Building Program.

Other counties, like Boulder, Colo., have goals such as reducing outdoor water use by 50 percent by using indigenous plants and recycling 50 percent of construction waste.

DeKalb's case was muddied in December when the U.S. Environmental Protection Agency fined $453,000 for 836 sewage spills over the last five years. The EPA estimates there are about 40,000 spills from the nation's 25,000 sewage systems a year. California officials reported about 2,000 spills into the San Francisco Bay in 2008.

Brennan noted the day after the fine was announced, county commissioners voted 6-1 to spend $1.345 billion to make repairs to its water and sewer system, nearly twice as much money as the EPA recommended. DeKalb taxpayers will pay higher water and sewer bills to help fund the work.

Despite the fine, Brennan stuck by DeKalb's claim.

"Nobody here is claiming perfection, but based on the programs, awards, designations and initiatives DeKalb has in place and ongoing, I am sticking with the motto 'DeKalb is the greenest county in America,' " Brennan told us in an e-mail.

"After all, 'Cowboy Capital of the World' was already taken," added Brennan, referring to Oakdale, Calif.

DeKalb has certainly tried to make its mark as an environmentally conscious county. But DeKalb's claim of being the "greenest county" in the nation ignores critical facts that would give a visitor to its web site a different impression. We rate the county's claim as Barely True.
Editor's note: This statement was rated Barely True when it was published. On July 27, 2011, we changed the name for the rating to Mostly False.
DeKalb County's website
Arlington County, Va. Sustainable Community and Environment Awards
Atlanta Journal-Constitution, Dec. 13, 2010, "EPA mandates DeKalb clean water-sewer system"
Atlanta Regional Commission Green Communities, DeKalb County, Dec. 2, 2009
Cobb County trail system directory
County Health Rankings
E-mails from DeKalb County Communications Director Burke Brennan, Dec. 10 and 22, 2010

Southeast Green, "DeKalb County Designated Green Community"
Browse the Truth-O-Meter
More by Eric Stirgus
Support independent fact-checking.
Become a member!
In a world of wild talk and fake news, help us stand up for the facts.