Stand up for the facts!
Our only agenda is to publish the truth so you can be an informed participant in democracy.
We need your help.
I would like to contribute
"State agencies have not identified one single instance where groundwater has been damaged due to hydraulic fracking."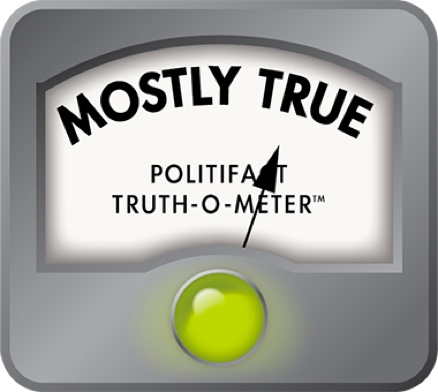 State Sen. Kris Jordan says 'fracking' hasn't contaminated Ohio groundwater
As public debate across the country has bubbled up in recent months over environmental concerns related to hydraulic fracturing — or fracking as it's becoming widely known — proponents of oil and gas drilling have come rushing to its defense.

The process involves pumping millions of gallons chemical-laced water and sand deep underground into horizontal wells under high pressure to crack open shale,  enabling natural gas extraction.

On June 15, 2011, state Sen. Kris Jordan, a Delaware Republican, defended the process in a floor speech on behalf of legislation that would throw open state parkland to oil and gas drilling.

During his speech, Jordan portrayed the growing concerns of the public — which have been fanned by "Gasland," a controversial documentary on the environmental issues related to the fracking process — as overblown as he pointed to a long track record of safe fracking in Ohio.

"State agencies have not identified one single instance where groundwater has been damaged due to hydraulic fracking," Jordan said.

With drilling likely coming soon to Eastern Ohio where the Utica and Marcellus shale formations await possible exploration, PolitiFact Ohio decided to check out Jordan's claim.

We started with Jordan, who stood by his statement.

"From what I understand, none of the cases has come from fracking itself being involved in contaminating any water," said Jordan. "Any problems that have happened have been well construction issues."

Jordan said he consulted with several people in Ohio's oil and gas industry including Tom Stewart, a top official with the Ohio Oil and Gas Association for his information.

Stewart and other oil and gas supporters directed us to several recent statements from state and federal EPA officials such as one made recently by Lisa Jackson, President Barack Obama's top federal Environmental Protection Agency administrator.

During a House committee hearing, Jackson said evidence was limited on whether hydraulic fracturing can affect water tables and aquifers.

"There is evidence it can certainly affect them. I am not aware of any proven case where the fracking process itself impacted water although there are investigations ongoing," she told lawmakers.

The U.S. EPA began a study in January 2011 of possible environmental problems caused by fracking. The first findings from that study aren't expected until late 2012.

ODNR officials also said they haven't seen water contamination from fracking in Ohio.

"ODNR's Oil and Gas Program has not identified any instances of groundwater contamination related to hydraulic fracturing since the technology was first used here in the early 1950s," ODNR spokeswoman Heidi Hetzel-Evans said in an email.

When considering these statements, however, it's important to understand exactly what they are saying—and also what they are not saying.

What they are saying is that there are no documented cases of groundwater contamination directly from the process of pumping the chemical-laced water and sand into the ground to break the rock apart.

They are not talking about the actual drilling of the hole that is fracked or the construction of the drilling well that is used for the fracking process.

"There is definitely a lot of misinformation out there," said Hetzel-Evans. "I don't think the general public understands that the drilling process isn't fracking."

And while there aren't any groundwater problems due directly to fracking in Ohio, the drilling of wells to prepare for the fracking process has lead to water contamination in at least one case in Ohio. Meanwhile, the first study of its kind in the country is turning up similar evidence.

In December 2007, a home exploded in a residential neighborhood in Bainbridge Township in Geauga County, Ohio. A panel assembled by ODNR ultimately found that a poorly-constructed well casing — think of it as a cement seal around the drill hole -- allowed gas to migrate upwards along the edge of the casing and up the pipe. Ultimately, this gas seeped into the home in Bainbridge and caused the explosion.

Meanwhile, there is new evidence outside of Ohio that poorly constructed drilling wells used for fracking are leading to problems with groundwater.

Duke University researchers found that methane levels were 17 times higher in water wells within one kilometer of hydraulic fracking sites in New York and Pennsylvania than in water wells farther away. The methane levels in those wells showed the same characteristics as methane produced from fracking, as opposed to naturally-occurring methane.  

Robert Jackson, the professor of environmental sciences who headed up the research, said that the "methane migration" was likely caused by problems with the casing around the drill hole rather than from the methane migrating thousands of feet through the rock from the fracking zone.

But he wonders whether the new high-pressure water treatment used in fracking could be the cause.

"What I haven't seen anyone address is whether hydraulic fracturing makes it more likely to cause well casings to leak," he said. "It may be the high pressure involved in fracking makes leaks more common and bigger."

Meanwhile, the gas exploration boom in Pennsylvania has begun turning up evidence that the shale gas exploration involving the fracking process could be contaminating groundwater supplies with methane.

The state's Department of Environmental Protection ordered Houston-based Cabot Oil & Gas Corp. to provide and maintain potable water and gas mitigation for residents in Dimock, Pa., who sued over wells polluted in 2009 with methane gas and other contaminants.

Another group, from Lenox Township, Pa., sued Houston-driller Southwestern Energy Co. in 2010  claiming their wells were contaminated with fracking fluids.

Both suits are tied up in court.    

So where does that leave Jordan's claim that "state agencies have not identified one single instance where groundwater has been damaged due to hydraulic fracking."

That statement squares with ODNR's records.

But regulators in Ohio have linked water contamination problems in at least one incident to other aspects of drilling such as the construction of the drilling wells. That's additional information that provides clarification.

On the Truth-O-Meter, Jordan's statement grades out at Mostly True.
 
Sen. Kris Jordan, floor speech during debate over oil and gas drilling in state park, June 15, 2011

Phone interview with Sen. Kris Jordan on July 5, 2011

Phone interview with Tom Stewart, executive Vice President of the Ohio Oil and Gas Association, on July 6, 2011

Phone interview and e-mail exchanges with Heidi Hetzel-Evans spokeswoman Ohio Department of Natural Resources on June 21 and July 7, 2011

Phone interview with Robert Jackson, director of Duke University's Center on Global Change, on July 7, 2011

Proceedings of the National Academy of Sciences of the United States of America, "Methane contamination of drinking water accompanying gas-well drilling and hydraulic fracturings," Stephen G. Osborn, Avner Vengosh, Nathaniel R. Warner and Robert B. Jackson, April 2011

Ohio Department of Natural Resources, "Expert Panel Technical Report: Bainbridge Township Subsurface Gas Invasion," Sept. 1, 2008

"Gasland," official websitefor the documentary

FOX News, "EPA Administrator Lisa Jackson Tells Congress "No Proven Cases Where Fracking Has Affected Water" May 24, 2011

U.S. Sen. James Inhofe, news release "Obama Administration: No Documented Cases of Hydraulic Fracturing Contamination," Dec. 8, 2009

CNN, "'Fracking' yields fuel, fear in Northeast," Sept. 3, 2010

Browse the Truth-O-Meter
More by Aaron Marshall
Support independent fact-checking.
Become a member!
In a world of wild talk and fake news, help us stand up for the facts.