Stand up for the facts!
Our only agenda is to publish the truth so you can be an informed participant in democracy.
We need your help.
I would like to contribute
The House passed "cut, cap and balance" with "bipartisan support."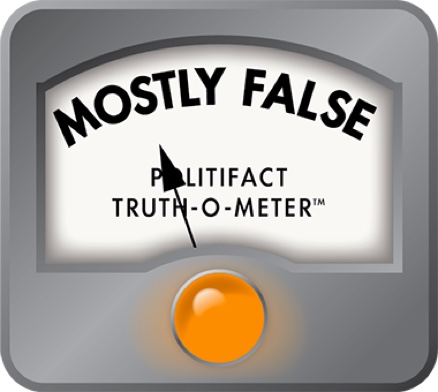 Bipartisan support for "cut, cap and balance", John Boehner says
During back-to-back prime time addresses on July 25, 2011, President Barack Obama and House Speaker John Boehner each made his case on how to proceed on raising the debt ceiling. Each tried to portray himself as the voice of reason in the debate.

Boehner, who leads the Republican majority in the U.S. House of Representatives, said that he was only trying to carry out the will of the people.

"What we told the president in January was this: The American people will not accept an increase in the debt limit without significant spending cuts and reforms," Boehner said. "And over the last six months, we've done our best to convince the president to partner with us to do something dramatic to change the fiscal trajectory of our country ... something that will boost confidence in our economy, renew a measure of faith in our government, and help small businesses get back on track.

"Last week, the House passed such a plan, and with bipartisan support. It's called the 'Cut, Cap, and Balance' Act. It cuts and caps government spending and paves the way for a balanced budget amendment to the Constitution, which we believe is the best way to stop Washington from spending money it doesn't have. Before we even passed the bill in the House, the president said he would veto it."

Boehner's description of "Cut, Cap and Balance" passing with "bipartisan support" got the attention of a lot of our readers, who tweeted and e-mailed us to urge us to fact-check the statement.

Reader reaction was enhanced by an interview a few hours earlier between Sen. Mike Lee, a tea party supporter and Republican from Utah, and Chris Matthews of MSNBC. When Lee said the bill passed the House in bipartisan fashion, Mathhews forcefully objected.

Here's the slightly edited transcript. (Watch the exchange online.)

Matthews: "What's this bipartisan thing you're talking about? I didn't see that there. It was overwhelmingly a party-line vote."

Lee: "Overwhelmingly, but we had five Democrats who voted with us."

Matthews: "It was a party-line vote. Let's call it what it is. It was a party-line vote, sir. Let's not start with nonsense here. It was a party-line vote in the House. Fair enough. Your party controls the House. You passed it. It wasn't a bipartisan vote."

Lee: "We have five Democratic votes. Last time I checked, when you have Democrats voting with Republicans, that's bipartisan."

Matthews: "You're talking to the American people on my show, and are trying to tell me this horse and rabbit stew of 234, five of whom are Democrats, is a bipartisan vote? Anybody watching now knows that's malarkey."

Lee: "Well, look, we can argue about the meaning of bipartisan..."

Matthews: "I'm not arguing -- just speak English here. Do you believe it was a bipartisan vote in the House? ..."

Lee: "Chris, what I said was, it had bipartisan support. It had the support of five Democrats. We can argue about the significance of that. But my point is, this is the only piece of legislation anyone has proposed that's made it anywhere in Congress to raise the debt limit. What I'm saying is, we are trying to do this. We cannot be accused, we as Republicans, of simply wanting for the debt limit deadline to arrive without us raising the debt limit."

So was the vote in the House "bipartisan"? Let's take a closer look at the vote.

The measure passed 234 to 190, largely along party lines, with Republicans in support and Democrats opposed. But five Democrats sided with Republicans to back the bill, and nine Republicans joined the Democrats in opposition to the bill.

We should note that two prominent Republicans running for president -- Rep. Michele Bachmann, R-Minn., and Rep. Ron Paul, R-Texas, -- opposed "cut, cap and balance" because they said it didn't go far enough.

What Boehner said was nothing new. Members of both parties have been using the "bipartisan" line about bills with minimal cross-party support for years.

Consider this 2003 account in National Journal, in which a Republican lobbyist bemoaned the possibility that Rep. Ralph Hall -- a very conservative Texas Democrat -- could lose his seat due to redistricting. The lobbyist noted that Hall's willingness to co-sponsor Republican bills, often as the only Democrat to do so, provided lawmakers and lobbyists "with an elusive and highly useful talking point: that their bill is "bipartisan.'" The GOP lobbyist told the magazine that "labeling something 'bipartisan' absolutely helps, no matter who the Democrat is." (Hall survived redistricting, became a Republican and remains in Congress.)

Democrats have used exactly the same trick. Back in 2009, Obama said that a Senate committee had approved an early version of health care reform with "both Democratic and Republican support." Because the measure got one Republican vote out of 23 on the committee, we rated that Barely True.

When we contacted longtime observers of Congress, they agreed that there's a venerable tradition of attaching the "bipartisan" badge to legislation with only the thinnest support from the opposite party.

"To paraphrase Bill Clinton, it all depends on the meaning of 'bipartisan,'" said Norm Ornstein, a congressional scholar at the conservative American Enterprise Institute. "My definition would be healthy numbers, not necessarily majorities, and not necessarily equally drawn, from both parties. To call 'bipartisan' a measure that gets five Democrats -- less than 3 percent of the party in the House -- is a huge stretch, though part of a longstanding tradition."

U.S. Senate historian Donald Ritchie said the contemporary usage of the term "bipartisan" reflects long-term transformations in the two parties.

"Back in the 1970s, both parties had liberal and conservative wings," he said. "There were as many Eisenhower Republicans as there were Goldwater Republicans. The Democrats had a small but powerful conservative wing, consisting of Southern Democrats who chaired the major committees. No one expected either caucus to vote together. Instead the conservatives in both parties voted together against the moderates and liberals in both parties, so almost all votes were bipartisan, usually with substantial numbers in both camps."

This began to change in the 1980s, Ritchie said, with Republicans replacing Democrats in the southern states and Democrats replacing moderate Republicans in northern states. Today, he said, "party-line votes have become common rather than exceptional. As a result, whenever one or more members cross the line either way, it gets called "bipartisan.'"

So where does this leave us? Boehner was technically correct that some Democrats voted for the "Cut, Cap and Balance" bill, and, following longstanding Congressional tradition, that enabled him to dub the bill "bipartisan." But in speaking to a wider audience -- a national television address -- we think many viewers would be led to believe that the bill in fact had a significant degree of Democratic support, when in fact it did not. This strikes us as just as misleading as Obama's earlier claim about the health care vote in committee. So we're giving it the same rating: Barely True.

Editor's note: This statement was rated Barely True when it was published. On July 27, 2011, we changed the name for the rating to Mostly False.
THOMAS, HR 2560: Cut, cap and balance, accessed July 21, 2011
Clerk of the U.S. House of Representatives, Vote on 'cut, cap and balance,' July 19, 2011
The White House, Statement of administration policy, H. R. 2560 – Cut, Cap and Balance Act of 2011, July 18, 2011
PolitiFact, Health care reform bill not that bipartisan, Oct. 19, 2009
Rep. Ron Paul, Statement on the Cut, Cap and Balance Act, accessed July 26, 2011
Rep. Michele Bachmann, Bachmann Statement on "Cut, Cap and Balance" Vote, July 19, 2011
National Journal's CongressDaily, "Missing You Already," July 11, 2003
E-mail interview with Donald Wolfensberger, director of the Congress Project at the Woodrow Wilson International Center for Scholars, July 26, 2011
E-mail interview with Victor Kamber, Democratic consultant, July 26, 2011
E-mail interview with Norm Ornstein, congressional scholar at the American Enterprise Institute, July 26, 2011
E-mail interview with Donald Ritchie, U.S. Senate historian, July 26, 2011
Browse the Truth-O-Meter
More by Angie Drobnic Holan
Support independent fact-checking.
Become a member!
In a world of wild talk and fake news, help us stand up for the facts.