Stand up for the facts!
Our only agenda is to publish the truth so you can be an informed participant in democracy.
We need your help.
I would like to contribute
Says Ohio Treasurer Josh Mandel "supports allowing the United States to default on its obligations."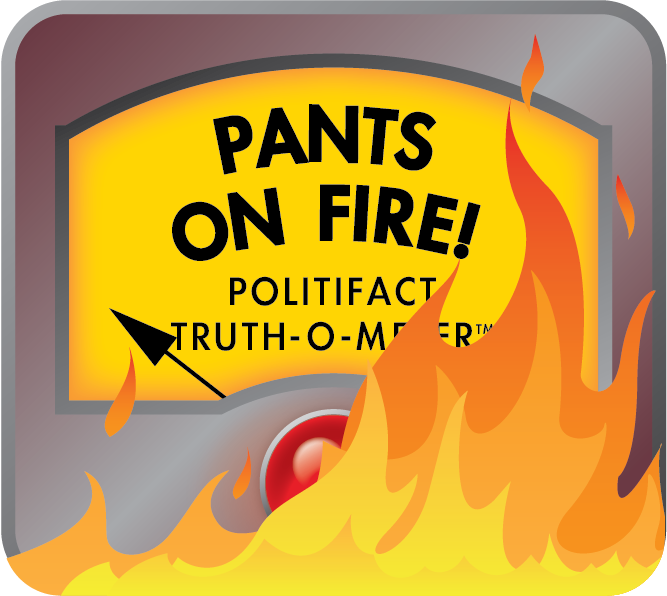 Ohio Democratic Party accuses Josh Mandel of endorsing a U.S. default
Josh Mandel, who was elected Ohio treasurer last November, has not officially announced he is running for the U.S. Senate next year. But that has not kept the Republican from raising money like a candidate or from collecting endorsements such as that of the Senate Conservatives Fund.

The fund is a political action committee headed by U.S. Sen. Jim DeMint of South Carolina, founder of the Senate's Tea Party Caucus. The group said it was "launching an all out SCF surge" to raise money for Mandel, who "strongly supports all of the SCF policy goals."

That drew the attention of the Ohio Democratic Party, which looked at those goals and issued a statement saying that Mandel "supports allowing the United States to default on its obligations."

The statement said the "extreme stand" puts him in disagreement with Ohio Republicans like Sen. Rob Portman and U.S. House Speaker John Boehner.

PolitiFact Ohio asked for evidence.

Democratic Party spokesman Justin Barasky directed us specifically to a video posted by Ohio Dems and to the endorsement statement of the Senate Conservatives Fund. Barasky said they show Mandel opposes raising the debt limit, "and by definition (in taking that position) you are endorsing default."

The 1 minute 43 second video asserts in its first 20 seconds that Mandel supports allowing the U.S. to go into default, citing an email from the Senate Conservatives Fund as the source. The remainder quotes a variety of sources, including Portman and Boehner, on the dangers of default, and quotes President Ronald Reagan from 1985 on the need to raise the federal debt ceiling.

We then looked at the SCF statement. In it, DeMint wrote: "Sherrod Brown supports raising the debt limit. Mandel opposes it."

We next called Mandel's spokesman on political matters, Anthony Conchel, to ask about Mandel's position on default.

"I'm not going to respond to that," he said, instead providing a quote from Mandel that he said "mirrors his public comments" on the matter:

"I am a proud supporter of the 'Cut, Cap and Balance' plan that includes a balanced budget amendment and that passed the House with a bi-partisan vote. If families and small businesses have to tighten their belts and balance their budgets, then government should do the same."

Finally, we looked at statements of DeMint, a pivotal figure in the discussion.

Shortly before announcing the SCF endorsement of Mandel, DeMint joined nine other Republican senators pledging their opposition to increasing the national debt limit unless Congress cuts spending, enforces spending caps and passes a constitutional amendment to balance the budget. He said he would not support any candidate who would not sign such a pledge.

Asked in interviews if that did not make default likely, DeMint said on ABC: "We'll never default. If it's the last penny we have, we'll pay our bills."

On NBC, he said, "It certainly will be disruptive if we continue on the track we're going right now," but he dismissed talk of default as "panic" stirred to force a deal: "We are not going to default. We've got enough tax revenue to pay our bills."

Where does that leave us?

The Ohio Democrats argue that failing to raise the debt limit will inevitably lead to default. And they say the SCF's opposition to raising the debt ceiling, opposition the SCF says Mandel shares, amounts to an endorsement of default.

But there's some problems with that line of thinking.

Opposition to raising the federal debt ceiling is not the same as actively endorsing the idea of the United States defaulting on its obligations. Protest votes opposing previous debt ceiling increases were common from both parties. But that doesn't mean they were advocating default.

No where in a list of policy goals the SCF has posted on its website is there any mention of support for default. And DeMint argues it won't happen, describing talk of default as "panic" stirred to force a debt ceiling deal. Again, correct or incorrect, DeMint is not advocating default.

DeMint himself has said he would support legislation to increase the debt ceiling if it followed provisions in his Cut-Cap-Balance Pledge; substantially cut current spending, cap future spending and require the passage of a strong Balanced Budget Amendment before raising the debt limit. Mandel has endorsed that plan. However unlikely it is that those provisions would gain passage in Congress, it's far from endorsing default.

But perhaps most importly, while declaring Mandel endorses default, the Ohio Democrats don't rely on Mandel's words at all. Their cited source was information DeMint and the SCF stated about Mandel.

We find the Ohio Democratic Party's claim isn't just inaccurate, it's also ridiculous.

On the Truth-O-Meter there's just one ruling for that kind of statement: Pants on Fire.
Ohio Democrats, "Josh Mandel Endorses U.S. Default," July 25, 2011

Interview with Democratic spokesman Justin Barasky, July 25, 2011

OhioDems, "Extremely Wrong" video, July 25, 2011

USA Today, "Sen. DeMint: Tea Party is 'great awakening' for GOP," July 5, 2011

Senate Conservatives Fund, "Josh Mandel for U.S. Senate in Ohio," June 27, 2011

Interview and email with Mandel spokesman Anthony Conchel, July 25, 2011

The Hill, "Ten GOP sens. vow no debt-ceiling hike without balanced-budget amendment," June 22, 2011

ABC News, "Fighting Words: DeMint Warns Republicans They May Be 'Gone' if They Support Debt Ceiling Increase," June 24, 2011

CNN, "U.S. leaders struggle to reach debt deal as deadline clock ticks," July 23, 2011

AP video, "Boehner: No One Wants a Government Default," July 22, 2011

The Hill, "Speaker Boehner calls Treasury's debt-ceiling deadline 'artificial'," June 28, 2011

Senate Conservatives Fund, policy goals
Browse the Truth-O-Meter
More by Tom Feran
Support independent fact-checking.
Become a member!
In a world of wild talk and fake news, help us stand up for the facts.