Stand up for the facts!
Our only agenda is to publish the truth so you can be an informed participant in democracy.
We need your help.
I would like to contribute
Ken Lanci is a lifelong Clevelander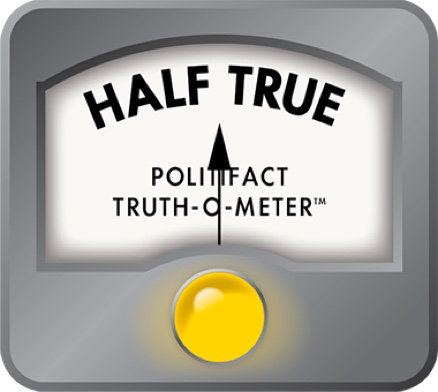 Ken Lanci claims he is a 'lifelong Clevelander'
What makes a Clevelander?
By one standard, it's geographic proximity to the city that gives the region its name. The Cleveland metropolitan statistical area, as defined by the U.S. Census Bureau, encompasses Cuyahoga, Lake, Lorain, Geauga and Medina counties. The Cleveland combined statistical area adds Portage, Summit and Ashtabula.
It's one reason why suburbanites who might properly be called Greater Clevelanders skip the
"greater."
By another standard, it's a matter of identity and attitude. By that  measure, a Clevelander might be someone who can name starters on the '48 Indians or '64 Browns, define the terms lake effect squall, Moondog or Polish Boy, and can instantly identify the world's greatest orchestra while singing a verse from the I-X Indoor Amusement Park jingle.
Strictly speaking, however, a Clevelander is defined by residence, as someone living within the city limits and Cleveland Metropolitan School District might remind you with pride, defiance or irritation.
Until the Ohio Supreme Court in 2009 upheld a state law that prohibits municipalities from enforcing residency rules, municipal workers had to be Clevelanders as specifically defined by residence.
By city charter and state law, the requirement remains for such officials as council members and mayor.
That requirement is met by Ken Lanci, the businessman and philanthropist who announced his candidacy for mayor earlier this month. He lives in a downtown apartment.
But PolitiFact Ohio was surprised by the declaration on his website and campaign materials that he is "a lifelong Clevelander" -- largely because Lanci described himself as a Gates Mills resident when he ran for Cuyahoga County executive in 2010.
We asked his campaign how the statement is backed up. They answered with his official biography.
Lanci was born to a family that relied on public assistance in his early years and lived in East Side neighborhoods on East 110th and East 117th streets. The family moved to Maple Heights when he was eight.
Lanci started working part-time in Cleveland for his father at age 13, at Offset Color and Printing on East 30th Street, and worked full-time in Cleveland after graduating from Maple Heights High School.
"In 1987," the biography says, "he began making substantial real estate investments within the city. For over 40 years, he has worked hard to create jobs and build businesses."
The bio says Lanci's Consolidated Graphics Inc. and Consolidated Technologies Group have more than 150 employees, many of them Cleveland residents, and that their $25 million in annual sales translate into Cleveland jobs and taxes.
"Ken's city payroll tax is consistently over $130,000 per year. His annual real estate tax is over $85,000 per year," the bio says. "While other firms were shutting down or migrating out of greater Cleveland, Ken Lanci stayed put on East 40th Street."
Also noted is his work in Cleveland as a philanthropist. In 2007, he and his wife began sponsoring OneSight Cleveland, which provides free eye exams and glasses to underprivileged children in Cleveland schools. More than 4,000 children have received the eyeglasses, the campaign said.
Lanci has been involved for more than 17 years in the character-building education and training program Project Love.
The candidate also provided a list of more than 100 local organizations to which he has contributed support.
Looking at past news coverage, we found even more. Lanci has, for example, sponsored the large annual Family Unity Day event at Luke Easter Park in Cleveland.
We also found from past coverage that Lanci's experience in office came on the Northfield Village Council in the 1970s and '80s, when he lived in that Summit County community.
He sold his home in Gates Mills in 2011 and became a renter in Brecksville, where he voted in the general election last November.
Residency may say little, if anything, about a candidate's merits. It could be argued that making a move demonstrates commitment. But the limited history suggests that it can matter.
James M. Carney, a lawyer, developer and former state legislator with extensive interests in downtown Cleveland, moved his voting residence from Fairview Park to run for mayor in 1971 and 1973. Ralph Perk, who was elected with a plurality in a three-way race, called him a "suburban carpetbagger."
Seth Taft, a prominent attorney and civic reformer who later served as county commissioner, moved to Cleveland in 1967 to challenge Mayor Ralph Locher. Locher lost the Democratic primary to Carl Stokes, who branded Taft as "the Pepper Pike candidate."
A current mayoral candidate in Toledo told the Blade this month that it was an "oversight" to say she was a "lifelong Toledoan" who lived in the city her whole life: "It should be 'the majority of my life since 1969,'" she said.
We tapped the experience of John Grabowski, professor of history at Case Western Reserve University, historian at the Western Reserve Historical Society and editor of "The Encyclopedia of Cleveland History" and "Dictionary of Cleveland Biography."
"I've heard that if you choose to root for a Cleveland sports team, you are a Clevelander," he said with a chuckle. "All sorts of ex-Clevelanders living all around the country still refer to themselves as Clevelanders.
"It's an affinity. It's an origin story for a lot of people involving birthplace and family connection."
Grabowski, born in Cleveland and a resident of Cleveland Heights, calls himself a Clevelander.
Where does that leave the campaign statement that Lanci is a "lifelong Clevelander"?
His claim is partially accurate. The record shows that Cleveland is Lanci's birthplace and hometown. He has spent his entire life in the Cleveland area, working in the city. His charitable works demonstrate community mindedness and commitment.
Anyone from another part of Ohio, much less another part of the country, would reasonably call him a Clevelander.
But perspective changes in close-up and in context. In this context, being a Clevelander is more than a state of mind. Specific residency requirements attach to running for mayor, and in those terms, there are specific details that are important to consider in evaluating his claim.
As both supporters and opponents of regionalism will attest, municipal boundaries matter. Lanci leased an apartment within Cleveland's boundaries to meet the residency requirement for mayor.
He graduated from high school in another community. He has had residencies and voted in other communities. At one point he served in local government in another community.
In running for mayor of the city, Lanci is seeking the votes of an electorate he has never previously been part of.

A statement that has some accuracy but is lacking important details that are needed to put it into context gets one rating on the Truth-O-Meter: Half True.
The Plain Dealer, "Businessman Ken Lanci wants to be mayor of Cleveland, says incumbent Frank Jackson has failed residents," May 6, 2013
Lanci for Mayor, "Ken Lanci, a lifelong Clevelander, will announce his candidacy for the mayor of Cleveland," May 3, 2013
The Plain Dealer, "Businessman Ken Lanci says he's exploring a 2013 challenge to Cleveland Mayor Frank Jackson," Dec. 14, 2012
The Plain Dealer. "United States metro area and county populations and demographics, Census 2010," May 27, 2011
U.S. Census Bureau, "Metropolitan and Micropolitan," Feb. 26, 2013
U.S. Census, "Cleveland-Akron-Elyria, OH Combined Statistical Area"
The Plain Dealer, "Ohio Supreme Court rules against city residency requirements," June 10, 2009
Charter of the City of Cleveland, "Chapter 11 - The Executive"
Ohio Secretary of State, "2013 Candidate Requirement Guide," Jan. 25, 2013
The Plain Dealer, "Ken Lanci rides personal wealth, $1 salary pledge in colorful campaign for Cuyahoga County executive," Sept. 26, 2010
Email from Lanci campaign, May 5, 2013
Lanci for Mayor, "Meet Ken Lanci," May 2013
Ken Lanci, "Lanci 2005-13 Donations"
The Plain Dealer, "Residents show an independent streak in Independence as Issue 4 battle over road project brews," July 24, 2011
News-Herald, "Cuyahoga County Executive: Ken Lanci," Oct. 2, 2010
The Plain Dealer, "'Divine intervention' lands a baseball buyer for Ken Lanci's posh pad," Aug. 28, 2011
Cuyahoga County Board of Elections, Registered Voters Data
The Plain Dealer, "Carney tests his mayoral appeal," May 15, 1971
The Plain Dealer, "'Little people's' Perk runs again," Aug. 2, 1973
The Plain Dealer, "Stokes, Taft agree told hold extra debate," Oct. 26, 1967
Toledo Blade, "Lopez erroneously says she's lifelong Toledoan," May 14, 2013
Interview with John Grabowski, CWRU, May 10, 2013
Case Western Reserve University, "Encyclopedia of Cleveland History"
Browse the Truth-O-Meter
More by Tom Feran
Support independent fact-checking.
Become a member!
In a world of wild talk and fake news, help us stand up for the facts.