Stand up for facts and support PolitiFact.
Now is your chance to go on the record as supporting trusted, factual information by joining PolitiFact's Truth Squad. Contributions or gifts to PolitiFact, which is part of the 501(c)(3) nonprofit Poynter Institute, are tax deductible.
I would like to contribute
"Taxpayers pay for roughly 45 percent of all births in Wisconsin! And 60 percent of the births in Milwaukee!!!"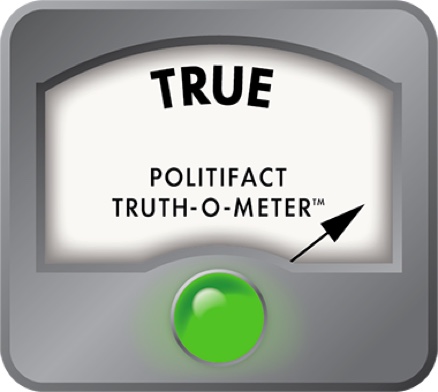 Wisconsin GOP Rep. Michelle Litjens says taxpayers pay for 45 percent of births in state, 60 percent in Milwaukee
Some of the biggest bashers of government entitlement programs are tea party folks, many of whom are newly elected officials.

Among them is Wisconsin state Rep. Michelle Litjens, R-Oshkosh. While campaigning ahead of the November 2010 elections, she organized the tea party rally where another Oshkosh Republican, Ron Johnson, gave his first political speech. Johnson went on to defeat Democrat Russ Feingold for the U.S. Senate.

Like Johnson, during her campaign, Litjens railed against government spending and taxes as being too high.

And on June 2, 2011, Litjens, a 38-year-old married mother of two, let loose on the Internet with this anti-entitlement tweet:

"Unreal! Taxpayers pay for roughly 45 percent of all births in Wisconsin! And 60 percent of the births in Milwaukee!!! No wonder we're broke."

A misinformed right-wing rant? Or evidence of the pervasiveness of public assistance, which many conservatives blame for high taxes and government deficits? We wanted to know.

We'll go to the Truth-O-Meter only for the statistical claims in Litjens' statement. But to add perspective, we'll also address her "we're broke" comment.

When we asked Litjens' legislative aide for evidence to back her statement, he provided Wisconsin birth statistics from the state Department of Health Services for 2008. We confirmed that they are the most recent available in terms of taxpayer funding.

The figures show that 71,977 babies were born in Wisconsin in 2008 -- and that Medicaid, the state-federal program that pays medical bills for low-income individuals and families, paid for the care provided in 32,792 of the births. That's 45.6 percent, which confirms Litjens' first claim.

The 45.6 percent figure -- it was 44 percent in '07, 43 percent in '06 and 42 percent in '05 -- put Wisconsin on the higher end of Medicaid-financed births nationally in 2008. That's according to data from the Kaiser Family Foundation, a nonpartisan group that studies health care policy.

The rate ranged from 8 percent in New Jersey to 70 percent in Louisiana, although figures were not available for 15 states.

As for Litjens' second claim, that taxpayers paid for 60 percent of the births in Milwaukee, she didn't specify whether she meant Milwaukee County or the City of Milwaukee. But either way, her claim is accurate.

State figures show there were 15,353 births in the county in 2008, and that Medicaid paid for the care of 9,170 of them, or 59.7 percent. In the city, Medicaid paid for 72.5 percent of the 11,311 births.

Here's a little more on the state statistics for 2008 births:

Over 85 percent of the 130 births in Menominee County were paid for by Medicaid, the highest percentage in Wisconsin.

In Ozaukee County, Medicaid paid for 19 percent of the 822 births, the lowest rate.

In Litjens' home county, Winnebago, Medicaid paid for nearly 39 percent of the 1,955 births.

Medicaid, by the way, pays for more than just labor and delivery. It also finances prenatal visits and postpartum care.

We asked Jon Peacock, research director of the Wisconsin Council on Children and Families, a Madison-based advocacy organization, about Litjens' statement. He didn't disagree with the statistics, but took issue with her suggestion that Medicaid-financed births are one reason "we're broke."

Peacock said prenatal care provided through Medicaid saves tax dollars by reducing the number of low-birth-weight babies. He cited a November 2010 state health department report about births in five Wisconsin counties in 2005. The average Medicaid hospital charges for a low-birth-weigh baby during the first year of life was $164,257, compared with $3,514 for a normal-birth-weight birth.

Peacock also said that the elderly and people with disabilities account for at least 70 percent of Medicaid expenditures, far more than babies.

But critics of entitlement programs can also cite statistics about the size of the government safety net.

An October 2010 Milwaukee Journal Sentinel story, which reported that Medicaid paid for 45 percent of all baby deliveries in Wisconsin in 2008, also reported that at that time:

More than 1.1 million people in Wisconsin depended on Medicaid health programs.

Medicaid provided health care for one in five Wisconsin residents.

Medicaid health programs had expanded faster in Wisconsin over the previous nine years than in any state except Arizona.

But let's return to what brought us here.

GOP state Rep. Michelle Litjens claimed that taxpayers paid for roughly 45 percent of all births in Wisconsin, including 60 percent of the births in Milwaukee. Her staff said she was referring to state figures for 2008, which we confirmed are the most recent available in terms of how many of the births were financed by Medicaid.

State statistics confirm both of Litjens' claims. We rate her statement True.
Twitter.com, Michelle Litjens tweet, June 2, 2011

Wisconsin Legislature, Michelle Litjens biography

Michelle Litjens 2010 campaign website, biography page

Michelle Litjens 2010 campaign website, issues page

Email interview, Rep. Michelle Litjens spokesman Jon Turke, June 7 and 8, 2011

Email interview, Wisconsin Department of Health Services communications specialist Beth Kaplan, June 7, 8 and 9, 2011

Milwaukee Journal Sentinel, "Medicaid among Wisconsin's fastest-rising costs," Oct. 11, 2010

Milwaukee Journal Sentinel, "Health care got Johnson into race," Oct. 23, 2010

U.S. Centers for Medicare and Medicaid Services, Medicaid overview

Wisconsin Department of Health and Family Services, infant mortality report, Nov. 5, 2010

Wisconsin Department of Health Services, BadgerCare Plus for pregnant women

Kaiser Family Foundation, "Births financed by Medicaid as a percent of total births, 2008"

Email interview and interview, Wisconsin Council on Children and Families research director Jon Peacock, June 8 and 9, 2011


Browse the Truth-O-Meter
More by Tom Kertscher
Support independent fact-checking.
Become a member!
In a world of wild talk and fake news, help us stand up for the facts.