Stand up for the facts!
Our only agenda is to publish the truth so you can be an informed participant in democracy.
We need your help.
I would like to contribute
Says critics who say he cut Medicaid are wrong; his budget added $1.2 billion to the program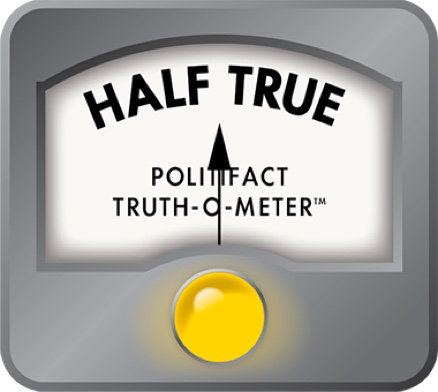 Gov. Scott Walker says he didn't cut Medicaid, but instead added $1.2 billion
Gov. Scott Walker got a friendly reception during a June 21 turn on CNBC's "Squawk Box," but he was asked to respond to the notion that his budget was balanced on the backs of the poor and schoolchildren.

In an exchange with Walker, the show's co-anchor Becky Quick noted that critics say Walker cut Medicaid-funded health programs by $500 million and public education by $800 million.

The Republican governor disagreed, calling the critiques "Madison math" -- his shorthand for common-sense-defying arithmetic.

"This budget actually adds $1.2 billion more for Medicaid, to make sure the neediest, the poorest of the poor, seniors, needy families and children are the ones taken care of," Walker responded.

He also said his education cuts were offset by employee benefit savings his budget allowed.

But even as he spoke, the budget was on Walker's desk after legislators gave approval to a 2011-'13 Medicaid plan that Walker's own budget documents had pledged would "reduce expenditures by over $500 million in the next biennium."

That sounds like an open and shut case.

But, as you might expect, there is more to this story.

It's as much a case of "Medicaid math" as "Madison math."  

To understand both, you need to remember that Medicaid costs are driven by many factors, from how many people are eligible for the program to the cost of treatment and what recipients are asked to contribute in co-pays. So, when spending adjustments are made, it does not necessarily change the benefits to the individuals.

In this case, projections called for a need to spend at least $1.8 billion more in the two-year budget to keep the program running as it currently does. The Medicaid funding gap amplified the size of the overall state deficit Walker said he was facing, but ultimately he did not put all of the money into his plan.

The budget Walker introduced did increase baseline spending for Medicaid by $1.2 billion.

But it also made cuts -- though little is yet known about their impact on the state-federal program that cares for low-income families with children under 19, the elderly, disabled and others.

Charles Morgan, the top expert on health services at the nonpartisan Wisconsin Legislative Fiscal Bureau, explains it this way:

"They first fully funded it but then reduced it. It depends on what you are comparing it to, the gross funding or the base. Total funding is up, but there is a funding reduction."

Many Medicaid-funded health services are an entitlement, and enrollment soared as the economy cratered.

Therefore, the normal "cost to continue" the program would have required an increase of $1.8 billion to $2 billion compared to the $1.2 billion that Walker and legislators added, according to Fiscal Bureau figures, outside analysts and our own calculations. Part of the challenge was that federal stimulus funds for Medicaid have dried up.

In the end, Walker, trying to plug that shortfall, won approval from the Legislature for his Health Services Department to find $466 million in budget savings over two years through as-yet-unidentified changes. Many of the changes likely will need approval by federal authorities.

Some other states have made or proposed dramatic across-the-board cuts, limited enrollment or dropped certain medical procedures.

But it's not clear yet whether Wisconsin's actions will go that far, or rely on more cost-sharing by clients, tighter enrollment rules, less money for hospitals, doctors and other health care providers, or other moves.

The details will determine which group views the moves as "cuts."

The impact of one Wisconsin cost-saving move is clear, however: The budget approved by legislators caps enrollment in Family Care, the long-term care program that gives seniors options rather than nursing-home living. That could save $265 million by blocking new enrollments.

Dennis Smith, Walker's Health Services chief, put it this way after Walker's budget came out: "Despite a historic 23% increase to the Department's budget, Wisconsin's Medicaid program still faces a serious fiscal challenge over the next two years as we identify over $500 million in cost savings. To meet our goals, and balance the Medicaid budget, we have to find ways to be more efficient and cut costs."

In future years, those savings would continue to grow, totaling $1.2 billion in all funds by fiscal year 2016-'17, according to the governor's original budget plan, which was adjusted only modestly by legislators.

How have similar moves been portrayed in the past?

Two years ago, Democratic Gov. Jim Doyle, Walker's predecessor, made a very similar move -- increasing the Medicaid budget but trimming $600 million from the "cost to continue" price tag. His top budget administrator bluntly called it  "cuts of over $600 million to Medicaid."

Media accounts called it "cost cutting," as did some major actors in the budget drama, such as the Wisconsin Medical Society.

We give a lot of weight to the independent Fiscal Bureau and history.

But there are well-informed partisan voices on this topic -- and previous PolitiFact rulings on a somewhat similar claim to consider as well.

As we have already seen, "cost cutting" did not equal a real-dollar decrease in Walker's Medicaid budget proposal. (The 2011-'13 budget, as adjusted by lawmakers, was sent to the governor's desk  on June 16, 2011.)

George Lightbourn, a former top administration official under two Republican governors, said the bottom line was the program would receive a big funding increase, a remarkable reality in a budget that made actual deep cuts in other areas.

It could only be a "cut" if the state had been in a position to take a business-as-usual approach to the budget -- and it wasn't, said Lightbourn, president of the conservative Wisconsin Policy Research Institute.

Jon Peacock, a Medicaid expert at a liberal advocacy group, the Wisconsin Budget Project, agreed with the Fiscal Bureau -- he said the two statements could accurately co-exist.

Peacock said it was appropriate for Walker to use realistic projections of the Medicaid "cost to continue" in his budget -- and appropriate for his budget to be judged on not fully funding that.

"As an analogy, imagine that Social Security spending was going to increase by 5 percent because the number of people eligible was increasing 2 percent and the average benefit per person was increasing 3 percent (tied to the cost of living)," Peacock wrote. "If the President or Congress decided to provide a total spending increase of 1 percent, by cutting the benefits by 1 percent, rather than increasing them 3 percent -- lawmakers could correctly argue that they were increasing spending, and seniors could correctly argue that the program was being cut."

Finally, we turned to PolitiFact National and PolitiFact state sites, which have dealt with a claims regarding a similar program, Medicare, which like Medicaid is an entitlement program.

PolitiFact consistently has rated as Barely True Republican claims that federal health care reforms supported by President Barack Obama and Democrats "cut" Medicare.

Here was PolitiFact's rationale: "It's important to note that the law does not take $500 billion out of the current Medicare budget. Rather, the bill attempts to slow the program's future growth, curtailing just over $500 billion in future spending over the next 10 years. Medicare spending will still increase..."

It's not a totally clean comparison to the Wisconsin situation: Walker's cut is in two years, not 10, and it's not clear yet here whether benefits will be cut to get the savings. But it's in the ballpark.

Let's get to the bottom line.

In the wake of his controversial budget proposals, Walker co-hosted a CNBC program and disagreed with a critique that he made cuts to the state's Medicaid program. Walker ridiculed the idea as "Madison math."

Experts are not united on this one, but Wisconsin's nonpartisan official budget scorekeeper thinks both the cuts and the increase are accurate claims. Media accounts have portrayed past moves as cuts, as well. What's more, when Walker introduced his budget, he also described the changes as cuts.

So, Walker made a generally accurate statement about the increase, but by dismissing the talk of cuts he left out a lot of context and important details on his budget move.

That's a Half True.
Gov. Scott Walker, partial video clip from CNBC appearance, June 21, 2011

Interviews with Charlie Morgan, Legislative Fiscal Bureau program supervisor, Health Service and Insurance section, June 21-22, 2011

Interview with George Lightbourn, president, Wisconsin Policy Research Institute, June 22, 2011

Interview with Jon Peacock, research director, Wisconsin Budget Project, June 22, 2011

E-mail interview, Cullen Werwie, governor's press secretary, June 21, 2011

Legislative Reference Bureau, summary of 2011-13 budget provisions, accessed June 21, 2011

Governor's Budget in Brief, March 2011
Browse the Truth-O-Meter
More by Dave Umhoefer
Support independent fact-checking.
Become a member!
In a world of wild talk and fake news, help us stand up for the facts.