Stand up for the facts!
Misinformation isn't going away just because it's a new year. Support trusted, factual information with a tax deductible contribution to PolitiFact.
I would like to contribute
"(Birmingham, Ala.) is the cradle of the civil rights movement."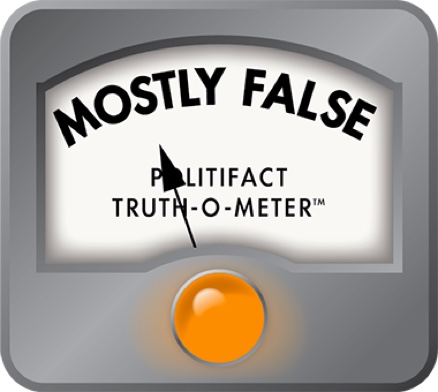 Who's right? Cities lay claim to civil rights "cradle" mantle.
You hear it all the time in Atlanta.

Atlanta, many politicians, preachers and others say, is "the cradle of the civil rights movement."

Former mayor Bill Campbell said it. So has entertainer Debbie Allen. One-time Atlanta Convention and Visitors Bureau president Spurgeon Richardson claimed the title for the city.

So we were quite surprised when NBC "Today Show" meteorologist Al Roker, who was visiting Birmingham for a charity program, referred to that city as "the cradle of the civil rights movement."

The city of Birmingham's website says many refer to it as the cradle of the movement.  

We decided to go back in time for some answers.

Atlanta was the birthplace of the movement's most recognizable leader, the Rev. Martin Luther King Jr. and his leading partners. Atlanta was also home to the movement's leading organizations, the Southern Christian Leadership Conference and the Student Non-Violent Coordinating Committee, whose former chairman is longtime U.S. Rep. John Lewis, (D-Atlanta).

Birmingham was the stage for some of the most important moments of the movement. The city's public safety director, Eugene "Bull" Connor, a defiant segregationist, infamously ordered firemen to spray young protesters with water hoses. King, who referred to Birmingham as the most "segregated city" in America, targeted the city for his non-violent campaign because of the stubbornness of its leaders to evolve on civil rights. Some called the Alabama city "Bombingham." It was there, in 1963, that four black girls (ages 11-14) were killed by a bomb in a church on a Sunday morning.

Most civil rights historians say the church bombing was the tipping point in public opinion of civil rights for blacks that resulted in federal Civil Rights Act of 1964 that desegregated public facilities, granted blacks the right to vote and prohibited job discrimination.

So does that make Birmingham the "cradle" of the movement?

NBC thought so after doing some research, said spokeswoman Megan Kopf.

"Other cities may be considered that as well, but since we were broadcasting from Birmingham, that is the city we mentioned," she said.

Some well-regarded civil rights historians say another Alabama city may have a stronger claim.

"I honestly think if we assembled 30 civil rights historians and said if you had to name one place to call the cradle of the movement, I think Montgomery would get 75 percent of the vote and I think Birmingham would finish second," said David Garrow, a Pulitzer Prize-winning civil rights historian who served as an advisor for the acclaimed "Eyes On The Prize" documentary series about the movement.

Montgomery was the setting of the historic 381-day boycott to integrate the city's bus system. It began in late 1955 after NAACP member Rosa Parks refused to give up her seat on a bus to a white man. The Montgomery argument is based on the definition of a cradle ("The earliest stage," according to Webster's) and the boycott is widely considered the beginning of the modern civil rights movement. Garrow said he'd vote for Montgomery.

"Montgomery is the cradle because of the bus boycott," said Taylor Branch, a Pulitzer Prize-winning author who has written extensively about King and the movement.

Branch said Birmingham played a critical role in the movement. Birmingham was a tough steel town that was considered a bastion of segregation and considered a "gamble" for King. The battles there, Branch said, gave momentum to the 1963 March on Washington.

"It is fair to say historically that Birmingham was a tipping point, a breakthrough for the national civil rights movement," he said.

What about Atlanta?

Atlanta, the historians and others noted, had only a handful of demonstrations and none were as acrimonious, violent or as transformational as Birmingham or Montgomery.

"Atlanta finishes third," Garrow said.

Steve Kline, spokesman for the King Center, said a valid argument can be made for Atlanta, as well as Birmingham and Montgomery. He noted the efforts of King's father to get equal pay for the city's black teachers a few years before the Montgomery bus boycott. Kline also mentioned the SCLC and that its first meeting was held in Atlanta.

"You could make a good, strong case for Atlanta in some way," Kline said.

Georgette M. Norman, director of the Rosa Parks Museum in Montgomery, made a slight distinction in the claim for the title.

"We don't use cradle," she said. "We use birthplace of the modern civil rights movement."

Norman said the museum makes that distinction because of the efforts made by others toward racial equality in the decades before the bus boycott. In Montgomery, for example, activists like E. D. Nixon had previously been engaged in civil rights efforts there. Nixon helped organized the bus boycott.

Norman believes some refer to Birmingham as the cradle of the movement because of the 1963 church bombing. But if she had to choose which city is the "cradle"?

"I'd say it's Montgomery," Norman said. "That became the first sustainable movement and things moved on from there."

Some say they've heard a cradle argument for Greensboro, N.C., where college students staged sit-ins in 1960 to protest not being served at "whites only" lunch counters and other locations.

"I think it's great for people to argue and take credit because the debate fosters history," Branch told us.

Roker's visit to Birmingham was a good cause on several levels. He raised money for charity and, as Branch observed, sparked a conversation among us about an important period in American history. NBC said its research showed Birmingham is the cradle.

However, the consensus we found is that the "cradle" title more likely belongs to Montgomery. We rate Roker's statement as Barely True.
Editor's note: This statement was rated Barely True when it was published. On July 27, 2011, we changed the name for the rating to Mostly False.
Birmingham Civil Rights Institute history

City of Birmingham website, "About Birmingham"

National Park Service, 16th Street Baptist Church

Telephone interview with Taylor Branch, June 16, 2011

Telephone interview with Steve Kline, June 16, 2011

Telephone interview with David Garrow, June 17, 2011

Telephone interview with Georgette M. Norman, June 21, 2011

University of Alabama at Birmingham, "The Civil Rights Movement in Birmingham in the Eyes of the Kennedy Administration," April 12, 2005
Browse the Truth-O-Meter
More by Eric Stirgus
Support independent fact-checking.
Become a member!
In a world of wild talk and fake news, help us stand up for the facts.