Stand up for the facts!
Our only agenda is to publish the truth so you can be an informed participant in democracy.
We need your help.
I would like to contribute
Says states that passed anti-illegal-immigrant legislation also had few Hispanic legislators.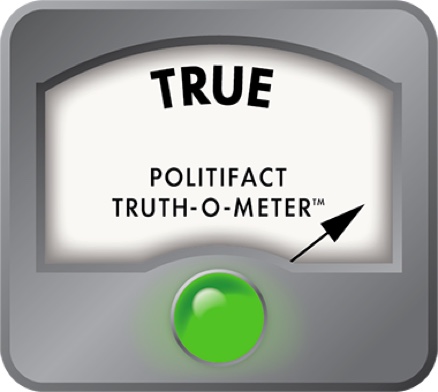 Rebecca Forest says few Latino legislators served in states that passed immigration enforcement measures
Addressing a rally outside the Texas Capitol, an advocate for requiring city police departments to check the immigration status of residents critiqued the makeup of the Texas Legislature.

According to a video pointed out by the Texas Democratic Party, Rebecca Forest, co-founder and past president of the Immigration Reform Coalition of Texas, said June 11: "If you really want to know why in Texas we don't get immigration legislation passed, it's because we have 37--36--Hispanic legislators in the Texas Legislature. All of the states that have passed legislation have a handful. And I mean literally, some of them have no Hispanic legislators, maybe 3 or 5. So that's part of our problem and we need to change those numbers. We need to do something about that."

We wondered if indeed states with laws targeting illegal immigration have few Hispanic legislators.

Forest, who later told us she spoke at the rally on behalf of Women on the Wall, a group of conservative women, said in a June 17 interview with KRLD-AM's Scott Braddock that she strayed from her notes at the rally and had solely intended to single out Hispanic legislators who are liberal Democrats--traditional opponents of legislation like the sanctuary-city proposal that did not pass into law.

"I wish I would have said that," she said.

Braddock posted the interview online with a statement he said he fielded from Forest. The statement says she'd previously endorsed a Latino Republican, state Rep. Larry Gonzales of Round Rock. "There are many things I should have said differently that day but I've always hated it when politicians (in particular) try to cover their tails when they mess up by saying 'I misspoke' though obviously — I did," the statement says.

To our inquiry about Forest's rally statement, Maria Martinez, the coalition's executive director, replied by email: "Our whole thrust of border security has nothing to do with racial identity. Obviously as a Hispanic myself, that statement does not reflect mine or the organization's sentiments."

To check Forest's claim, we looked for states that have lately passed immigration enforcement measures and determined how many Latino legislators serve in the states. As Forest said, the Texas House and Senate include 37 Hispanic members, comprising 20 percent of the state's 181 legislators, according to a state-by-state count by the Denver-based National Conference of State Legislatures.

A council spokeswoman, Meagan Dorsch, pointed us to NCSL web pages tracking legislation related to immigration; one says that as of March 31, 26 states had enacted laws this year touching in some way on immigration, down from 34 states by the same date in 2010.

Since Forest was currying support for legislation requiring law officers to check the immigration status of every arrested person, we narrowed our national look to states that approved proposals permitting or directing law officers to check the legal status of residents.

This year, according to the NCSL, such proposals were introduced in 42 states, though only one such proposal had been signed into law by April 1. Utah's House Bill 497 requires an officer to verify the immigration status of anyone arrested for a felony or a Class A misdemeanor and anyone booked for class B or C misdemeanors.

In 2010, Arizona's legislature drew national attention with its new law requiring officers to attempt to determine the immigration status of any person involved in a lawful stop, detention or arrest when they reasonably suspect the person is an illegal immigrant. According to the NCSL's breakdown of 2010 state immigration measures, Tennessee and South Carolina also passed measures intended to encourage officers to check residents' immigration standing.

The group says Tennessee's House Bill 670 mandated the development of standardized written procedures for verifying the citizenship status of individuals arrested, booked, or confined in a county or municipal jail or detention facility--and reporting individuals in possible violation of federal immigration laws.

South Carolina's HB 4657, NCSL says, directed the launch of a 24-hour toll-free telephone number and electronic website to receive, record, collect and report allegations of violations of federal immigration laws.

A search of news archives showed that Georgia's legislature this year advanced a proposal into law, effective July 1, authorizing police to check the immigration status of suspects and to hand over to federal authorities anyone who is in the country illegally, according to a Wall Street Journal blog post. The June 28 post says a federal judge just blocked parts of the law, ruling that challengers in court were likely to prevail in their claims that federal law preempts Georgia's right to empower police to investigate the immigration status of suspects.

And how many Hispanic members serve in the legislatures of the states whose laws we sketched out above? As of this year, NCSL says, the respective counts are: Utah, five of 104 legislators (nearly 5 percent); Arizona, 13 of 90 (14 percent); Georgia, 2 of 236 (1 percent); Tennessee, 1 of 132 (1 percent); and South Carolina, 0 of 170.

To our query, the National Association of Latino Elected Officials provided identical figures for the states.

Among all states, the NCSL says, New Mexico has the greatest share of Hispanic lawmakers, 45 of 112 (40 percent), followed by Texas, 39 of 181 (22 percent) California, 23 of 120 (19 percent), and Arizona. In more than 40 states, Latinos comprise less than 10 percent of each state's legislature; about 15 states have no Hispanic legislators.

Five percent or less of the legislators in four of five states that recently directed law officers to check immigration status are Latino Americans; in the fifth state, none is. We rate Forest's statement True.
UPDATE, 3:37 p.m., June 29, 2011: After we published this article, the NCSL told us the numbers it initially described as up to date were outdated. We've amended our story to reflect the group's state-by-state Hispanic legislator count for 2011. These changes did not affect the Truth-O-Meter rating.
Email (excerpted), response to PolitiFact Texas, Maria Martinez, executive director, Immigration Reform Coalition of Texas, June 22, 2011
Scott Braddock, blog post, "Immigration Activist Answers Accusations of Racism AUDIO," June 17, 2011

National Association of Latino Elected Officials, chart (excerpted), response to PolitiFact Texas, breakdown of Latino legislators in five states (received June 28, 2011)
National Conference of State Legislatures, web pages, "2011 Immigration-Related Laws, Bills and Resolutions in the States: Jan. 1–March 31, 2011", "Enacted Immigrant Related Laws and Resolutions: January-June 2010" and "2011 State Legislators" (accessed June 24 and June 29, 2011)

Telephone interview, Meagan Dorsch, director of public affairs, NCSL, June 20, 2011
Browse the Truth-O-Meter
More by W. Gardner Selby
Support independent fact-checking.
Become a member!
In a world of wild talk and fake news, help us stand up for the facts.