Stand up for facts and support PolitiFact.
Now is your chance to go on the record as supporting trusted, factual information by joining PolitiFact's Truth Squad. Contributions or gifts to PolitiFact, which is part of the 501(c)(3) nonprofit Poynter Institute, are tax deductible.
I would like to contribute
Wisconsin Gov. Scott Walker's "budget okays disposing of unclaimed pound dogs to university research facilities."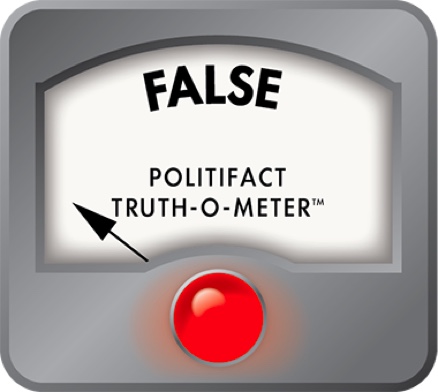 Bloggers claim Wisconsin Gov. Scott Walker's budget OKs disposing of unclaimed stray dogs to university research facilities
In critiques that zipped from blog to blog and bounced around on Facebook and Twitter, critics of Gov. Scott Walker are jumping on a dog-related change in the governor's new two-year budget.

Walker's budget plan for 2011-'13 amends a state statute (174.13) that allows dog pounds to sell -- for $1 -- unclaimed stray canines to public universities for "scientific or educational purposes."

What does it mean?
Interpretations in the blogosphere ranged from the relatively tame ("Walker's budget okays disposing of unclaimed pound dogs to University research facilities") to vicious ("Governor Scott Walker wants to kill puppies.")
It wasn't just random bloggers weighing in, and not all the reaction was so personal and so broad.  Wisconsin Dog Rescue, a network of shelters and rescue groups, said on its website that Walker's budget was seeking to "expand" the number of institutions that could receive dogs from pounds.

"The public didn't even know it could happen," Lori Fowler, owner of the Wisconsin Dog Rescue website, said of selling strays for research. "People are concerned that if their dog went stray … conceivably under the law their dog could be sold."

What's the truth?

Would Walker's budget legalize the practice -- or expand it -- as bloggers suggest?

First some background.

Seventeen states -- but not Wisconsin -- ban dog pounds or shelters from turning over stray dogs for research, according to John J. Pippin, a doctor who tracks state laws for the Physicians Committee for Responsible Medicine.

Thirty-one states allow shelters to decide (as in Wisconsin) or have no state law on this. Two states, including Minnesota, require shelters to give up strays on demand to research facilities. The data is from a widely cited July 2010 study by the American Humane Association, which advocates against "pound seizure."

As a practical matter, neither the University of Wisconsin System nor the Medical College of Wisconsin gets dogs from shelters anymore, officials with each institution told PolitiFact Wisconsin.

Shelters in Wisconsin for years have chosen not to provide dogs for research, according to the top officials at the Wisconsin Humane Society and the Milwaukee Area Domestic Animal Control Commission.

But both the UW System and the Medical College do obtain dogs for medical research -- from sources other than animal shelters.

The Medical College used 140 dogs in its cardiovascular research lab last year and is on track to use 50 this year. The dogs were purchased for $200 each from a vendor in rural Minnesota that cares for abandoned dogs, said college spokesman Richard Katschke.

UW used 237 dogs last year for studies on cardiovascular disease, bone and cartilage healing, genetic conditions and other issues, according to Eric Sandgren, director of  UW's Research Animal Resources Center.

They are not strays -- they are "purpose bred" dogs, typically beagles, that are raised for research purposes, Sandgren said.  The dogs come from two companies in the Madison area.

Medical schools in the United States used to routinely use dogs for teaching purposes -- not just research -- but have discontinued that over the last couple decades, Pippin said.

What does all this have to do with Walker's budget bill?

Let's take a look.

According to the legislative history of the law, it's not a creation of Walker -- it's been on the books for at least 40 years. The law was changed in the 1970s to make releasing dogs a voluntary decision by the shelters.

The only change in the existing dog law proposed now is the insertion of "University of Wisconsin-Madison" in two sections.

Walker's office said the change has no practical impact.

We reviewed the legislative history, and agree: Walker is making a technical amendment to the dog law, necessitated by his separate move to split UW-Madison off from the UW System.

The bottom line: To make that change, numerous state statutes in dozens -- maybe hundreds of places -- where the UW System is mentioned must be amended.

That is the only reason we could find why the statute is mentioned in the budget bill.

The Wisconsin Dog Rescue organization, which wants to repeal the statute, is urging people to call legislators to block the "expansion" of the list of institutions that have the option of buying dogs for research.

We asked Fowler of the dog rescue group how it could be an expansion, since UW-Madison already was a possible receiver of strays because it is part of the UW System -- which, of course, is already named in the statute.

Fowler said Walker could have left Madison out and reduced the opportunities for dogs to be sold. She also worried that if UW-Madison is somehow deemed a private facility because it is splitting off from the UW System, that could open the door for strays to be sold to private research operations.

She concedes, however, that Walker's move would not actually add an additional university to the list as a practical matter.

So, let's see if the original claim has any bite left in it.

To sum up, bloggers are saying Walker is responsible for inventing a dog pipeline from animal shelters to research labs where the dogs die for important medical research. A rescue group suggested his budget amendment would expand the pipeline.

But the provision predates Walker's administration by decades, and by numerous accounts, it is not used because of decisions by shelters. The law, like dozens of others, is mentioned in the budget only for technical reasons, and the proposed amendment would have no practical effect.

We rate the claim False.
State budget bill, amendment to Statute 174.13

State Statutes, existing law on dogs

Wisconsin Humane Society, Wisconsin budget bill rumor, March 6, 2011

Milwaukee Journal Sentinel,Medical College ends use of live pigs in labs, Feb. 26, 2010

Interview with Lori Fowler, owner, Wisconsin Dog Rescue, March 8, 2011

Interview with J.L. McDowell, field officer supervisor, Milwaukee Area Domestic Animal Control Commission, March 7, 2011

Interview with Anne Reed, executive director, Wisconsin Humane Society, March 7, 2011

Interview with Richard Katschke, associate vice president for public affairs, Medical College of Wisconsin, March 7, 2011

Interview with John J. Pippin, senior medical and research adviser, Physicians Committee for Responsible Medicine, March 7, 2011

Wisconsin Dog Rescue, website, accessed March 7, 2011

Interview with Eric Sandgren, director, UW Research Animal Resources Center, March 7, 2011

Interview with Jim Lilli, executive director, Dunn County Humane Society, March 7, 2011

Wisconsin Legislative Reference Bureau staff
Browse the Truth-O-Meter
More by Dave Umhoefer
Support independent fact-checking.
Become a member!
In a world of wild talk and fake news, help us stand up for the facts.