Get PolitiFact in your inbox.
"Seven of the 10" school districts with the lowest graduation rate for African-American boys in the country are in Florida.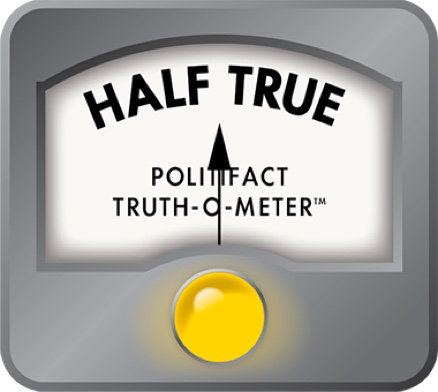 Explaining the graduation gap between African-American and white males
One of the attacks against SB 736 -- the controversial teacher tenure and merit pay proposal that passed the state Senate on March 10, 2011 -- is that the bill is attempting to make sweeping changes to an education system that doesn't need it.

Florida's education system, after all, was just ranked fifth in the nation by Education Week.

But state Sen. Stephen Wise, R-Jacksonville, SB 736's prime sponsor, said the ranking shouldn't stop the state from pursuing major education reforms.

"We're doing a great job. Yeah, we're fifth in the country," Wise said in passionate comments on the Senate floor shortly before the bill passed 26-12. "We're doing a great job. We've got great graduation rates.

"That's if you get there," he said. "The dirty little secret we don't talk about is, where are the black boys? It's awful, it's absolutely pathetic what the graduation rate is for African-American boys. ... We have seven of the 10 worst school districts in America on graduation of black boys. We've kept it a secret."

PolitiFact Florida wanted to pull back the curtain on Wise's claim.

Wise told us the figure came from a 2010 report released by the Massachusetts-based Schott Foundation for Public Education. The report attempted to calculate the percentage at which African-American males are graduating high school compared to other students. The foundation examined 2007-08 data from 59 large school districts across the country with African-American student populations of at least 10,000.
Michael Holzman, a research consultant for the Schott Foundation, told the St. Petersburg Times he simply divided the number of standard diplomas awarded in 2008 by the number of students who entered high school four years earlier. The calculation does not include people who obtained a GED.
The Schott Foundation then compared the performance of black males to white males.

Nationwide, 47 percent of black males graduated high school compared with 78 percent of white males.

In Florida just 37 percent of black males graduated compared with 57 percent of white males.

Going district-by-district, Florida results appeared even worse, the Schott Foundation found.

The three lowest African-American graduation rates among the 59 districts examined were all in Florida -- Pinellas County graduated 21 percent of its African-American students, Palm Beach County 22 percent and Duval County 23 percent.

A fourth Florida district, Miami-Dade, had the seventh-lowest graduation rate, according to the Schott analysis.

The other low-performing districts are from outside Florida -- Philadelphia, Detroit, Cleveland, Buffalo, Charleston County in South Carolina and Jefferson Parish in Louisiana.

That's four out of 10, more than any other state, but not the seven of 10 Wise claimed on the Senate floor.

For the record, Pinellas officials criticized the Schott report, saying that the formula it used was oversimplified, and, among other shortcomings, did not account for students who transferred away from the district. Pinellas school officials said the rate for black male graduations was 47.3 percent in 2008 and rose to 57.5 percent in 2009 after also including students who move into GED or adult education courses.

That's an additional caveat to Wise's claim that Florida is home to seven of the 10 worst school districts in America when it comes to graduation rates for African-American males.

In judging his statement, however, let's remember the context. Wise was attempting to show that problems remain with Florida's public education system by highlighting the poor track record some Florida school districts have when it comes to graduating African-American males. He said specifically that seven of the 10 worst school districts are in Florida. It turns out he got the number wrong, and some districts have criticized the specific study and its findings.

But the Schott study, at the least, is an apples-to-apples comparison of school district performance. Maybe Pinellas' graduation rate number should be higher. But in that case, so should Cleveland's. And so on.
"'No matter what it is, it's terrible," Wise said.

Wise's number is a bit shaky, but we're giving him credit for his point. To us, that rates Half True.
State Sen. Stephen Wise, comments on the Senate floor, March 10, 2011
SB 736, accessed March 11, 2011
St. Petersburg Times, "Debate over graduation rates for black males in Pinellas County heats up," March 3, 2011
St. Petersburg Times, "Pinellas disputes national report on black male graduation rates," Aug. 18, 2010
Schott Foundation for Public Education, "The Schott 50 State Report on Public Education and Black Males 2010," accessed March 11, 2011
Interview with Sen. Steve Wise, March 14, 2011
Browse the Truth-O-Meter
More by Aaron Sharockman
Support independent fact-checking.
Become a member!
In a world of wild talk and fake news, help us stand up for the facts.