Get PolitiFact in your inbox.
According to crime statistics, "riding MARTA has been becoming more and more safe over the years."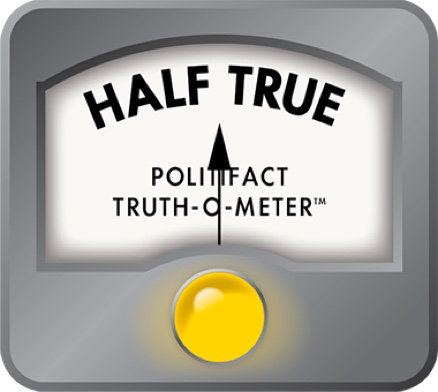 MARTA chair says transit system "more and more safe"
A witness account of a recent attack on a MARTA train had the makings of a gritty TV drama.  

It took place just before midnight on a Saturday. The train car doors slid open at Garnett Station. A mob of teens streamed in, chanting the initials of a notorious Atlanta gang.

The doors closed. There was nowhere to run.

"There was blood everywhere. People were hollering and screaming," a rider told Channel 2 Action News.

The April 16 attack left two Delta Air Lines employees with minor injuries. The witness account, criticized as sensational and inaccurate by MARTA officials, revived public anxiety over safety on the public transit system.

New MARTA Board Chairman Jim Durrett tried to reassure the public during an April 28 interview with Denis O'Hayer on WABE-FM (90.1).

"When you look at crime statistics, riding MARTA has been becoming more and more safe over the years," Durrett said.

More and more safe? What about 14-year-old Rueben Hand III, whose throat was slashed New Year's Day at Five Points Station? And chess champ Anthony Beavers, 19, who was shot to death during a robbery at the East Point station in March 2010?

Police made arrests in both slayings, as well as last month's attack.

Transit agency spokeswoman Cara Hodgson referred PolitiFact Georgia to crime statistics on the MARTA website. She also sent us a written statement that said, in part, that Durrett's statement was "unequivocally accurate and reasonable."  

We took our own look at MARTA's crime data. They tell a more nuanced story.

The transit system is policed by the MARTA Police Department, a full-service, nationally accredited law enforcement agency with about 300 sworn personnel, its own criminal investigations unit, and an emergency call center. It's responsible for law enforcement at MARTA's buildings, stations, trains, buses and vans.  

MARTA police sends its crime statistics to the Federal Bureau of Investigation, which publishes them each year. The most recent data is from 2009.

Durrett did not specify during his WABE interview the years he thinks the transit system became safer. The data Hodgson referenced covered four years. Since the FBI's data was more comprehensive, we used that agency's numbers.

Crime on the transit system is rare, according to FBI statistics on "Part I" crime, a category of serious offenses such as murder, rape, robbery, larceny and burglary that are more commonly reported to police.

And overall, crime on MARTA is dropping, the data shows. Part I offenses are down a whopping 42 percent during the past decade, from 752 incidents to 438. This decline was led by a drop in nonviolent property crimes, which are by far the most common type.  

But violent crime rose 8percent to 163 incidents from 2000 to 2009. The increase was led by a 26 percent climb in aggravated assaults to 96 attacks. Murder and rapes generally held steady while robbery declined.

Violent attacks increased even as MARTA ridership dipped by 6 percent to less than 157 million unlinked trips, or passenger boardings, according to federal statistics.

The increase in violent crime is more dramatic over a five-year period. Those offenses increased by 36 percent from 2005 through 2009, led by a 27 percent jump in robbery and 41 percent increase in aggravated assault. This took place as ridership climbed by 10 percent.  

So do statistics show riding MARTA has become "more and more safe," as Chairman Durrett said?

People on MARTA are less likely to be victims of crime than they were 10 years ago. This is especially true for property crimes. Riders are much less likely to have their wallets swiped.

Still, they are somewhat more likely to get violently attacked.

Durrett's remark did not give this factor the weight it deserves. For this reason, he earns a Half True. 
WABE.com, "Fare Hikes, Public Safety, and MARTA's Future: A Conversation with MARTA Board Chairman Jim Durrett (Part 1)," April 28, 2011
Channel 2 Action News, Delta Employees Attacked on MARTA Train, April 20, 2011

MARTA Police Department, "4 Year Comparison," accessed April 29, 2011

Federal Bureau of Investigation, Uniform Crime Reports, 2000-2009, accessed April 29, 2011

Federal Bureau of Investigation, Uniform Crime Reports, 2000-2003, MARTA police data, received May 2, 2011

Federal Transit Administration, National Transit Database, Metropolitan Atlanta Rapid Transit Authority, agency profile, 2000-2009, accessed May 2, 2011
Meeting testimony, MARTA Oversight Committee, May 3, 2011

MARTA Police Department, crime incident report, April 17, 2011
Browse the Truth-O-Meter
More by Willoughby Mariano
Support independent fact-checking.
Become a member!
In a world of wild talk and fake news, help us stand up for the facts.