Get PolitiFact in your inbox.
"I'm well aware that medical marijuana is a recognized, medical, viable treatment for this sort of [pancreas] pain condition."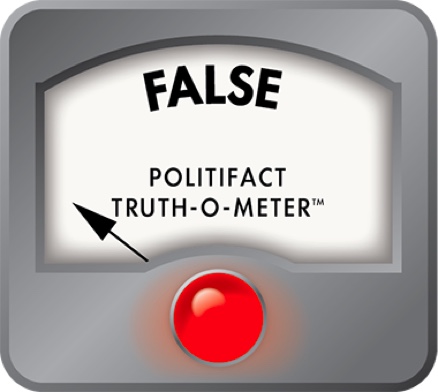 Former House Minority Leader says marijuana is recognized as a treatment for his pancreas pain.
On the night of April 22, 2011, Rep. Robert Watson, R-East Greenwich, was stopped at a Connecticut sobriety checkpoint and ultimately charged with both driving under the influence and marijuana possession.

In a floor speech the following Tuesday, the then-House minority leader said he was not under the influence. He said he had not smoked marijuana, and his blood-alcohol level tested at 0.05, which is below the legal limit of 0.08.

Watson told fellow House members he had "a very small bag with trace amounts of marijuana and a smoking instrument." He was carrying the marijuana, he said, in case he had an attack of pancreatitis.

"I'm well aware that medical marijuana is a recognized, medical, viable treatment for this sort of pain condition," he said in his speech, which garnered a standing ovation from Republicans and other House members at the time. (But a week later, the Republican caucus ousted him as minority leader.)

Watson, citing personal privacy, has not released details of his medical record; results of his blood test will be the subject of his court hearing in Connecticut. But we wanted to weed out the facts on whether marijuana is actually recognized as a treatment for the pain of pancreatitis, an extraordinarily painful condition that Watson described as akin to a gunshot to the chest.

First, some background.

The pancreas, located behind the stomach, releases enzymes that aid in digestion. It also releases the insulin the body needs to control blood sugar. The enzymes flow out a tube into the small intestine near the stomach.

Unfortunately, a portion of that tube is shared with the gallbladder. Sometimes tiny stones form in the gallbladder, migrate down the tube and block the portion that drains the pancreas. The result is painful inflammation -- pancreatitis.

Doctors can usually see the stones with ultrasound or some other form of imaging. In those cases, either the stone eventually works its way free or doctors remove it. In either case, doctors urge patients to have the gall bladder removed. End of problem.

The second major cause of pancreatitis is alcohol. When that's the case, doctors insist that patients abstain from drinking because one attack can lead to others, damaging the pancreas in a way that leads to chronic pancreatitis.

"The recommendation is pretty much to not take any alcohol because alcohol is a toxin to the pancreas," said Dr. Alyn Adrain, a gastroenterologist and clinical assistant professor of medicine at Brown University.

Heavy smoking may also increase the risk, said Dr. Vikesh Singh, director of the Pancreatitis Center at Johns Hopkins Hospital in Baltimore. That risk can be difficult to tease out because smoking and drinking often go hand in hand.

Pancreatitis can also be caused by inherited deformities in the pancreas. There have also been at least two studies covering four patients suggesting that marijuana, by itself, can cause a pancreatitis attack. In other instances, doctors have trouble pinpointing a cause.

Watson politely declined to answer most questions about his condition, saying he believes his health should be a private matter. Watson did, however, reveal elements of his illness during his speech on the floor of the House.

He said his initial attack of pancreas pain was at Halloween. He said he went to the hospital the next day, where he had a severe reaction to a drug, prompting doctors to put him in a medically induced coma for five days.

He said he subsequently had other attacks. He did not disclose the number and severity.

"I did treat with medical marijuana on one of those rare occasions where I had that debilitating pain that had me flat on my back" wondering whether to call an ambulance, he said.

He also reported having a recurrence the day before his arrest, but said he did not use marijuana then.

Watson said that when he tried the drug, "it provided relief and it alleviated the pain . . . I believed it was responsible self-therapy."

Watson said he had not applied for authorization to use medical marijuana.

But is marijuana "a recognized, medical, viable treatment for this sort of pain condition," as he contends?

As a treatment for pancreatitis pain, let's be blunt. The simple answer is "No."

Both Doctors Singh and Adrain said there are no studies in the medical literature showing that marijuana is an effective treatment for the pain of a pancreatitis attack.

"There is no reason to use marijuana for acute pancreatitis," said Singh. "There are no studies evaluating the use of cannabis for the treatment of chronic pancreatitis pain."

"I've never given it for chronic pain from pancreatitis and I don't know anyone who has," said Adrain.

When we contacted Watson, he said his statement should be considered in the context of treatment for severe pain in general. The state's guidelines for medical marijuana use say "qualifying debilitating medical conditions" include "a chronic or debilitating disease or medical condition or its treatment" that produces any of six conditions, including "severe, debilitating, chronic pain."

In that context, the doctors we interviewed said marijuana MIGHT be useful in some cases, just as the drug helps some patients cope with cancer pain.

"It might help. There's just no good evidence to prove it's worthwhile," said Singh.

Finally, we looked to Canada, where the use of medical marijuana has been legal for years.  Health Canada, which authorizes medical marijuana use, lists seven conditions -- multiple sclerosis, spinal cord injury or disease, cancer, HIV, epilepsy, severe arthritis -- where the use is routinely accepted. For other conditions, a specialist must confirm "that conventional treatments have failed or [are] judged inappropriate to relieve symptoms."

And Dr. Mark Ware, associate medical director of the McGill University Health Centre Pain Clinic in Montreal, told us in an email that pancreatitis is a different kind of pain. "This is a visceral pain syndrome and most cannabis studies have focused on neuropathic pain." The personal reports you can find on the web "have not been validated or evaluated."

So as far as we could determine, it's neither recognized nor recommended by the medical community for this use. There are certainly no studies to support its use.

We rate his statement False.
ProJo.com, "R.I. House Minority Leader Watson, R-East Greenwich, charged with DUI," April 26, 2011

ProJo.com, "Watson presents his version of arrest in Conn. / Video," April 27, 2011

Archives of Internal Medicine, "Smoking and Risk of Acute and Chronic Pancreatitis Among Women and Men," March 23, 2009, accessed April 28, 2011

JOPlink.net, "A Case of Cannabis-Induced Pancreatitis," Journal of the Pancreas, January 2004

JOPlink.net, "Cannabinoid-Induced Pancreatitis: A Case Series," Journal of the Pancreas, September 2007

Interview, Robert Watson, former House Minority Leader, April 28, 2011

Interview, Dr. Vikesh Singh, director, Pancreatitis Center, Johns Hopkins Hospital, April 29, 2011

Interview, Dr. Alyn Adrain, gastroenterologist, Warren Alpert School of Medicine at Brown University, April 29, 2011

Health Canada website, "Frequently Asked Questions - Medical Use of Marihuana," Health Canada, accessed May 5, 2011

Email, Dr. Mark Ware, associate medical director, McGill University Health Centre Pain Clinic, Montreal, May 5, 2011

Health.RI.gov, "Medical Marijuana Information for Healthcare Providers," accessed April 30, 2011
Browse the Truth-O-Meter
More by C. Eugene Emery Jr.
Support independent fact-checking.
Become a member!
In a world of wild talk and fake news, help us stand up for the facts.