Stand up for the facts!
Our only agenda is to publish the truth so you can be an informed participant in democracy.
We need your help.
I would like to contribute
During the Eisenhower Administration, "not a single soldier … died in combat."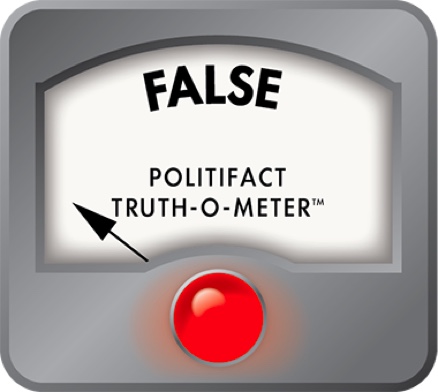 Doris Kearns Goodwin says no U.S. combat deaths under Eisenhower
During the May 8, 2011, edition of NBC's Meet the Press, historian and author Doris Kearns Goodwin offered a striking statistic about combat casualties under President Dwight D. Eisenhower.

Host David Gregory began the exchange by playing a video clip from Robert Kagan, a foreign policy scholar and commentator who has advised several Republican office-holders.

"The American people," Kagan said, "have an interesting quality in their character which you can trace all through their history. They want their presidents to be men of peace, but they also want to know that, if necessary, the American president can kill."

Gregory asked Goodwin whether she thought Kagan had a worthwhile point in analyzing President Barack Obama's recent success in ordering the killing of al-Qaida mastermind Osama bin Laden.

"I think that's right," Goodwin said. "I mean, think of two of our most lovable presidents, Theodore Roosevelt, what was his slogan? Speak softly and carry a big stick. This was a big stick. Eisenhower, having won World War II, could then take enormous pride in the fact that not a single soldier had died in combat during his time. So I think what happened in this thing is, it's not just the public perception of Obama that's strengthened now because he acted as commander in chief, but you never know what happens internally to a president when they take a risky thing and it works. JFK took control of his presidency after the Cuban missile crisis. This guy will now take control of his presidency. I think he's going to be able to trust his own judgment even more than the military, and that's huge psychologically. And America feels better again. I mean, that's the huge thing that we don't know about how long that will last. But our prestige and our sense of ourself is now heightened for a while, and everybody wants that."

We thought we'd look into whether Goodwin was correct that "not a single soldier … died in combat" during the Eisenhower presidency.

We knew that Goodwin's claim had problems when we checked the starting and ending dates of the Korean War. It was an active conflict through the signing of a truce on July 26, 1953. Since Eisenhower was inaugurated on Jan. 20, 1953, he served as commander-in-chief for the final six months of the war. His presidency ended on Jan. 20, 1961.

The final six months of the Korean war included a battle that became emblematic of the war -- the Battle of Pork Chop Hill. The battle produced many casualties at a time when the powers were negotiating an armistice, even though the battle was fought to control a topographic feature that had little inherent value. In his book The Korean War, Max Hastings wrote that the battle reflected both the "courage of the defenders and the tactical futility" of that stage of the war.

How many casualties were there during those six months? We didn't find any official government data with casualties separated by year, but we did find a private collection. The veteran-supported Korean War Project has a website that offers day-by-day casualty figures for the war. So we looked at the figures for the first six months of Eisenhower's presidency and found 3,406 casualties.

Casualties, however, include non-combat deaths and non-mortal wounds, not just combat deaths. So we took casualty ratios for the entire Korean War and determined that combat deaths accounted for 24 percent of casualties. Multiplying this percentage by the number of casualties produces 802 combat deaths during Eisenhower's six months in charge. (The total for the war was almost 34,000.)

The figure we came up with isn't exact, but it seems safe to assume that combat deaths during that period numbered in the hundreds.

In addition, Eisenhower was president during the start of U.S. involvement in Vietnam. At the Vietnam Veterans Memorial on the National Mall, the names of the fallen begin with Air Force T-Sgt. Richard B. Fitzgibbon Jr., with a casualty date of June 8, 1956. The number of casualties in Vietnam remained much smaller than the number during the final part of the Korean War. The first battlefield fatality came in late 1961, almost one year into the Kennedy Administration.

Eisenhower also presided over some small-scale military deployments in or near Taiwan, Lebanon and Cuba, and he was president during the Suez crisis of 1956. But we were unable to confirm any casualties for these events.

Meanwhile, a lower-profile source of U.S. casualties stemmed from covert operations related to the Cold War.

"Eisenhower ordered a wide array of covert operations against the Soviet Union and Communist China, including clandestine overflights of both countries, during his two terms, and some of those missions involved American deaths," said Lance Janda, a historian at Cameron University in Lawton, Okla. "The deaths were generally kept secret and did not occur during declared wars or major operations known to the public, and for that reason a scholar might argue they technically do not fall into the 'combat death' category. But I would find that line of reasoning extremely suspect. Eisenhower ordered Americans into harm's way in support of the national interest, and their deaths therefore fall very clearly in my view under his responsibility as commander-in-chief."

All this means Goodwin's statement is incorrect.

She's "wrong, and not just technically so," said William W. Stueck, a historian at the University of Georgia.

When we contacted Goodwin, she immediately acknowledged her error.

"What I was reaching for when I talked was a more general point -- which is accurate -- that the general who had overseen major battles in a time of war was basically a man of peace during his presidency, thus fitting the idea that Americans love men of peace who can also kill," Goodwin said. "That would have been a better way of putting it!"

Goodwin does have a point. After the shooting war on the Korean peninsula had ended -- a war that Eisenhower had inherited and which he ended within six months-- Eisenhower did preside over a relatively peaceful seven and a half years, particularly compared to his two immediate predecessors (Franklin Roosevelt and Harry Truman) and two of his three successors (Lyndon Johnson and Richard Nixon).

"Eisenhower was extremely skillful when it came to foreign policy and military affairs," Janda said. "He was extraordinarily judicious in his application of American power, negotiating severe crises over Indochina in 1954, the Taiwan Strait in 1955, and Suez in 1956, which could easily have led to massive U.S. intervention and/or the use of nuclear weapons. He was also a powerful proponent of covert operations and diplomacy during one of the most difficult periods of the Cold War and the president who argued most forcefully of the dangers posed by the military-industrial complex. He should be celebrated for those achievements, but not by overstating the facts."

We agree that Goodwin's broader point is reasonable, and we appreciate her quick acknowledgement of error. Still, she made a pretty clear-cut mistake: Hundreds of combat deaths is a number vastly greater than saying that "not a single soldier had died in combat" under Eisenhower. So we rate her statement False.
Doris Kearns Goodwin,
comments
on NBC's Meet the Press, May 9, 2011
Congressional Research Service, "
American War and Military Operations Casualties: Lists and Statistics
," July 13, 2005
Congressional Research Service, "
Instances of Use of United States Armed Forces Abroad, 1798-2006
," Jan. 8, 2007
Korean War Project,
interactive casualty data charts
, accessed May 9, 2011
Defense Department,
"Principal Wars in Which the United States Participated,"
accessed May 9, 2011
HistoryNet.com, "
Korean War: Battle on Pork Chop Hill
," June 12, 2006
Vietnam Veterans Memorial,
fact sheet
on names on the wall, accessed May 9, 2011
New York Times, "
How to End a War, Eisenhower's Way
," April 11, 2009
E-mail interview with William W. Stueck, historian at the University of Georgia, May 9, 2011
E-mail interview with Nick Sarantakes, professor of strategy and policy at the U.S. Naval War College, May 9, 2011
E-mail interview with Lance Janda, professor of history at Cameron University, May 9, 2011
E-mail interview with Ted Wilson, history professor at the University of Kansas, May 9, 2011
E-mail interview with Doris Kearns Goodwin, historian and author, May 9, 2011
Browse the Truth-O-Meter
More by Louis Jacobson
Support independent fact-checking.
Become a member!
In a world of wild talk and fake news, help us stand up for the facts.