Stand up for the facts!
Our only agenda is to publish the truth so you can be an informed participant in democracy.
We need your help.
I would like to contribute
Says Suzanne Bonamici "supports the $500 billion cut to Medicare passed last year."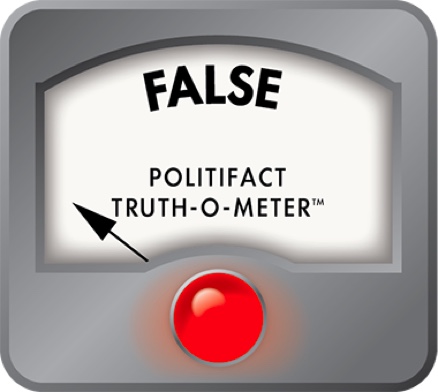 Another look at a favorite Republican talking point
Sometimes talking points are just so good that no matter how many times we point out they're wrong, politicians keep using them again and again and again, broken-record style.

Case in point: The Republican bit that some Democrat or another voted to cut a whopping $500 billion from Medicare by supporting President Obama's Affordable Care Act.

Just how pervasive is this claim? Well, PolitiFact Oregon addressed it more than a year ago when Scott Bruun tried to use it against Rep. Kurt Schrader and called the claim Mostly False.

But that's not all: PolitiFact National gave Michele Bachmann a Mostly False in September for claiming Obama was stealing $500 billion from Medicare. In July, PolitiFact Texas gave a state representative a Mostly False for claiming $500 billion in Medicare cuts were coming. And PolitiFact Ohio served up an out-and-out False to the National Republican Senatorial Committee in June for claiming that Sen. Sherrod Brown had voted to cut $500 billion from Medicare.

There are more, but you probably get the idea.

Naturally, we were a little surprised, then, when Rob Cornilles, the Republican candidate for the open 1st congressional district seat, accused state Sen. Suzanne Bonamici, his Democratic opponent, of supporting a $500 billion cut.

And yet, there it was, during a speech he delivered Wednesday: "Senator Bonamici says she supports the $500 billion cut to Medicare passed last year."

There's a small bit of truth here. The Affordable Care Act does reduce Medicare spending by $500 billion over the next 10 years. But here's the catch: Those dollars aren't taken out of the current budget, they are not actual cuts, and nowhere does the bill actually eliminate any current benefits.

The $500 billion is all in future spending reductions and come through the law's attempts to slow projected growth, not cut spending.

PolitiFact National has highlighted the biggest bits of savings: About $220 billion comes from reducing annual increases in Medicare payments to health care providers. Another $36 billion comes from increasing premiums for higher-income beneficiaries. Administrative changes land another $12 billion in savings. A new national board is set to come up with $15.5 billion in savings -- but can't get those savings from a reduction in benefits. The last big chunk of $136 billion comes in changes to the Medicare Advantage program, which has become more expensive than initially anticipated.

Still, given all these changes, Medicare spending is expected to increase -- something we pointed out in our fact check on Bruun a year ago. The nonpartisan Congressional Budget Office projects Medicare spending will reach $929 billion in 2020, up from $499 billion in actual spending in 2009.

As we said last year, while it's true that the government is looking to reduce the growth of future spending, the Affordable Care Act does not eliminate $500 billion out of the current budget for Medicare. Most important, there are no cuts to guaranteed Medicare benefits.

We wanted to do two things before we gave a final ruling on the subject.

First up, we called Bonamici's campaign to make sure she even supports the Affordable Care Act. She confirmed that, while she doesn't think it's perfect, had she been in office when the final vote was taken, she would have been a "yes." In a statement she added, "Let me be absolutely clear: I do not support cutting Medicare benefits. I believe Medicare is a fundamental promise our nation owes to seniors and keeping Medicare financially stable is simply a matter of getting our priorities straight."

Second, we gave a call to Cornilles' campaign to see if it still felt his statement was truthful. Mary Anne Ostrom, his campaign manager, said the campaign stood by the comment. She pointed to an Oregonian article before the health care bill passed that described the proposed savings as "cuts" (which it does, but it doesn't make the claim any more accurate) and to a Washington Post Fact Checker article that she said backed them up -- at least to some degree.

A quick read through that article, and we come to the same point: "The health care bill tries to identify ways to save money, and so the $500 billion figure comes from the difference over 10 years between anticipated Medicare spending (what is known as 'the baseline') and the changes the law makes to reduce spending."

The author also noted -- and it's worth repeating here -- that Republican leaders have supported the same cuts. "In the House Republican budget, lawmakers repealed the Obama health care law but retained all but $10 billion of the nearly $500 billion in Medicare savings, suggesting the actual policies enacted to achieve these spending reductions were not that objectionable to GOP lawmakers."

Ultimately, even the Washington Post story that Cornilles claims as support found the claim to have "significant omissions and/or exaggerations."

We pointed that out to Ostrom, who simply said the campaign didn't agree with our interpretation -- or the previous PolitiFact interpretations for that matter.

That brings us to our ruling. Generally, we'd give this a "Mostly False" given that there is a small kernel of truth to the statement. But we also have a policy of taking into account whether the speaker is willfully repeating something we've said wasn't true before -- and in this case we have said it several times.

For that reason, we're giving Cornilles a False for his statement that Bonamici supports $500 billion in cuts to Medicare.
Rob Cornilles, speech, Nov. 9, 2011

Statement from Suzanne Bonamici, Nov. 10, 2011

PolitiFact, "Medicare 'cuts' in the health care law will hurt seniors, says 60 Plus Association," Sept. 20 2010

The Kaiser Family Foundation, "Health Reform and Medicare: Overview of Key Provisions," July 2010

PolitiFact, "Obama claims Medicare benefits will not be cut under the health care bill," Aug.t 14, 2009

PolitiFact Oregon, "Scott Bruun says Kurt Schrader cut $500 billion from Medicare, hurting seniors," Oct. 2, 2010

PolitiFact Ohio, "NRSC claims Sen. Sherrod Brown voted to cut $500 billion from Medicare", June 23, 2011

PolitiFact, "Did Obama 'steal' $500 billion from Medicare?" Sept. 12, 2011

PolitiFact Texas, "Lois Kolkhorst says $500 billion in Medicare cuts are coming," July 17, 2011

Kaiser Health News, "Health law expands Medicare coverage of preventive care," Aug. 10, 2010

The Oregonian, "Health care reform could cut Medicare, hurt Oregon," July 20, 2009.

The Oregonian,"Medicare deal reached, clearing way for Oregon Democrats to vote for health care reform," March 20, 2010

Washington Post, "Fact Checking the GOP debate: $500 billion in cuts to Medicare?" June 15, 2011
Browse the Truth-O-Meter
More by Ian K. Kullgren
Support independent fact-checking.
Become a member!
In a world of wild talk and fake news, help us stand up for the facts.