Get PolitiFact in your inbox.
Says Newt Gingrich "has said that we should make the 11 million illegal workers that are in this country legal."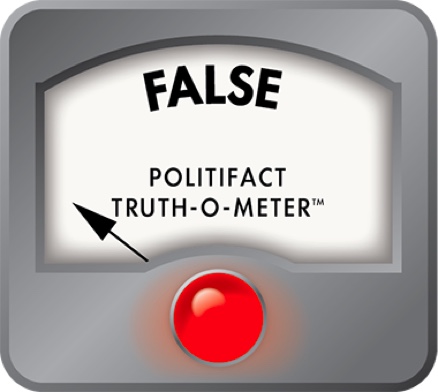 Did Gingrich say he supports amnesty for all illegal immigrants?
Former Georgia congressman and U.S. House Speaker Newt Gingrich's rise in the Republican presidential polls has prompted some of his fellow GOP contenders to find ways to knock him off his newfound perch.

U.S. Rep. Michele Bachmann of Minnesota criticized Gingrich's position on immigration during a television interview on the PBS program "NewsHour" the day after the Republican candidates gathered for a debate on national security issues. Gingrich made headlines for what he described during the debate as his "humane" -- and critics call his soft -- approach on immigration.

"[Gingrich] has said that we should make the 11 million illegal workers that are in this country legal," Bachmann said.

Bachmann then argued that Gingrich "probably has the most liberal position on illegal immigration of any of the candidates in the race."

We wondered about what Bachmann claimed Gingrich said since he seemed to say something different during the Nov. 22 debate on CNN.

"I don't see how the party that says it's the party of the family is going to adopt an immigration policy which destroys families that have been here a quarter century," Gingrich said at the debate. "And I'm prepared to take the heat for saying, 'Let's be humane in enforcing the law without giving them citizenship but by finding a way to create legality so that they are not separated from their families.' "

Bachmann's campaign website has a link to an article that seems to defend her statement on PBS. The December 2010 article, on Fox Nation news website, has a quote from Gingrich using the 11 million illegal immigrant number.

"We are not going to deport 11 million people," Gingrich is quoted as saying at a forum on Latino issues. "There has to be some zone between deportation and amnesty."

Gingrich spokesman R.C. Hammond pointed to the latter part of the candidate's quote to argue Bachmann's claim was misleading.

"Newt's quote about the need for a zone between deportation and [amnesty] is proof alone Bachmann's claim is false, an outright lie," Hammond told us via e-mail.

The Fox Nation article quotes Gingrich as saying his position is "not a call for amnesty."

On his campaign website, Gingrich has a 10-step plan on immigration. He talks about creating a system of committees that would determine which illegal immigrants can stay and which ones must return to their homeland. Gingrich also says illegal immigrants who are criminals and/or gang members should be deported promptly.

"We need a path to legality, but not citizenship, for some of these individuals who have deep ties to America, including family, church and community ties," Gingrich wrote. "We also need a path to swift but dignified repatriation for those who are transient and have no roots in America."

We sent a request for comment to Bachmann's campaign but got no response.

Bachmann defended her position in a statement she released to news outlets last weekend. CNN reported the statement included a letter signed by Gingrich and 14 other conservatives in 2004 that was published in The Wall Street Journal that supported then-President George W. Bush's guest worker program.

"The president has shown courage by calling on Congress to place reality over rhetoric and recognize that those already working here outside the law are unlikely to leave," the letter states. "Congress can fulfill its role by establishing sufficient increases in legal immigration and paths to permanent residence to enable more workers to stay, assimilate, and become part of America."

Bachmann said in her statement: "I don't agree that you should make 11 million workers legal here because that in effect is amnesty and will only encourage more illegal immigrants to come here."

Gingrich -- through his comments at the CNN debate, his website and by signing the 2004 letter -- believes there are some illegal immigrants working in the United States who should be provided a path to legal status and others should be deported. He has not said all illegal immigrants working here "should be made legal."

Bachmann has implied something different when she said Gingrich "has said that we should make the 11 million illegal workers that are in this country legal." She has transformed Gingrich's nuanced statement into an all-or-nothing pronouncement. And she has done so to win favor with a sector of the GOP base opposed to any compromise on illegal immigration.

We find Bachmann's statement misleading and rate it False.
"PBS NewsHour," "Bachmann: Gingrich's Immigration Stance 'Most Liberal' In GOP Race," Nov. 23, 2011

CNN, "Political gamble for Gingrich on immigration," Nov. 23, 2011

Fox Nation, "Newt: 'We are not going to deport 11 million people,' " Dec. 2, 2010

E-mail from Gingrich spokesman R.C. Hammond, Nov. 25, 2011

Newt Gingrich immigration policy
Browse the Truth-O-Meter
More by Eric Stirgus
Support independent fact-checking.
Become a member!
In a world of wild talk and fake news, help us stand up for the facts.