Stand up for the facts!
Our only agenda is to publish the truth so you can be an informed participant in democracy.
We need your help.
I would like to contribute
Says Rick Perry co-chaired Al Gore's campaign for president.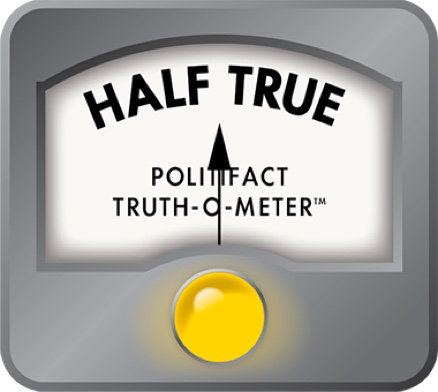 Michele Bachmann says Rick Perry co-chaired Al Gore's presidential campaign
Given a chance to question any other presidential candidate, U.S. Rep. Michele Bachmann opened her question for Texas Gov. Rick Perry at the Oct. 11, 2011, Bloomberg/Washington Post debate by saying: "In the 1980s, Ronald Reagan introduced an economic miracle. And while all of us were wishing and yearning for a third term for Ronald Reagan, Gov. Perry, you were campaigning and co-chairing Al Gore's election campaign for president of the United States."

Setting aside what Bachmann ultimately asked, we realized we'd previously explored the Perry-Gore connection.

For more than a decade, news accounts and Perry critics said that as a Democratic legislator, Perry played a leadership role in then-U.S. Sen. Gore's unsuccessful 1988 presidential bid. Yet when we revisited this topic in September, we found no evidence--not a pinch--that Perry had a ruling role.

It's the stuff of political legend--and it was all but unchallenged by Perry until after he launched his bid for president.

However, interviews with political players in Texas and Tennessee and news articles from 1988 convinced us that, although Perry endorsed Gore, he was not his Texas chairman.

Ray Sullivan, a spokesman for Perry's presidential campaign, told us by email: "We have no record or recollection of any leadership position" for Perry in Gore's 1988 campaign.

Asked why Perry did not say as much when a 1998 opponent repeatedly lofted such claims, Sullivan replied: "We did not (have) access to information about the Gore '88 campaign organization and therefore 10 years later could not definitively say one way or the other."
   
Perry says he voted for Republican George H.W. Bush in November 1988, Sullivan said.
   
In an August 2011 blog post, Texas political journalist R.G. Ratcliffe, who also reports for the Austin American-Statesman, declared that Perry did not chair the Gore campaign in Texas. That prompted us to take a closer look at the Perry-Gore connection.
   
Austin consultant George Shipley, who advised Gore's 1988 campaign, told us in an interview that Perry "made, to my knowledge, one, possibly two press tours, but he was not what I would call that active in the campaign." Sherman lawyer Bob Slagle, who supported Gore while chairing the state's Democratic Party, told us in an interview that Perry "may have been chairman for some area around Haskell County," Perry's home county, but he was no more than that.

Similarly, two staff members in Gore's 1988 effort said Perry was not its Texas chief.

Tennessee lawyer Tom Jurkovich, Gore's Texas director, told us by email that "we may have named (Perry) to a 'steering committee' or as one of several campaign 'co-chairs,' typically honorific titles with no real role ... (Perry) wasn't highly involved in the campaign, however, and had zero operational responsibility."
   
Mike Kopp of Nashville, who did press outreach for Gore, was more emphatic, saying in an interview: "We didn't have a chairman in Texas; we didn't have co-chairs," either. "We weren't that organized; we didn't have that strong a ground game."
   
Perry, who switched to the Republican Party in 1989 before winning his first statewide office in 1990, has since said he realized around that time that Gore was not his man. Still, he did not— could not—deny he'd come aboard with 27 fellow Texas House Democrats who endorsed Gore at a Jan. 5, 1988, Texas Capitol press conference.
   
Perry and the other legislators saw Gore as the best conservative Democrat in a field that included Massachusetts Gov. Michael Dukakis, Missouri U.S. Rep. Richard Gephardt and the Rev. Jesse Jackson.
   
A Jan. 7, 1988, news article in the Abilene Reporter-News quotes Dusty Garison, Perry's district aide, saying: "Rick thinks it's important that conservative Texans who have traditionally voted in the Democratic Party not vote in the Republican Party simply because they want to vote for a conservative presidential candidate." Gore, Garison said, appears to be a candidate who can bring the party back to "mainstream America."
   
But Gore's candidacy faded after he fared poorly in Southern primaries. He wound up third in the March 1988 Texas primary, trailing Dukakis and Jackson.
   
Garison told us in an interview he didn't remember Perry having an official position in Gore's campaign.
   
Perry's "chairmanship" appears to have originated as a campaign attack that stuck after it was seemingly confirmed by Perry himself. Sprinkle in Nexis fever—the tendency of journalists to echo news clips they find using the Nexis database—and the legend abides.
   
A review of news articles archived by the Legislative Reference Library shows that Democrat John Sharp made the charge about Perry's leadership role in the Gore campaign when Sharp faced Perry in the 1998 race for lieutenant governor.
   
In March 1998, Perry's camp pressed Sharp to say whom he'd support in that year's governor's race between Gov. George W. Bush and Democrat Garry Mauro. Sullivan was quoted in a March 15, 1998, Dallas Morning News article as saying that while Perry would back Bush, Sharp had "supported Mike Dukakis in 1988, Bill Clinton in 1992, (Democratic Gov.) Ann Richards in 1994 and was preparing to run against Gov. Bush in 1997. In 1998, will John Sharp continue his long opposition to the Bush family in Texas or change his position for political gain?"
   
"Texans deserve a straight and honest answer," Sullivan said.
   
The newspaper reported Sharp's campaign then claiming that Perry served as a state vice chairman for Gore's 1988 presidential campaign in the state. In an April 1998 debate with Perry, Sharp charged Perry with being Gore's "co-campaign manager," the Fort Worth Star-Telegram then reported.
   
In a Sept. 15, 1998, Dallas Morning News article, Sharp is quoted making the "co-chairman" claim again. Perry acknowledged that, the story says, but said there was a "push to get a conservative Southerner" elected president.
   
"Going through that was part of what started me through the process of changing parties in 1989," he told the newspaper. "I came to my senses."
   
It was Perry's September 1998 acknowledgment that fed our conclusion in a January 2010 fact check that there was some truth to Republican gubernatorial candidate Debra Medina's claim that Perry had been Gore's "campaign manager." We again leaned on the 1998 article in rating Mostly True a similar claim by Rep. Ron Paul.
   
When we revisited this topic, Sharp acknowledged he was making a charge he could not prove.
   
Sharp, who lost a second bid for lieutenant governor in 2002, later helped devise a business tax overhaul at Perry's behest. He's now chancellor of the Texas A&M University System.
   
By text message, Sharp agreed Perry wasn't chairman of Gore's 1988 Texas campaign. Reminded that he said things otherwise on the hustings, Sharp said: "Never could prove it."
   
We couldn't prove it either. We failed to find campaign-related documents potentially listing titles, if any, given to the Texas legislators who came out for Gore.
   
Interviews suggest campaign leadership titles may have been casually shared.
   
Hugo Berlanga, a former legislator who was then speaker pro tempore of the Texas House, said in an interview that the members committing to Gore, who was then a U.S. senator, were going to be his Texas co-chairs. "The bottom line, whether he was a coordinator or co chair, (Perry) was involved," Berlanga said.
   
Bobby Aikin, also among legislators then for Gore, said in an interview: "I think each one of us claimed to be a co-chair or coordinator or some-such like that."
   
So, say so long to the "Chairman Perry" legend? Sure, barring contradictory evidence.
   
All in all, Perry indeed endorsed Gore for president, but he did not hold a campaign leadership post. We rate Bachmann's statement Half True.
Dallas Morning News, news articles, "Voters make apathy the big winner in primaries," March 15, 1998; " Link to Bush separates Perry, Sharp; Lieutenant governor hopefuls cast different views toward top of ticket," September 15, 1998 (Nexis search)

Email, response to PolitiFact Texas, Tom Jurkovich, Nashville, Aug. 22, 2011

Emails, responses to PolitiFact Texas, Ray Sullivan, communications director, Rick Perry presidential campaign, Aug. 23 and 24, 2011

Fort Worth Star-Telegram, news article, "Perry to release income tax returns; The issue of the GOP lieutenant governor nominee's wealth is raised in a forum with Democrat John Sharp," April 8, 1998 (Nexis search)

Telephone interview, Bobby Aikin, Commerce, Texas, Aug. 29, 2011

Telephone interview, Hugo Berlanga, Corpus Christi, Aug. 30, 2011

Telephone interview, Mike Kopp, Nashville, Aug. 30, 2011

Telephone interview, Dusty Garison, Abilene, August 23, 2011

Telephone interview, Gib Lewis, lobbyist, Fort Worth, Sept. 2, 2011

Telephone interview, George Shipley, consultant, Austin, August 22, 2011

Telephone interview, Bob Slagle, former chairman, Texas Democratic Party, Sherman, Texas, August 22, 2011
Browse the Truth-O-Meter
More by W. Gardner Selby
Support independent fact-checking.
Become a member!
In a world of wild talk and fake news, help us stand up for the facts.