Get PolitiFact in your inbox.
Says Rick Perry increased spending in Texas by more than 50 percent.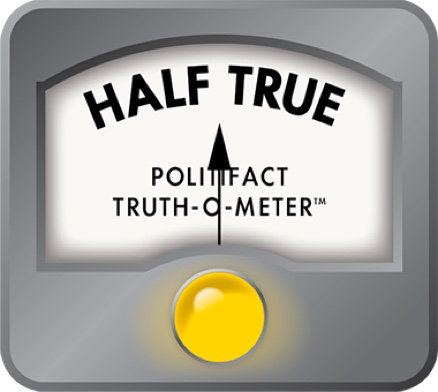 Michele Bachmann says Texas spending increased more than 50 percent under Rick Perry
When the Bloomberg/Washington Post debate on economic topics gave GOP hopefuls the chance to question another candidate directly, U.S. Rep. Michele Bachmann of Minnesota turned to Rick Perry.

She declared that after Perry backed Al Gore for president as Ronald Reagan's presidency came to its close, he "went on to increase spending in Texas by over 50 percent" as governor.

Bachmann incorrectly said Perry was Gore's campaign co-chair, which we've covered in another fact check.

Her reference to state spending on the Texas governor's watch also covered familiar turf.

In an online ad we spotted last month, the pro-Bachmann Keep Conservatives United super PAC said Perry had "doubled state spending in a decade." We found that to be Mostly False.

Not that spending didn't increase.

In August 2010, Democratic gubernatorial candidate Bill White cited state budget figures to show that overall state spending had increased 79 percent with Perry as governor, from nearly $101.8 billion in 2000-01 to almost $182.2 billion in 2010-11.

At the time we took up the pro-Bachmann group's claim, an updated spending tabulation indicated the increase had been 86 percent.

However, we recognized that this percentage was both unadjusted for inflation and population increases and that it reflected spending from all sources, including federal aid. Taking into account inflation and population growth, the increase was 21 percent over the period. And budgeted expenditures drawing on state general revenue -- the kind most swayed by a governor -- increased 44 percent without adjustments, but decreased 6 percent once inflation and population growth are weighed.

We did not hear back from Bachmann on the basis of her debate claim.

Our sense is that Bachmann's assessment of "over 50 percent" misstates overall spending on Perry's watch, especially because it doesn't appear to include any accounting for the state's growth or inflation. The claim also overstates the raw increase in general-revenue spending, the kind that Perry had the most control over.

We rate her statement Half True.
Bloomberg/Washington Post debate for Republican presidential hopefuls, transcript, Oct. 11, 2011

Emails, responses to PolitiFact Texas, R.J. DeSilva, Texas State Comptroller's Office, Sept. 2 and 6, 2011

Legislative Budget Board, response to PolitiFact Texas, "TRENDS IN STATE GOVERNMENT EXPENDITURES, 2000-2013" (received Sept. 2, 2011)

Rick Perry for President, campaign press release (excerpted), "Bachmann Committee Attacks Gov. Perry's Fiscally Conservative Record," Sept. 1, 2011

Telephone interview, Dale Craymer, president, Texas Taxpayers and Research Association, Austin, Sept. 1, 2011

Telephone interview, Billy Hamilton, consultant, Austin, Sept. 2, 2011

Telephone interview, Bob Harris, treasurer, Keep Conservatives United, Raleigh, North Carolina, Sept. 2, 2011

Texas Comptroller of Public Accounts, "Texas Comprehensive Annual Report, Fiscal 2010," Feb. 28, 2011 (accessed Sept. 2, 2011)
Browse the Truth-O-Meter
More by Sue Owen
Support independent fact-checking.
Become a member!
In a world of wild talk and fake news, help us stand up for the facts.