Stand up for the facts!
Our only agenda is to publish the truth so you can be an informed participant in democracy.
We need your help.
I would like to contribute
"On most things except witch trials, Virginia will always have been first."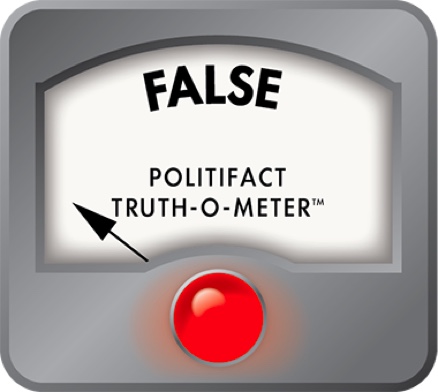 Rep. Morgan Griffith says Virginia did not hold the first colonial witch trial
U.S. Rep. Morgan Griffith, R-9th, was among a handful of Virginia congressmen who voted against a resolution earlier this month that proclaimed Salem, Mass., as the birthplace of the National Guard.

Griffith insisted Virginia organized a militia in 1624 -- five years before Massachusetts. He noted Virginia was the first English settlement in North America and, in an interview with The Washington Times, good-naturedly accused Massachusetts of having "first colony envy." Then, in a TV interview, he rekindled a deadly flame in the history of Salem, Mass.

"On most things except witch trials, Virginia will always have been first," Griffith, told WSLS-TV10 in Roanoke on April 3.

We're sorry to say that we can't resolve which state is the birthplace of the National Guard. Florida also lays claim to that title, saying an organized militia was created a few years after St. Augustine was settled in 1565.

Some argue that settlers came as armed bands and could all be considered part of militias. Jamestown was established in 1607 and pilgrims landed in Plymouth, Mass. in 1620.

But we were able to get to the bottom of Griffith's other claim -- that Virginia was not the first colony to hold a witchcraft trial.

Griffith's press secretary, Maggie Seidel, said the congressman's statement was "tongue-in-cheek." When asked if there is proof of Griffith's witch trial claim, she sent us a news story containing some of her boss's comments.

So we turned to Marc Carlson, Librarian of Special Collections and University Archives at the University of Tulsa, who has extensively chronicled witchcraft trials in Europe and North America. His research shows the first person legally accused of witchery in the colonies was Joan Wright of Surry County, Va., in either 1622 or 1626.  

Witnesses accused Wright, a left-handed midwife, of correctly predicting the death of four people, threatening to make a neighbor's maid "dance naked and stand before the Tree," and possibly casting a spell that led to the death of a sickly child born to a mother who had declined Wright's nursing services.

Although Wright was arraigned, Carlson said she did not stand trial.

The first known accusation of witching in Massachusetts targeted Grace Dutch in 1628 or 1629, but there's no evidence that she went to trial, either. Records show she died in 1694.

The first known witchcraft trial in the colonies occurred in Virginia in 1641, resulting in the acquittal of the wife of George Barker. The exact charges are not known. But her accuser -- Jane Rookens of Lower Norfolk -- was sorry for what she said, according to Minutes of the Council and General Court of Colonial Virginia. The accuser's husband, George Rookens, was ordered to pay the Barkers' expenses and court charges.

The next known trials occurred in Connecticut in 1647. Mary Johnson, a servant, confessed to "uncleanness with men and Devils." There are varying tales, but no documents, on how she was punished. Also that year, Alse Young of Connecticut became the first American to be hanged for witchcraft.

Massachusetts' first trial came the next year and resulted the hanging of Margaret Jones, a medical practitioner who the court said had "such a malignant touch, as many persons, men, women, and children, whom she stroked or touched with any affection or displeasure, or etc.  were taken with deafness, or vomiting, or other violent pains or sickness."
  
Although Virginia held the first known witchcraft trial in colonies, it was not a hotbed of suspicion and water tests. Carlson lists 11 accusations of witchcraft and sorcery in the Old Dominion and the only execution appears to have been on a ship heading to Jamestown in 1654 when Kath Grady was hanged as a "witch at sea."

Massachusetts, on the other hand, embraced a puritanical understanding of evil and had 19 accusations excluding Salem's inquisition in 1692. The witch hunts in that village swept up about 200 people, 19 of whom were hanged and one of whom was crushed by rocks in torture.

Our ruling

Massachusetts is well known for its attempts to root out sorcery, but evidence shows Virginia held the first witchcraft trial in the colonies.

Griffith deserves no toil or trouble for his jest. But his witticism, as much as we enjoyed it, is False.
WSLS-TV10, "Griffith, Goodlatte vote against National Guard birthplace resolution," April 3, 2012.

Email from Maggie Seidel, spokeswoman for Griffith, April 4, 2012.

Encyclopedia Britannica, "Jamestown Colony," accessed April 4, 2012.

University of Wisconsin-Eau Claire, "St. Augustine: Spanish Settlement," accessed April 5, 2012.

New World Encyclopedia, "Plymouth Colony," accessed April 5, 2012.

The Washington Times, "Massachusetts militia scores another victory over Virginia," April 1, 2012.

Marc Carlson, "Historical Witches and Witchtrials in North America," accessed April 4, 2012.

Interview and email from Marc Carlson, Librarian of Special Collections and University Archives at the University of Tulsa and historical researcher, April 4, 2012.

The Virginia Magazine of History and Biography, "The Devil in Virginia in the Seventeenth Century," April 1957, Vol. 65, No. 2, accessed April 5 at the Library of Virginia.

Email from Jason Coy, associate professor of history at the College of Charleston, April 5, 2012.

Smithsonian.com, "A Brief History of the Salem Witch Trials," Oct. 24, 2007.

Connecticut Judicial Branch Law Libraries, "Witches and Witchcraft," accessed April 5, 2012.
Browse the Truth-O-Meter
More by Nancy Madsen
Support independent fact-checking.
Become a member!
In a world of wild talk and fake news, help us stand up for the facts.