Stand up for the facts!
Our only agenda is to publish the truth so you can be an informed participant in democracy.
We need your help.
I would like to contribute
It's "typical" for a presidential candidate to release 10 or 11 years of tax returns.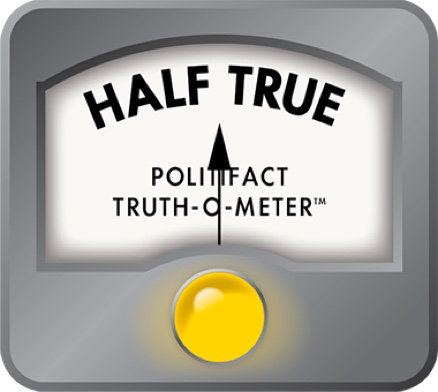 It's typical for presidential candidates to release 10 or 11 years of returns, Clinton says
President Barack Obama's campaign intends to keep the pressure on Mitt Romney to release more of his tax returns. The campaign released a Web ad Wednesday hammering that point and asking, "When will he release his tax returns?"

Romney has provided his 2010 return and his preliminary return for 2011. He said he will release the final version for 2011, but no additional years.

Former President Bill Clinton said the usual standard is much higher. "You know, it's typical, I think, that we all release 10, 11 years," Clinton said on NBC's Today Show on July 13. "I think Sen. McCain released over 20 years of tax returns." The Obama campaign recently announced that Clinton would be given a prime-time speaking slot at the Democratic National Convention.

We wanted to examine if the former president has it right. Is it customary to reveal a decade of tax returns?

The high-water mark for disclosure was set by Sen. Robert Dole, R-Kan., in the 1996 election. He released 30 years of tax returns. Second place honors go to Sen. John Kerry, D-Mass., for providing 20 years worth when he ran in 2004, although he had released 15 of those returns before he launched his presidential bid. (Kerry's wife, Teresa Heinz Kerry, had considerable wealth and released only a portion of her 2003 taxes.)

After that, there is a tie between Romney's father, George Romney, in 1968 and Bill Clinton in 1992. Both men released 12 years of tax returns. Close on their heels is Sen. John Edwards, D-N.C., with 10 when he was Kerry's running mate.

Several candidates released anywhere from six to nine years of returns. In 2000, George W. Bush provided nine and Al Gore eight. In the 2008 primary, then Sen. Barack Obama, D-Ill., delivered seven, a move that was matched by Hillary Clinton about a month later. In 1988, Massachusetts Gov. Michael Dukakis released six years of returns.

There is a difference for incumbents and challengers. Ever since 1976, when Jimmy Carter became president, sitting presidents and vice presidents have released their taxes each year they are in office. By the time re-election rolls around, they have put at least four tax returns into the public record. Challengers generally match or exceed that.

Our colleagues at Factcheck.org looked at this and found that since 1980, only two general election candidates have revealed just two years of tax returns. One was Sen. John McCain, R-Ariz., in 2008 and the other is Mitt Romney (at least so far during this campaign).

For the record, in 1980, Ronald Reagan offered up just one return.

We should note here that Clinton was way off when he said McCain released 20 years of returns; McCain only released two. Similarly, Romney has said that Kerry released only two years of returns when Kerry had released many more than that.

But again, our fact-check here is intended to gauge what's "typical" for presidential candidates. As our tally above indicates, though, there's a lot of variation in how many tax returns candidates released. Mathematically speaking, our tally shows the median number of tax returns released to be seven and a half. But individual candidates released anywhere from 30 to one.

Providing tax returns is often a campaign strategy, although whether disclosure becomes a significant issue will vary. In 2008, Obama wanted to put pressure on his primary rival, Hillary Clinton. To some extent it worked, because Clinton then had to explain why she and her husband were so wealthy. Romney's father had something of the same idea when he revealed a dozen tax returns.

Our ruling

Clinton said most candidates release about 10 years of tax returns. That's more than the two years of returns Romney has released.
Clinton is exaggerating a bit when he puts the "typical" number at 10. Over the decades, we found candidates released anywhere from 30 years of tax returns to one year. A majority of the recent candidates we surveyed did not in fact release a full 10 years of tax returns.
On the other hand, a majority of recent candidates did release far more than two years of tax returns. So Romney lags behind most of the pack.
Clinton's statement is partially accurate, but it leaves out important details. We rate his statement Half True.
PolitiFact, DNC Says Presidential Candidates Usually Release Tax Returns But Romney Won't, December 16, 2011

PolitiFact, Do Dog Catchers Need to Release Their Tax Returns, July 13, 2012

Obama for President, Mitt Romney's Tax Returns: When Will He Come Clean?, July 31, 2012

Factcheck.org, Romney and the Tax Return Precedent, July 19, 2012

Tax History Project, Presidential Tax Returns

CNN, Presidential Candidates Have Long History of Releasing Tax Returns, July 16, 2012

National Constitution Center, Eye-Opening Facts from Candidate Tax Returns, July 18, 2012

National Journal, How Many Years of Tax Returns Have Presidential Candidates Released in the Past, July 18, 2012

Citizens for Responsibility and Ethics in Washington, "CREW Urges Presidential Candidates to Disclose Tax Returns,"March 26, 2008

New York Times, "Obamas Earned $4.2 Million in 2007," April 16, 2008

New York Times, "Clintons Made $109 Million in Last 8 Years," April 5, 2008
Browse the Truth-O-Meter
More by Jon Greenberg
Support independent fact-checking.
Become a member!
In a world of wild talk and fake news, help us stand up for the facts.