Stand up for the facts!
Our only agenda is to publish the truth so you can be an informed participant in democracy.
We need your help.
I would like to contribute
Says 1 in 7 American families is on food stamps.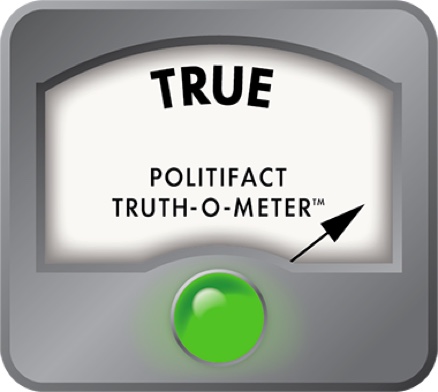 Sarah Palin says 1 in 7 American families is on food stamps
Shortly before Ted Cruz won the GOP nomination for U.S. Senate, he got a star-power boost from former Alaska Gov. Sarah Palin at a get-out-the-vote rally north of Houston.

Firing up the crowd in her July 27, 2012, speech in The Woodlands, Palin touched on some claims PolitiFact has recently addressed, plus one we haven't: "One in seven American families are on food stamps."

Based on past PolitiFact work, Palin was batting better than .500 on these statements:
"Thirty percent of our mortgages are underwater." More like 25 percent than 30 percent, as of January, but pretty close.
The Affordable Care Act is "death-panel-filled": Still a Pants on Fire claim.
"We're going on four years now without a federal budget." Yes. Specifically, when Palin spoke, 3 years, 2 months and 28 days.
 
So how'd she do with her food stamp claim? Another hit, according to the experts we asked.

U.S. Department of Agriculture spokeswoman Alyn Kiel told us by email that Palin was correct -- in fact, one in seven individual Americans is on food stamps, aka the USDA's Supplemental Nutrition Assistance Program. Kiel cautioned against translating SNAP's term "households" to "families."

"There is no single definition of a household," Kiel told us. "The Census Bureau defines it one way (anyone who lives under the same roof together); SNAP defines it another (more strictly as a group that purchases and prepares food together, so you could, for example, have a household of one, which you cannot by the Census Bureau definition). The Census Bureau defines families even more strictly than households."

J.C. Dwyer, state policy director of the Texas Food Bank Network, told us by email, "Most of the time, a 'household' is roughly equivalent to a 'family,' and so contains more than one person. However, a single individual living alone is also considered a 'household.'

"That's why one in seven individuals benefit from the program, and one in five households," Dwyer said.

He sent us USDA's monthly report for May 2012, which shows that 22.3 million U.S. households encompassing 46.5 million individuals were on SNAP. He calculated the "one in seven" and "one in five" ratios using the U.S. Census population clock and average household size in 2010 (2.59 people), he said.

Dwyer cautioned against tying increases in SNAP recipients to any specific president or government policy, noting that the national food bank network Feeding America has reported SNAP participation mirrors unemployment.  

An April 19, 2012, report from the non-partisan Congressional Budget Office said that, nationwide, "Spending on SNAP benefits more than doubled between 2007 and 2011." Charts from the report show an increase in participation after the recession began in 2007; CBO predicts the increase will peak in 2014.
In Texas, SNAP participation has also risen compared to 2007, but has held fairly constant since early 2010.

Jonathan Lewis, a specialist in food policy for the left-leaning Center for Public Policy Priorities in Austin, emailed us a link to state data showing that the number of Texans on SNAP has remained within the range of 3.5 million to 3.7 million since March 2010, when it was at 3.4 million. The total was 2.3 million in July 2007 and 3.6 million in July 2012.

Lewis told us, "Palin's statement about one in seven families on SNAP in the U.S. is correct besides her use of families rather than households. However, I think the public views them as the same."

Lewis included a link to the Texas Administrative Code's definitions of families and households. For purposes of the SNAP program, the code defines a household as the person or persons included in a single SNAP case by state Health and Human Services. A family, the code says, is defined as a group of relatives living together and meeting certain other conditions.

The state data show 1.5 million cases, or households, on SNAP in Texas for July 2012.


Our ruling

Palin's figure is supported and may even understate the share of families on food stamps. Her statement rates True.
Email interview with Alyn Kiel, acting coordinator of U.S. Department of Agriculture Office of Communications, July 30-Aug. 1, 2012
Email interview with Kevin Seifert, communications director, U.S. Rep. Paul Ryan campaign, Aug. 1, 2012

Email interview with J.C. Dwyer, state policy director of the Texas Food Bank Network, July 31-Aug. 1, 2012

Email interview with Jonathan Lewis, specialist in food policy, Center for Public Policy Priorities, July 30-31, 2012

Browse the Truth-O-Meter
More by Sue Owen
Support independent fact-checking.
Become a member!
In a world of wild talk and fake news, help us stand up for the facts.