Stand up for the facts!
Our only agenda is to publish the truth so you can be an informed participant in democracy.
We need your help.
I would like to contribute
Says U.S. Rep. Connie Mack IV passed "only one bill" in seven years.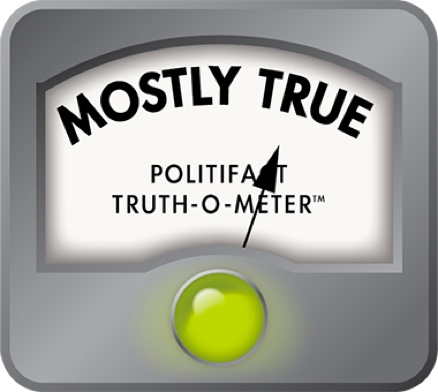 Group says Connie Mack has passed only one bill in Congress in seven years
Woody Allen once said 80 percent of success is showing up.

And that's the point American Bridge 21st Century, a Democratic super PAC, makes in a farcical online video that criticizes U.S. Rep. Connie Mack IV for a shabby attendance record, and for not getting much done.  

"Connie Mack: Only one bill passed in seven years," says the video, which features a bummed out Florida family (presumably actors) unable to find Mack in Washington. "You think we'll see him next time, pa?" says a disappointed child.

"Connie Mack: If he doesn't show up for work now, why elect him senator?" the video continues.

Mack's missed votes have made news for several months as he prepares for a likely November face-off with U.S. Sen. Bill Nelson. PolitiFact found that although he's not the most representative representative (sorry!), his attendance record is better than opponents have claimed.

But did Mack really pass just one bill since he was elected in 2005?

Here comes the fact-check.

Mack sponsored only one bill -- during the 110th Congress in 2007-08 -- that was signed into law, according to the Library of Congress.

The measure corrected a faulty map of Florida's Coastal Barrier Resources System, which protects coastal landforms that conserve wildlife.

The bill was passed "under suspension," which means it was so noncontroversial Congress didn't put it through committee for vetting. Most of the other 46 bills Mack sponsored died in committee.

"In this case, he didn't have to jump through the normal hoops," said Norm Ornstein, a congressional expert and a resident scholar at the conservative American Enterprise Institute. "That may be very nice for Florida, but it's certainly not major policy."

Yet, the numbers game often isn't a fair assessment of legislators' efficacy, Ornstein said. Some of history's best lawmakers rarely saw their names attached to legislation.

"It's not just the number, it's the quality. You could pass a whole bunch of bills that would be renaming post offices, commemorative resolutions, etcetera," Ornstein said.

That's one reason why accusations about attendance and effectiveness, which surface often in elections, are usually ripe for rebuttal.

In fact, the video itself is a parody of one put together by former Gov. Charlie Crist when he ran for governor in 2006 against then-U.S. Rep. Jim Davis.

"This ad used the same standard the Crist campaign used for the Davis ad," said American Bridge spokesman Matt Thornton. "There was some discussion in the media, but the consensus was that the ad was a fair."

The American Bridge video doesn't mention that Mack co-sponsored 700 bills since 2005, about 50 of which passed.  But co-sponsorship is not a good measure of efficacy, Thornton said, because bills often have hundreds of sponsors who sign on for purely political reasons.

"Anyone can co-sponsor anything," he added.

Case in point: Mack was one of 308 cosponsors for a measure by Jacksonville Democratic Rep. Corrine Brown that awarded the congressional gold medal to the Montford Point Marines, a nonprofit veterans group.

Brown's office said that, while Mack was kind enough to sign on to the measure, he didn't help move it through Congress.

Still, it's possible Mack was instrumental in some of the bills he cosponsored. And he also might have passed some of his proposals by tacking them on to other bills as amendments.

Both scenarios are difficult to track, and Mack campaign spokesman David James gave vague responses to questions intended to pin down the congressman's specific accomplishments.

Mack's record only proves that he focuses on repealing bad bills rather than passing new ones, James said.

"Connie has run successfully four times for the Congress representing Southwest Florida on the platform of reducing government, not growing it," James wrote in an email.

Also, he said, Mack has a plan to balance the budget -- known as the Penny Plan -- that has attracted support in Congress.

Our ruling

American Bridge is right to say Mack only passed one bill in seven years. However, they leave out that Mack cosponsored about 50 bills that were written into law and didn't consider that some of his bills may have passed as amendments.

Also, it's important to note that the number of Mack bills that became law is only one measure of his overall record -- and one that can be misleading when viewed in isolation.

We rate the claim Mostly True.
Video: "Connie Mack isn't doing his job," American Bridge 21st Century, Aug. 2, 2012

Library of Congress,accessed Aug. 2, 2012

Interview with Matt Thornton, of American Bridge 21st Century, Aug. 2, 2012

Interview with Norm Ornstein, of American Enterprise Institute, Aug. 2, 2012

E-mail Interview with David James, spokesman for U.S. Rep Connie Mack IV's U.S. Senate campaign, Aug. 2-3, 2012

U.S. Fish and Wildlife Services, on Coastal Barriers Resources Act, accessed Aug. 2, 2012

Interview with David Simon, spokesman for U.S. Rep. Corrine Brown, Aug. 3, 2012

YouTube video: "Where's Jim Davis?," Aug. 3, 2012
Tampa Bay Times The Buzz blog, Connie Mack competing with Charlie Rangel for most missed votes,July 24, 2012

PolitiFact: Dave Weldon says Connie Mack missed "almost half" of his votes in Congress this year, July 22, 2012

PolitiFact: Connie Mack IV says cutting one penny out of every federal dollar would quickly balance the budget,May 9, 2012

Montford Marines website, accessed Aug. 3, 2012
Browse the Truth-O-Meter
More by Brittany Alana Davis
Support independent fact-checking.
Become a member!
In a world of wild talk and fake news, help us stand up for the facts.