Stand up for the facts!
Our only agenda is to publish the truth so you can be an informed participant in democracy.
We need your help.
I would like to contribute
"A small business in my district" needed "31 different permits and fees just to be able to expand."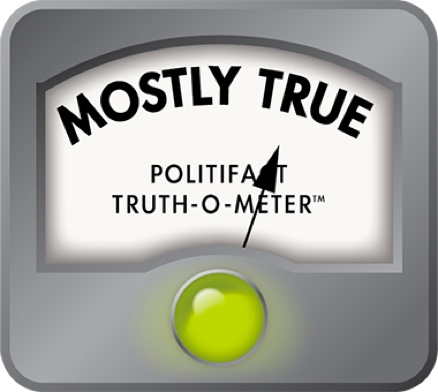 Connie Mack says a business in Florida needs 31 permits to expand
It's one of U.S. Rep. Connie Mack's favorite stories for the campaign trail.

Owners of a Cape Coral-based boat building company want to expand and hire new people. But a long list of government-imposed permits and fees threaten to capsize their plans.

"There's a small business in my district. They wanted to expand their business," Mack said during a recent visit to Sayler's Suncoast Water in Pinellas Park. "It took 31 different permits and fees just to be able to expand their business. This is a government that is out of control."

Republicans frequently rail against burdensome regulations that stifle job growth. And Mack's story of job-killing regulations anchors his platform as he strives to unseat Democratic U.S. Sen. Bill Nelson, who's seeking his third term.

Mack's story surfaces so frequently, we fact-checkers couldn't help but dive in. Here, we're checking if it takes 31 different permits to expand a business.  

We launched our research with Bob Long, owner of the business Mack was referring to, Marine Concepts, which manufactures fiberglass and boats.

This check won't include the details of Long's expansion, since plans are still tentative and under wraps.  We'll just say he's shopping for property to open a new location, and that's enough information to estimate how many permits he'll need.

In an impromptu phone interview, Long shot off his list of legal obligations. They check out.

"You've got to have occupancy permits, site permits, parking permits, waste disposal permits, wide load permits, fire permits, the ocean regulations and what they require, landscaping permits, immigration checks and reports, air permits from the Department of Environmental Protection," he said, later emailing a list 32 notches long.

He added another list of 26 tax and insurance requirements, which could also be considered fees.

"I'd rather be able to hire more people and have more space. I've got to have people full time working these permits and fees and so on. It costs money," he said.

Many permits and fees, such as those that protect the environment, are worthwhile, he said. But, in many cases, he said, complying with regulations requires more work and money than necessary.  

"The landscaping permits tell me what kind of trees I can put in and how big and where," he said. "Some of these things are a bit much."

Marine Concepts is required to get more permits than most businesses because the company manufactures fiberglass, uses chemicals and pollutes, said Susan Noe, business assistance director at Fort Myers Regional Partnership and the  Lee County Office of Economic Development,who checked Long's list and verified the permits.

Her office pointed to at least nine Marine Concepts permits that are industry-specific, from wide-load permits and boat tag licenses to air emission reports.

"They have to make sure they have the necessary protections in place to protect the environment, the health and safety of employees, in addition to the surrounding businesses," she said. "Do they have to file for these things? Yes....it's because of the type of business they're in."

Mack's stump speeches (at least the ones we've seen) describe a mindset, and don't outright claim he will initiate regulation reform.

That's the tricky part, said John Hudak, a fellow with the Brookings Institution think-tank in Washington.

For one, many permits and fees are imposed by state and local governments. Sometimes federal lawmakers can use their status to pressure state politicians and get things done. But, in Florida, which is ruled by a Republican super majority, lawmakers have already stripped away most regulations they can, Hudak said.

If elected, Mack's ideas could garner traction under a Mitt Romney administration. But Mack would be a junior senator and U.S. Senate newcomers are not likely to be appointed as chairs to the powerful committees that oversee federal regulations, Hudak said.
Our ruling
Mack was on target in describing the number of permits and fees required of Marine Concepts. He might have even underestimated.
But Marine Concepts is in a highly regulated industry, so it's not an example of the typical amount of permits a company would have to get to expand. Many other types of businesses would require less permitting, a business liaison told PolitiFact Florida.

We rate Mack's claim Mostly True.
Connie Mack, remarks by Rep. Connie Mack at rally in Pinellas county

Tampa Bay Times, Connie Mack campaigns for U.S. Senate in Pinellas Park, Aug. 11, 2012

Tampa Bay Times, In fierce Florida Senate fight, it's Connie Mack vs. Bill Nelson, Aug. 15, 2012

Phone and e-mail interviews with Bob Long, owner of Marine Concepts, Aug. 6, 2012

White House Affordable Care Act overview, accessed Aug. 16, 2012

Phone and email interviews with Susan Noe, business assistance director at Fort Myers Regional Partnership and the Lee County Office of Economic Development, Aug. 9, 2012

Phone interview with John Hudak, fellow at the Brookings Institution, Aug. 14, 2012
Browse the Truth-O-Meter
More by Brittany Alana Davis
Support independent fact-checking.
Become a member!
In a world of wild talk and fake news, help us stand up for the facts.