Get PolitiFact in your inbox.
"A man using bath salts reported that raccoons had set fire inside his home and stolen his cell phone."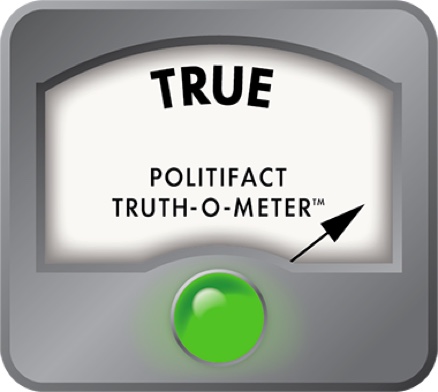 Mike DeWine says abuse of bath salts led man to make bizarre claim about racoons
Ohio Attorney General Mike DeWine recently told some disturbing and odd stories about bath salts – an emerging drug that he said is a growing problem in Ohio.

The stories were part of DeWine's announcement last month that his office will target bath salts in its ongoing fight against drugs.

Bath salts and other synthetic drugs have a tendency to induce violent and paranoid behavior, said DeWine, the state's top law enforcement officer.

One example DeWine, a Republican, gave involved a man having hallucinations of raccoons in his house.

"The Ohio State Highway Patrol confronted a man who after using bath salts reported that raccoons had set fire inside his home and stolen his cell phone. He proceeded to chop up his deck with a hatchet while looking for the fire-setting raccoons," DeWine said.

That got PolitiFact Ohio's curiosity going, so it decided to look into the facts behind the bizarre tale. Examining the statement might provide useful information to people unfamiliar with the drug and its effects.

When we called DeWine's office for information to back up his account, spokesman Dan Tierney provided an Ohio State Highway Patrol study to educate the law enforcement community about bath salts.

Bath salts, which became illegal in Ohio in 2011, are a synthetic drug that can be snorted, injected or mixed with a fluid to drink. Users have said the drug gives an intense high and a rush similar to cocaine, according to the highway patrol study, which was completed in May. Others have described users as violent, unpredictable and paranoid.

The study includes a short description of the raccoon event DeWine described – along with five other incidents involving bath salts – but it doesn't provide any details about the time, place and people involved. We called the highway patrol and were told the incident happened in Reynoldsburg, near Columbus. The police department there provided a report with written accounts from three responding officers.

The police report includes a transcript of the 911 call in August 2011 from the 31-year-old Reynoldsburg man who was seeing raccoons:

"I got raccoons in my house that are starting fires. I wonder how the hell they are doing it," he said. "I keep putting them out but they start another one. I had to drive down here because I couldn't find my cell phone. I think one of them took it and did something with it."

The report also said the man told police he took bath salts three times that day and could be hallucinating. A local fire department determined there were no fires inside the house.

One of the officers noticed the deck at the house was destroyed and there was a hatchet nearby. The man told police he chopped up the deck because he was looking for a dead raccoon.

So where does that leave us?

DeWine's account at the press conference last month was backed up by the Reynoldsburg police report. His only misstep was saying state patrolmen confronted the man. The mistake is immaterial because it doesn't change the circumstances of the incident and the role of bath salts, according to police.

The Reynoldsburg man, for what it's worth, eventually pleaded guilty to a charge of making false alarms.

DeWine's statement is accurate and there is nothing significant missing. That rates True on the Truth-O-Meter.
Ohio Capital Blog, "DeWine Drug Crackdown 1 of 7," Nov. 14, 2012

Attorney General Mike DeWine, news release "Attorney General DeWine announces new efforts to fight synthetic drugs," Nov. 14, 2012

Ohio State Highway Patrol, Critical Information and Communication Center, Awareness: Bath Salts and Officer Safety, May 29, 2012

Reynoldsburg Police Department, police report, Aug. 28, 2011

Phone and e-mail correspondence with DeWine spokesman Dan Tierney, Nov. 27, 2012
Browse the Truth-O-Meter
More by Joe Guillen
Support independent fact-checking.
Become a member!
In a world of wild talk and fake news, help us stand up for the facts.