Get PolitiFact in your inbox.
Says the NAACP's Ohio chapter has endorsed Issue 2.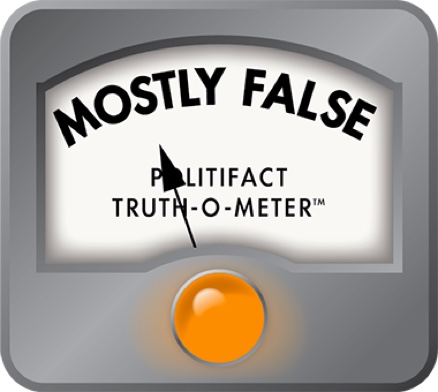 Voters First Ohio claims Issue 2 is endorsed by Ohio Conference NAACP
Issue 2, the redistricting reform proposal on the Nov. 6 ballot with broad support from Democrats, has not gained unanimous support from black political leaders.

The president of Ohio Legislative Black Caucus in September voiced concerns to Gongwer News Service about how Issue 2 would affect African-American representation in Congress and in the Ohio Senate and House of Representatives.

In response to the caucus' concerns, Sandy Theis, a spokeswoman for the pro-Issue 2 group Voters First Ohio, told Gongwer that the Ohio Conference NAACP has endorsed Issue 2. The website for Voters First also lists the organization – although it is labeled incorrectly as the NAACP Ohio Chapter – among the group's endorsers.

The splintered support for Issue 2 among black leaders got PolitiFact Ohio's curiosity up, so it decided to look into where exactly the NAACP stands on Issue 2.

Issue 2 is a proposed amendment to the Ohio Constitution that would reform the way the state's congressional and legislative boundaries are drawn, a process known as redistricting that happens every 10 years.

Elected officials, including the governor and legislative leaders, control the current redistricting process. District boundary lines typically are drawn to favor whichever party is in power. Last year, Republicans, who control state government, drew new lines that grouped voters into districts designed to help Republicans win future elections.

Issue 2 would remove elected officials from the redistricting process and hand the responsibility over to a new redistricting commission. Should Issue 2 pass, a commission would be appointed next year to draw new maps for the 2014 election.

It's worth pointing out that, under the new maps, Ohio voters could elect two black women to Congress this fall for the first time: incumbent Democrat Marcia Fudge, of Warrensville Heights, and Democrat Joyce Beatty, who is running in the Columbus-area 3rd District created during the GOP-controlled redistricting.

The Ohio Legislative Black Caucus, due to concerns over future African-American political representation, has voted to not endorse Issue 2 since the Gongwer story was published on Sept. 25, said Rep. Sandra Williams, a Cleveland Democrat and president of the caucus.

So where does the Ohio Conference NAACP stand on Issue 2?

"The NAACP has not blanketly endorsed Issue 2," Sybil Edwards-McNabb, the organization's president, said in a telephone interview on Oct. 24.

Edwards McNabb said the group has concerns about how the proposed redistricting commission would operate and how the new system would affect African-American political representation.

"We may not have the same representation," she said. "We could pick up more, but we might lose all of it. That's a concern."

Despite these concerns, Edwards-McNabb said it would be inaccurate to say the group does not support Issue 2.

Huh?

"Sometimes when you're not saying 'no' somebody might perceive that as a 'yes' and that's not necessarily true," Edwards-McNabb said. "But we are not against Issue 2. We need a change in our redistricting process. It needs to be thoroughly thought through. We need another level of clarity."

If the Ohio NAACP officially has not endorsed Issue 2, we asked Edwards-McNabb if she asked Voters First to remove the group's name from the list of Voters First supporters. She said an e-mail has been sent to Voters First. "We have a dialogue and our concerns have been heard," she said.

We asked Theis why she told Gongwer the NAACP endorsed Issue 2. She said two Voters First consultants had conversations with two NAACP executives who support Voters First and support NAACP members who campaign for the passage of Issue 2.

Tom Roberts, the Ohio Conference NAACP's political action chair, is one group member campaigning for Issue 2. Roberts, who also is third vice president of the NAACP's Dayton chapter, said members of the organization are free to support Issue 2.

"I know it doesn't make sense to some people, but we never got to the point of endorsement," he said in an interview on Oct. 17. "I think the safest thing to say is we don't endorse it but we have agreed to support community involvement in the process."

So where does that leave us?

Although there appears to be some support for Issue 2 from within the Ohio Conference NAACP, the bottom line is that the group, as a whole, has not endorsed Issue 2.

Voters First's statement that the NAACP endorses the redistricting proposal contains an element of truth. The Ohio Conference NAACP president says there is support for changing the system for redistricting.

But the organization also has concerns about the impact Issue 2 could have on black political representation, and it has not formally endorsed Issue 2.

Those are critical facts absent from the Voters First claim that would give a different impression.

On the Truth-O-Meter, the claim rates Mostly False.
Gongwer News Service, "Black Caucus President Not Sold on Redistricting Ballot Issue" (password required), Sept. 25, 2012

Telephone interviews with Sandy Theis, spokeswoman for Voters First

Telephone interview with Tom Roberts, political action chair of the Ohio Conference NAACP, Oct. 17, 2012

Telephone interview with Sybil Edwards McNabb, president of the Ohio Conference NAACP, Oct. 24, 2012

Voters First Ohio, list of endorsements, accessed Oct. 31, 2012
Browse the Truth-O-Meter
More by Joe Guillen
Support independent fact-checking.
Become a member!
In a world of wild talk and fake news, help us stand up for the facts.