Get PolitiFact in your inbox.
"In recent years, menhaden numbers along our coast have plummeted by 90 percent."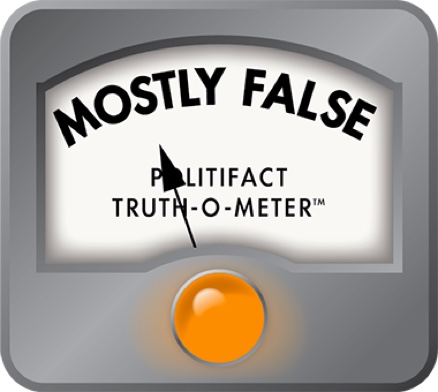 Pew Environment Group says the Atlantic menhaden population declined by 90 percent in recent years
The Atlantic States Marine Fisheries Commission is scheduled to vote today, Dec. 14, on whether to cut the catch limit for Atlantic menhaden.

Environmentalists say the menhaden population, a crucial part of the Atlantic ecosystem, has dropped to dangerous levels. Menhaden are an important food source for tuna, cod, striped bass, whales, dolphins, ospreys and eagles.

Opponents of a strict limit, mostly from the fishing industry, say there are enough fish and the size of the population rises and falls naturally. The fish are used for fertilizer, bait, and fish-oil supplements.

On Dec. 11, three days before the meeting, the Pew Environment Group ran a large ad in The Providence Journal headlined, "Governor Chafee: When this little fish disappears we're in big trouble." It talked about the importance of the species, adding, "But in recent years, menhaden numbers along our coast have plummeted by 90 percent."

Fish counts are a contentious topic. After all, it's tough to do an inventory of undersea life, most of which you can't see. We wondered whether Pew's number was accurate.

We asked Pew for its source. Spokesman Jeff Young referred us to the 2011 Stock Assessment Report by the fisheries commission, a compact of 15 states that deals with fishing issues on the East Coast.

Table 7.5 offers a complex calculation -- using lots of different data sources -- of the number of menhaden at the start of the year. The estimates go from 1955 to 2008. Young said biologists focus on the number of fish that had survived their first year, when they're more likely to be caught. We will do that as well.

The estimates over the years show two peaks and two valleys. The population was high in the 1950s. It dropped precipitously and remained low in the 1960s. Then it started rising significantly, peaking from 1976 to 1989 before falling back to the 1960-ish range during the last two decades.

Whether the population declined by 90 percent, as Pew asserts, depends on where you want to start calculating and when you want to stop.

The Pew ad says the 90-percent decline was "in recent years." It gives no time frame.

If you think of "recent" as the last 10 years, the drop from 1999 to 2008 has been 43 percent, far from 90 percent, according to the chart Pew referenced.

Over the last 20 years, it's been 76 percent.

To show a drop close to 90 percent, you have to start at 1982, when the estimated number of menhaden was 20.2 billion, the second-highest ever reported, and compare it with 2008, when the population was about 2.4 billion -- a drop of 88 percent.

If you started with the first year of data -- 8.3 billion fish in 1955 -- and compared it with 2008, you'd have a decline of 71 percent.

We found smaller percentages when we looked at the more recent commission report, from 2012, because it gives a higher number for the menhaden population for 2011, the most recent year the report looks at. Using that estimate, the decline since 1982 has been 82 percent.

But Pew Environment's chief scientist Jud Crawford said the most recent report is considered less reliable because questions have been raised about the way the estimates were calculated.

We also consulted with Mark Gibson, deputy chief of the marine fisheries division of the Rhode Island Department of Environmental Management.

"There's no question there's been a decline downward," he said. "But when you have a fish stock that varies up and down across time, you can cherry-pick your window across time, say it declined and get a whole bunch of people alarmed."

Our ruling

The Pew Environment Group said that "in recent years, menhaden numbers along our coasts have plummeted by 90 percent," a very specific number. It says overfishing must be halted to rebuild the population.

The estimated number of menhaden is clearly well below the estimated population for the late 1980s. But it's currently at levels seen in the 1960s.

If you want to claim a 90-percent drop, you have to compare the 2008 population to a very specific -- and very exceptional -- year, 1982.

We don't consider a 30-year-old benchmark to be "recent."

Because the statement contains some element of truth but ignores critical facts that would give a different impression, we rate it Mostly False.

(If you have a claim you'd like PolitiFact Rhode Island to check, e-mail us at [email protected]. And follow us on Twitter: @politifactri.)
Interviews and e-mails, Jeff Young, spokesman, Pew Environment Group, Dec. 12-13, 2012

ASMFC.org, "Stock Assessment Report No. 10-02 of the Atlantic States Marine Fisheries Commission," revised March 2011, and "Atlantic States Marine Fisheries Commission 2012 Atlantic Menhaden Stock Assessment Update," July 2012, both accessed Dec. 12, 2012

Interviews, Jud Crawford, science and policy manager, Northeast fisheries program, Pew Environment Group, Dec. 13, 2012

Interview, Mark Gibson, deputy chief, marine fisheries division, Rhode Island Department of Environmental Management, Dec. 13, 2012

Roanoke.com, "Menhaden: Point/Counterpoint," The Roanoke Times, Nov. 25, 2012
Browse the Truth-O-Meter
More by C. Eugene Emery Jr.
Support independent fact-checking.
Become a member!
In a world of wild talk and fake news, help us stand up for the facts.