Get PolitiFact in your inbox.
"The majority of Americans are conservatives."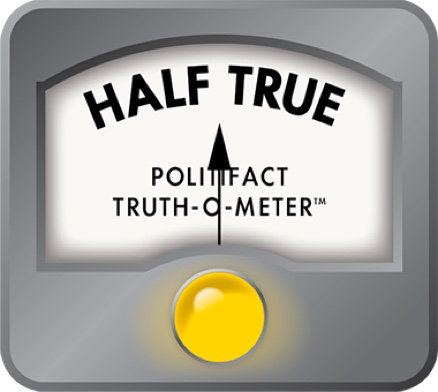 A majority of Americans are conservative, Marco Rubio says
EDITOR'S NOTE: An analysis of this claim by U.S. Sen. Marco Rubio, R-Fla., was published on Feb. 14, 2012. After it appeared, we heard from many readers who argued that our rating of Mostly True was the wrong call. The debate centered on whether to judge Rubio on his literal statement or the underlying point. We try to balance that question in many of our rulings. Upon further discussion, and bolstered by more reporting, we have decided to change this ruling to Half True. (The original item is archived here.)

U.S. Sen. Marco Rubio had some fun at the expense of liberal opponents at the 2012 Conservative Political Action Conference in Washington, D.C., by riffing on how he knew the majority of Americans are conservative.

"You know, somebody asked me: 'How do you know that? How do you know Americans are majority conservative?' Here's why: How come liberals never admit that they are liberals? They never admit it. They've now come up with a new word called progressive, which I thought was an insurance company, but apparently it's a label."

A few minutes later, he noted that Republicans argue over who is most like Ronald Reagan. But, he added, "the Democrats never fight about who is more like Jimmy Carter."

Here, we wanted to focus on Rubio's claim that the majority of Americans are conservatives.

We found three sets of reputable polls that were comprehensive and addressed voter ideology.

Before we get to those polls, we should note two important precautions about considering the data.

First, it matters how questions get asked. In this case, it particularly matters which options a pollster offers for answers to a given question.

Second, political ideology is not the same as party affiliation.These days, people split Republican and Democrat pretty evenly, with the answer "independent" garnering significant support. But here, we're looking at political ideology on a liberal to conservative scale.

The Gallup poll

The Gallup poll has been regularly asking Americans about their political ideology since 1992, and it compiles the results of many polls each year and releases an annual report.

Several pollsters told us they think Gallup is the most reputable on this question because of its unusually large sample size.

For 2011, Gallup found that the largest group of Americans identify as conservative, at 40 percent. Another 35 percent identify as moderate, while 21 percent identify as liberal.

That trend has fluctuated a bit over the years, with moderates sometimes slightly outnumbering liberals. But liberals have consistently numbered much less. (See Gallup's chart for the clear contrast.)

In Gallup's poll, the number of conservatives has never crossed the 50 percent threshold. So even though conservative is the No. 1 answer, it commands only a plurality, not a majority.

As we noted above, Gallup found that more Americans than ever identify as political independents, at 40 percent. The Democratic Party, claiming the allegiance of 31 percent of Americans, is second, followed by Republicans, with 27 percent.

When Gallup asked people which party they lean toward, the independents split so that the country is almost evenly divided. For the year of 2011, Gallup reported that 45 percent of Americans identified as Republicans or leaned that way, while 45 percent identified as Democrats or leaned that way.

American National Election Studies data

Every four years coinciding with presidential elections, the American National Election Studies (ANES) project conducts detailed voter surveys. The project is currently a partnership between Stanford University and the University of Michigan.

Since 1972, pollsters have asked voters to place themselves along an ideological continuum. Pollsters offer seven potential political affiliations: extremely liberal; liberal; slightly liberal; moderate or middle of the road; slightly conservative; conservative; or extremely conservative. As an eighth possibility, pollsters asked, "or haven't you thought much about this?"

In 2008, 32 percent placed themselves on the conservative side; 25 percent said they hadn't thought much about it; 22 percent chose the liberal side; and 22 percent said they were moderate.

The Battleground Poll

Yet another longstanding poll that asks about political ideology is the POLITICO-George Washington University Battleground Poll. This poll asks voters simply if they are conservative or liberal, without offering the choice of moderate or centrist.

The bipartisan poll is conducted by Republican pollster Ed Goeas of The Tarrance Group and Democratic pollster Celinda Lake of Lake Research Partners. The pollsters have asked about ideology since 1991.

Goeas said the pollsters purposefully don't offer moderate because it gives people a "safe haven" where they don't have to think about tough political questions.

Lake said they deliberately don't offer "moderate" because it becomes a default answer and is less predictive of voting behavior.

In the most recent poll, conducted in November 2011, 61 percent said they were conservative while 34 percent said liberal.

Another 2 percent volunteered the answer "moderate," while 3 percent said they were unsure or didn't know.

Pollster Ed Goeas said those results have been fairly consistent since 1991. "I've never seen 'conservative' below 57 percent," he said. "'Liberal' has always been in the 33, 34 percent range. ... I don't think I've ever seen it more than 38 percent."

The number of people who volunteered the answer "moderate" has never gone above 10 percent, he said.

Other pollsters weigh in

As we were interviewing pollsters and looking for more polling data, we gathered some interesting insights.

Mark Mellman, a pollster for Democrats, said conservatives never cross the 50-percent threshold when moderate is offered as an option, and moderate always should be offered.

"Questions need to contain the range of relevant alternatives in order to be 'valid,'" he said via email.

"The real question is, so what?" he added. "Identification with these broad general terms is only loosely correlated with people's views on any particular substantive issue … Saying more people are conservative than liberal tells us nothing about their views on taxing the wealthy, protecting Medicare, protecting the environment or any other of a host of issues."

Robert Blendon of Harvard University, who specializes in polling on health care policy; said he prefers the Gallup poll numbers when thinking about political ideology, but added, "I've never seen a poll that doesn't show more conservatives than liberals," he said.

Sometimes, the conservatives and moderates may exchange first and second places, though.

Karlyn Bowman of the conservative American Enterprise Institute distills the results of many polls on similar topics. She said she thought Rubio was on the right track with his comments.  "Ideologically, we are more conservative than liberal, and that's consistent across the polls," she said.

Our ruling

Rubio said that the majority of Americans are conservative. Two of the three pollls show that while conservatives are a plurality, they are short of a majority. Rubio can't claim majority status because a significant share of the electorate identifies itself as moderate.

In the one poll that gives voters two choices -- liberal or conservative -- conservatives have consistently been the majority.

So by the two polls, he was incorrect. By one, he was correct and we find support for his underlying point that there are more conservatives than liberals. On balance, we rate this claim Half True.
Sen. Marco Rubio, remarks at CPAC, Feb. 10, 2012

Gallup, Conservatives Remain the Largest Ideological Group in U.S., Jan. 12, 2012

Gallup, Record-High 40% of Americans Identify as Independents in '11, Jan. 9, 2012

Gallup, Mississippi Most Conservative State, D.C. Most Liberal, Feb. 3, 2012
The ANES Guide to Public Opinion and Electoral Behavior, Liberal-Conservative Self Identification, 1972-2008

POLITICO-GW Battleground Poll, various dates, accessed Feb. 22, 2012

Interview with Karlyn Bowman of the American Enterprise Institute, Feb. 22, 2012

Interview with Robert Blendon of Harvard University, Feb. 22, 2012

Interview with Ed Goeas of the Tarrance Group, Feb. 22, 2012

Email interview with Celinda Lake of the Lake Research Partners, Feb. 22, 2012

Email interview with Mark Mellman of the Mellmann Group, Feb. 23, 2012
Browse the Truth-O-Meter
More by Angie Drobnic Holan
Support independent fact-checking.
Become a member!
In a world of wild talk and fake news, help us stand up for the facts.